What Game Of Thrones' Daenerys Targaryen Should Actually Look Like On The Show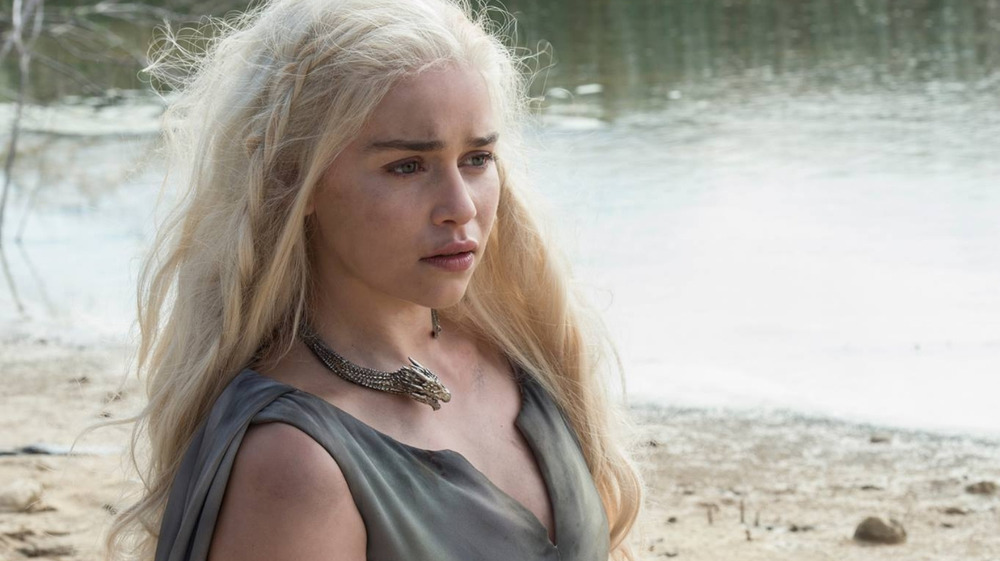 Neilson Barnard/Getty Images
Emilia Clarke will forever be remembered for her epic portrayal of Daenerys Targaryen on HBO's hit series Game Of Thrones. Clarke played the character for the show's whole eight-year run from 2011-19, per IMDb. Though she has quite a career ahead of her, there's no denying that Daenerys will go down as one of Clarke's defining roles. 
Yet, there are so many ways that the whole situation could have gone down differently. For one, Clarke wasn't the first actress cast as the young Targaryen. Some GoT fans are aware the original pilot episode of the series never saw the light of day. ScreenRant reports it was badly received internally. Among the changes that were made as a result was a change in actresses. Tamzin Merchant, who played Catherine Howard on The Tudors (IMDb), was originally cast. After the disaster of the first attempt at a pilot, she was replaced. "It's terrible to disappoint ... it's difficult to let down ... that's hard. It's tough, but you've got to get it right, ultimately," casting director Nina Gold told Vanity Fair.
Another major change to Daenerys was how the character was introduced. In the first version, she appeared happy to be marrying Khal Drogo. When they consummate the marriage, Daenerys is a willing participant and not a victim, as the pilot we've come to know illustrates. The change was to establish more of her backstory and make her a more sympathetic figure.
Emilia wasn't an exact match for Daenerys' look.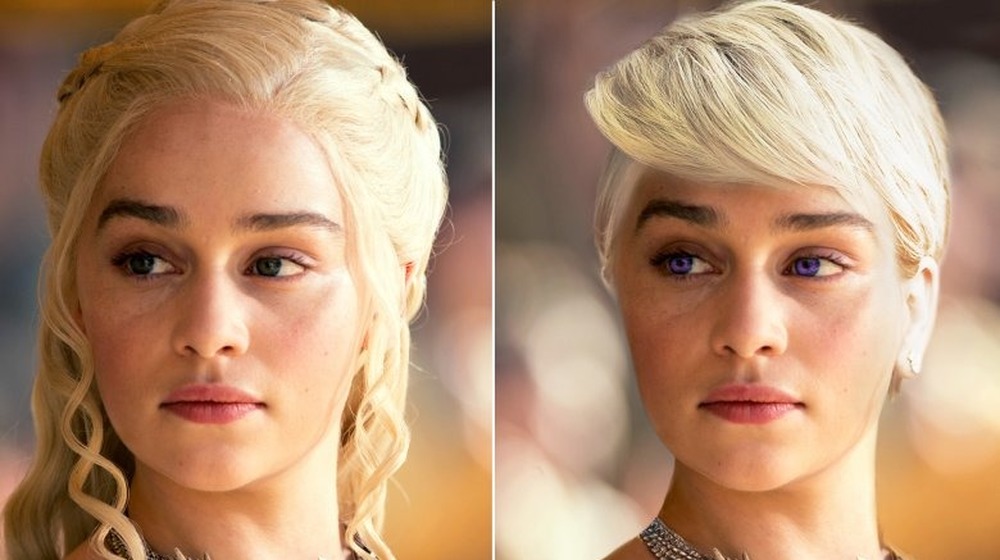 HBO/Branden Stall for Looper
While Clarke was determined to be the better fit for the role by showrunners, many fans believe Merchant was a closer physical match. On the show, Daenerys' flowing long hair is a defining feature. But when the book reaches the fire she emerges from, featured at the end of the show's first season, her hair is burnt much shorter by the flames, according to TheRichest.com.
In the Game Of Thrones written series, the Targaryens all boast purple eyes. Daenerys, in particular, is described as having violet eyes. "I also remember even at one point we were trying out purple contacts for Daenerys and [Tyrion] was supposed to have one green eye and one brown eye. The reality of it is that a character who's in the show as much as Peter is in the show, to be wearing colored contact lenses every day you shoot is a nightmare," David Benioff explained of their decision to make the change in an interview with Time in 2017.
"But sticking to the letter of the books was important enough that, that was all on the table. I think by the time Emilia [Clarke] came along we were off that idea. But in the initial pilot we see what acting with purple contacts can do to somebody and how much time they spend focusing on the fact that their eyes don't feel right."