The Odd Thing Ivanka And Eric Trump Have In Common Since Donald Was Removed From Twitter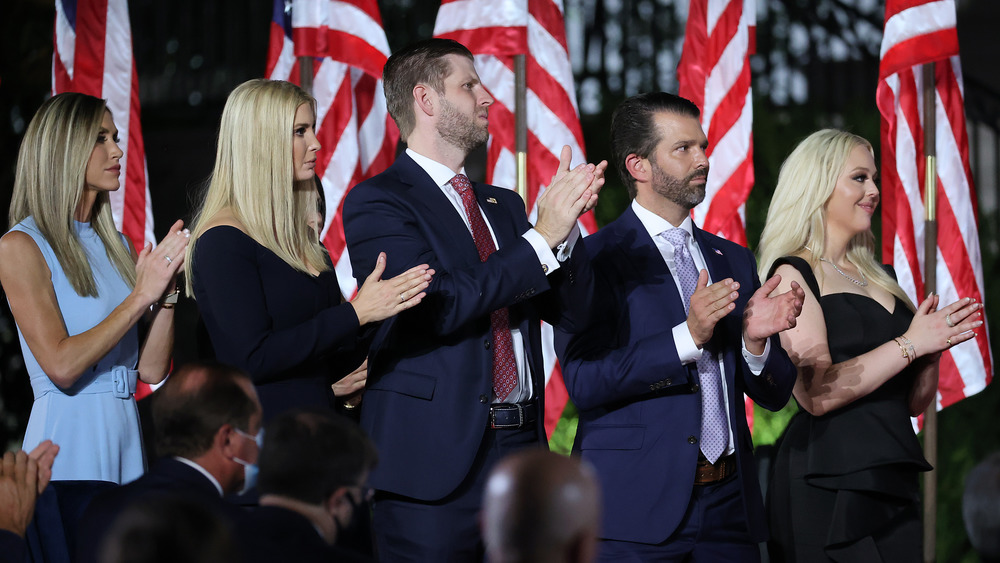 Chip Somodevilla/Getty Images
There has been a vacuum on social media since the weekend, which was created after Twitter decided to suspend President Donald Trump permanently, for violating its terms and conditions. While Don Jr. appears to have picked up where his father left off and continues to tweet about the day's pressing matters, although with far less passion and vehemence, we haven't just stopped hearing from the outgoing president. We aren't hearing from his children, Ivanka and Eric, either, neither of whom have been seen since the day after violence broke out in the U.S. Capitol on January 6 (via CNN). 
Ivanka's last Tweet, which was dated January 7, picked up a now-deleted Tweet from her father, along with a comment saying: "This moment calls for healing and reconciliation. We must revitalize the sacred bonds that bind us together as one national family." Recall that Ivanka came under fire a day earlier on January 6 when she sent a since-deleted shout out to the rioters on in the Capitol when she said: "American Patriots ― any security breach or disrespect to our law enforcement is unacceptable. The violence must stop immediately. Please be peaceful" (via The Hill). Ivanka was called out by CNN's Kate Bennet, who had asked "Clarifying, @IvankaTrump, you're saying these people are "patriots" ??"
Eric Trump made a brief appearance on Parler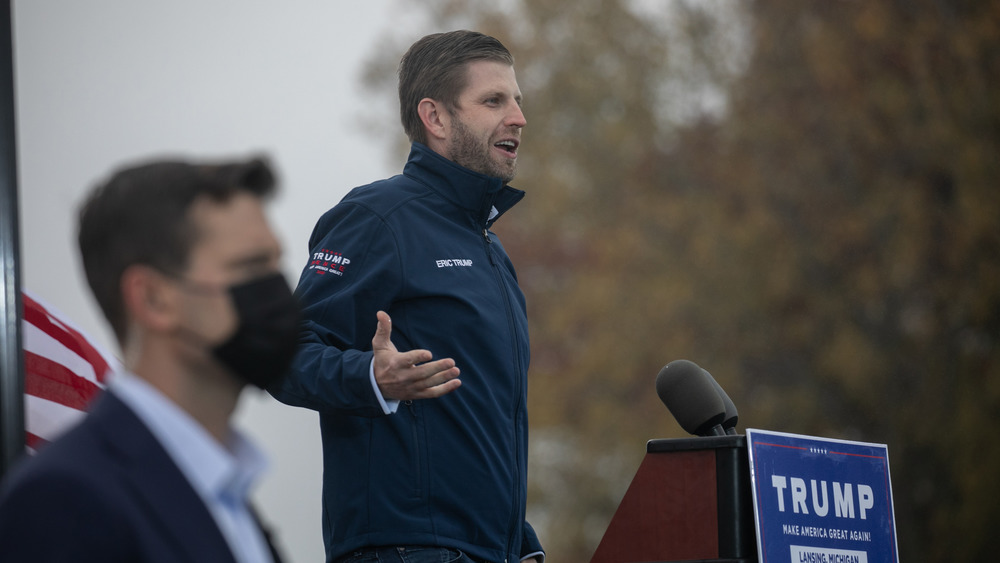 John Moore/Getty Images
Eric Trump was also last heard from on the day of the rioting itself. He was on site at the protest march preceding the violence where he tweeted: "Never thought I would have 150,000 people sing me happy birthday on the National Mall in Washington D.C" before his tone changes abruptly as he tweets: "We are the party of Law & Order – prosecute anyone who crosses that line to the fullest extent of the law."
But while Eric and Ivanka's accounts might not have seen any action since last week's riots, Eric was seen popping by on Parler before it shut, giving users a shoutout. The interaction was screenshot and shared over Twitter.
We don't know when Eric and Ivanka might choose to reappear on social media, but we'll let you know when we find out.