The Truth About The Newest Girl Scout Cookie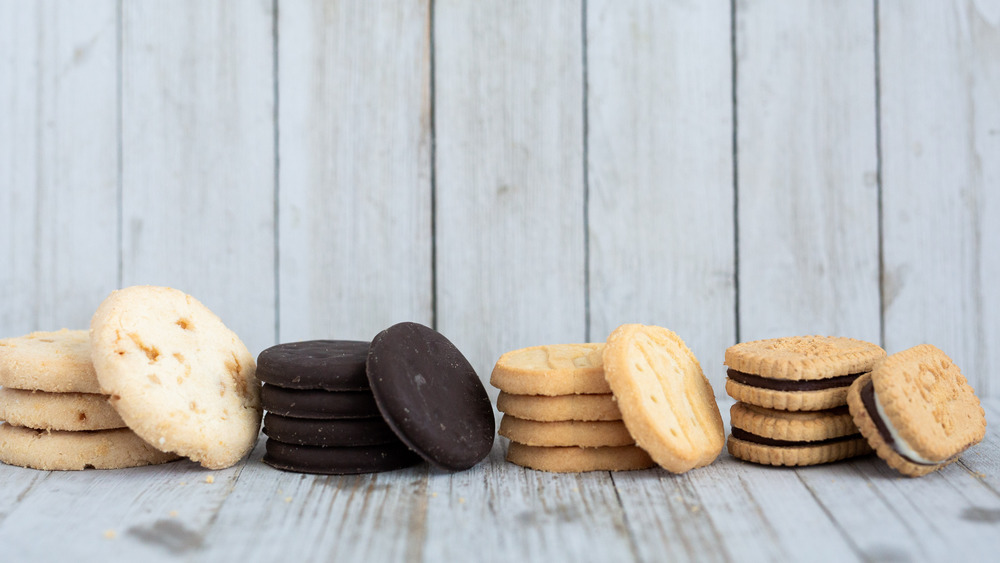 Shutterstock
In an announcement as sweet as a box of Thin Mints, the Girl Scouts of the USA launched their 2021 Cookie Season in a big way. Not only have they made it easier to order your favorite sweets in a socially distanced way, the organization is also introducing a brand-new cookie (as if it weren't difficult enough to choose a favorite).
Joining the lineup of such classic Girl Scout Cookies as Peanut Butter Patties, Caramel deLites, and Lemonades is Toast-Yay!, a new addition inspired by French toast. The organization's website describes them as "full of French toast flavor and flair and stamped with the trusted Girl Scouts' signature trefoil on top." Adding extra lusciousness, the underside of the toast-shaped cookie is coated with icing. A rep for the Girl Scouts told People, "The name is designed to be a play on words for 'toasty,' which evokes the warmth and joy we believe people will associate with this great new French-toast-inspired flavor." 
Indeed, the ingredients of Toast-Yay! include cinnamon and maple syrup for that genuine Sunday-brunch taste. At 180 calories and 6 grams of fat per two-cookie serving, they're satisfying enough for a treat without totally abandoning your New Year's resolution. Families with food sensitivities should take note, though, that the cookies contain wheat and soy, and are not gluten-free. (The two gluten-free Girl Scout Cookies, available in select areas, are Caramel Chocolate Chip and Toffee-tastic, per their FAQ.)
There are new ways to order your cookies safely
How to get these boxes of wonderfulness into your kitchen while still staying safe in the ongoing pandemic? The Girl Scouts you covered. Customers who already have a local Girl Scout troop in their area can order from them online. Starting February 1, you can use their Girl Scout Cookie Finder; when you enter your zip code, the site will direct you to a troop who can handle your order. You can also text COOKIES to 59618 or use the Girl Scout Cookie app on iOS or Android to locate a troop. 
For the first time, the Girl Scouts partnered with GrubHub to provide contact-free cookie pickup and delivery in select markets, according to People. This new move is not only convenient, but girl-empowering: Scouts themselves will be using GrubHub to process orders and facilitate delivery, learning valuable business skills in the process. Interested? Act fast: Through February 14, your delivery is free if you place a minimum order of $15. The Girl Scouts also remind customers that when you order, you can do your part to "create toasty moments of joy" in these stressful days by ordering extra cookies to ship to friends, family, first responders or local organizations.