Here Are The Shoes You Should Be Wearing With Leggings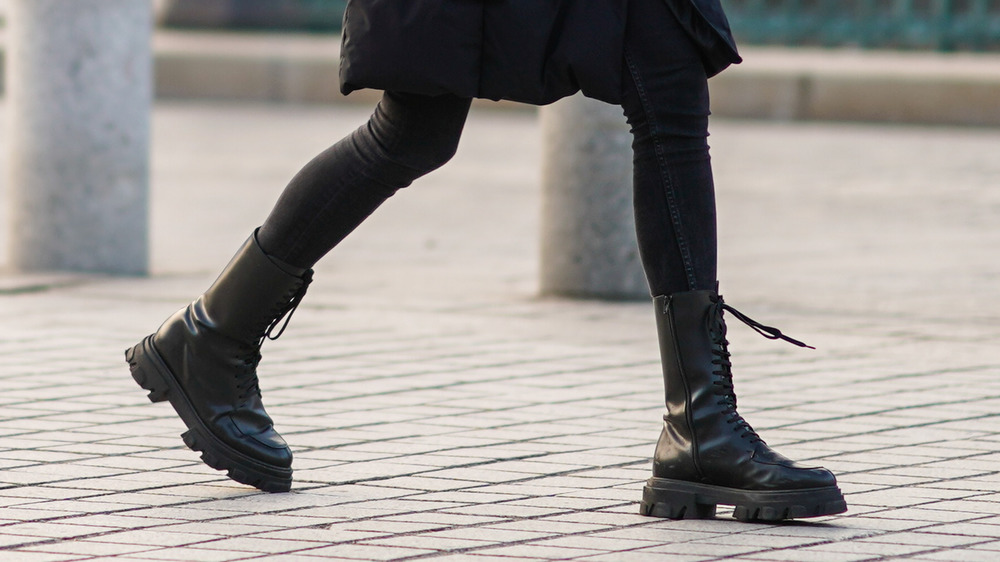 Edward Berthelot/Getty Images
Last year, many of us found ourselves wearing leggings more than ever. These comfortable pants are great for everything from binge-watching on the couch to working out. When not being worn for exercise, though, what types of shoes pair best with this clothing item?
According to PureWow, there are quite a few options. It is really about how the outfit is styled, as the length of a legging and the material of a top can help or hurt a shoe choice. Take boots, for example. Pairing black boots with tight black leggings can create a slimming effect, though faux-leather and spandex ones may sometimes look a little cheap. Utilitarian rain boots can be fashionable and functional and look best when worn with slim-fitting shirts like a button-down. Since hiking boots usually have shorter shafts, socks that stick out over the top of them can make these shoes look taller and add to their rustic vibe.
PureWow also suggests trying out minimalist sneakers, square-toed shoes, ballet flats (pairs which are not cut too low), and kitten heels (worn with cropped leggings).
Other shoes, besides just sneakers, can be worn with leggings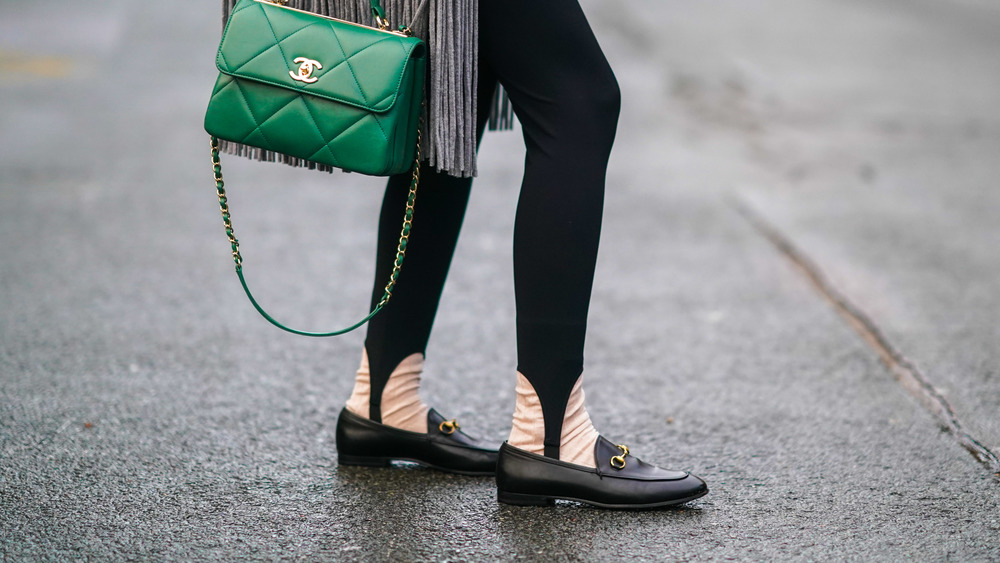 Edward Berthelot/Getty Images
Another great shoe option, especially for those working from home, are loafers. As stated by Yahoo! Life, these classics can work well with leggings and business-appropriate blouses, making for the perfect video-conference call ensemble. In Marie Claire's opinion, one can really commit to the athleisure look by opting for workout tops and sneakers (whether exercise will be done while wearing these pants or not). The Zoe Report echoes PureWow's words of wisdom, putting emphasis on styling choices. For instance, knee-high boots, a blazer and gold accessories can dress up and amp up an average pair of yoga pants.
So keep it casual or go fancy. Always try to purchase quality clothing items (as numerous products, even from brands like Lululemon, have led to complaints and recalls). Mix up that wardrobe regularly (since wearing leggings can lead to some health effects). And don't be afraid to pair a variety of shoes with these stretchy, stylish, and staple pants.