Inside Siegfried And Roy's Relationship
Ethan Miller/Getty Images
Following the recent tragic death of Siegfried Fischbacher on Jan. 13, who was one half of the magician duo Siegfried & Roy, many fans have been looking back fondly at the two, their career, and the relationship they shared. They were best known for their career in magic, and met one another while traveling on a cruise ship (via BBC). The newfound relationship they cultivated allowed Roy Horn, who died from COVID complications on May 8 last year, to blend his passion for animal handling with Fischbacher's penchant for illusionist performances, according to Legacy.
Fischbacher and Horn were a groundbreaking act when it came to wildlife entertainment, making way for other magicians and entertainers (hello, Tiger King) to incorporate animals into their work. Though their acts featuring everything from white tigers and lions to elephants were undoubtedly provocative, their fanbase was loyal and admired the work the two did. But with their livelihood revolving around one another's talents and their very public and obvious friendship, many observers often wondered what their relationship was really like.
What was Siegfried and Roy's relationship like?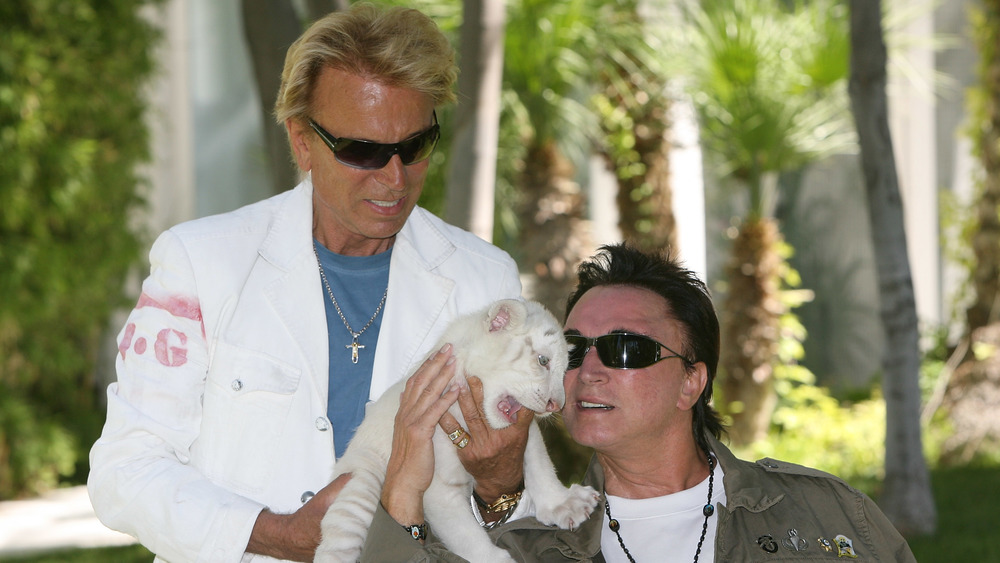 Ethan Miller/Getty Images
After working together for years, they eventually landed a 35-year-long stint in Las Vegas, where they wowed crowds with their mystifying acts featuring a plethora of animals worthy of a zoo exhibit (via The New York Times). However, the close relationship that's required for their kind of career often led people to believe that they were more than just business partners. The Hollywood Reporter referred to the pair as former lovers in a March 2019 article written about their tiger handler's experience, and Heavy pieced together several instances where Fischbacher and Horn hinted at being more than what they said.
While people are quick to believe the two were romantically involved, they never confirmed or denied these assumptions. There is also evidence for the men having completely separate love lives. As noted by The Washington Post, the men admitted to having relationships with women in their book Mastering the Impossible. But regardless of what Fischbacher and Horn shared, it's clear that the work they did together in bringing fans wonder, mystery, and amazement will never be forgotten.