Kamala Harris' Body Language With Her Husband At The Inauguration Says A Lot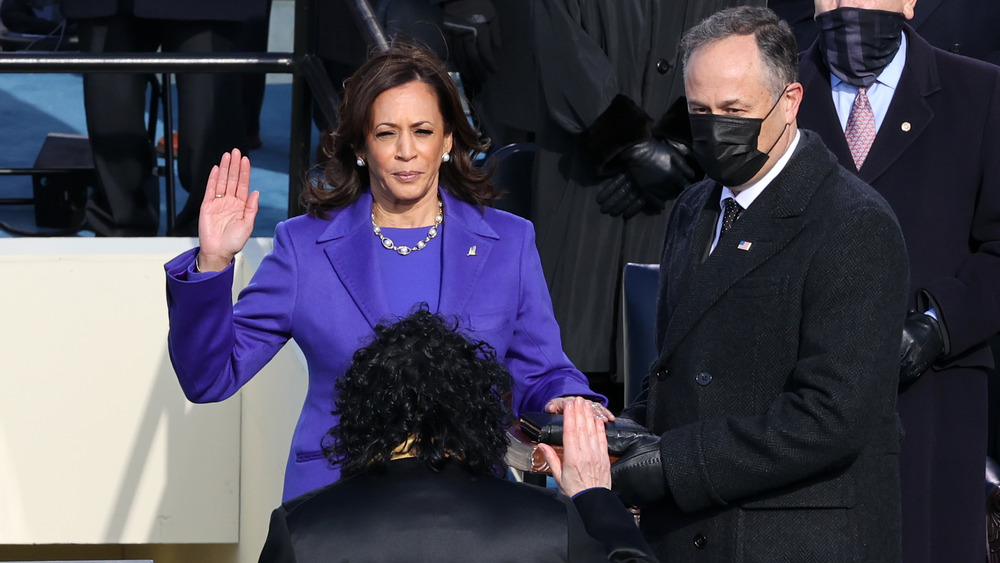 Alex Wong/Getty Images
The nation watched Wednesday as Kamala Harris was sworn in as Vice President of the United States. By her side was her husband since 2014, Douglas Emhoff (via Oprah Mag). Among those who observed Harris and Emhoff was body language expert and psychologist Dr. Reneé Carr, who is also a political and corporate advisor. She talked to The List about her observations on the new second couple's body language as Harris became the very first female Vice President in American history.
Interestingly, the first second gentleman, as Harris noted he will be called, showed both support and deference to his wife on her big day (via Today). She also joked about what she will refer to him as, saying, "I'll call him 'honey.'"
On inauguration day, Carr told The List she first observed Harris and Emhoff walking in. "Kamala was supported by holding the arm of her husband," she said. "This shows he treats her as a lady and that he is indeed a gentleman — but also strong enough in his own self-confidence to not feel intimidated by his wife's power and influence."
What else can be observed by Kamala Harris and Doug Emhoff's body language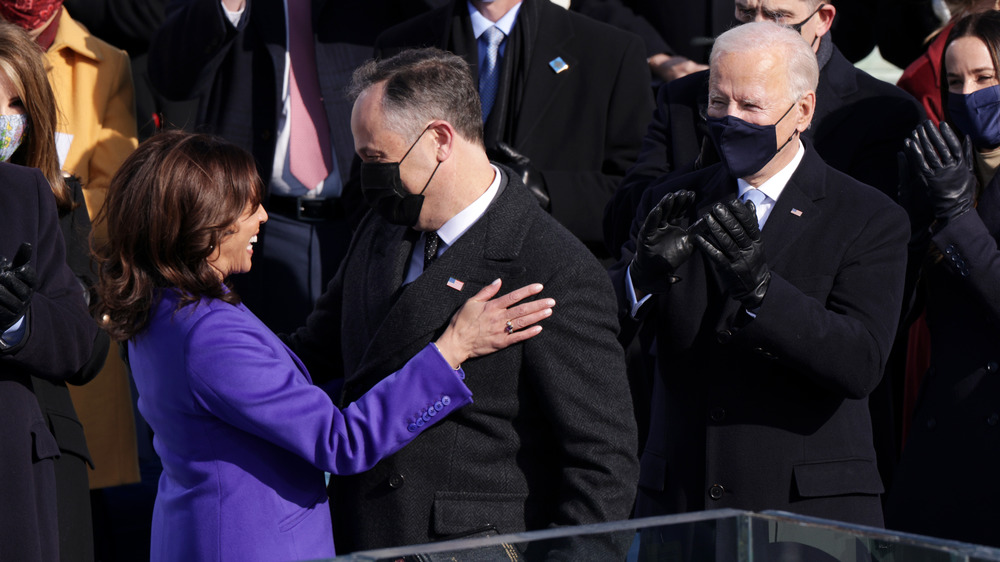 Alex Wong/Getty Images
Observing the way the second couple observed inauguration events together, Carr told us she can tell, "They share spiritual beliefs as well as political beliefs for the direction of our country." But their body language also demonstrated more than just Harris and Emhoff's ideologies, with Carr adding about the husband and wife, "They are also still in love as seen by each nodding his and her bowed head in prayer as the priest mentioned the word 'love.'"
Meanwhile, it is one particular facial expression that reveals a lot about our new VP. "Much of Kamala's personality is expressed through her smile," Carr noted, adding, "It was not easy to observe her usual cheerful smile."
But once the mask was removed, Carr said about Harris, "She tried to hold in her tears and looked down and away to gain her composure. When Sonia Sotomayor began the swearing in oath, Kamala switched from emotional to logical, and stood straight and composed and she repeated the oath."
Still, Carr points out a sweet moment from the serious day, saying about Harris, "She had a moment of silent giggles, when she recognized with her peripheral vision that her husband turned to look at her and smile."