The Untold Truth Of Vivienne Westwood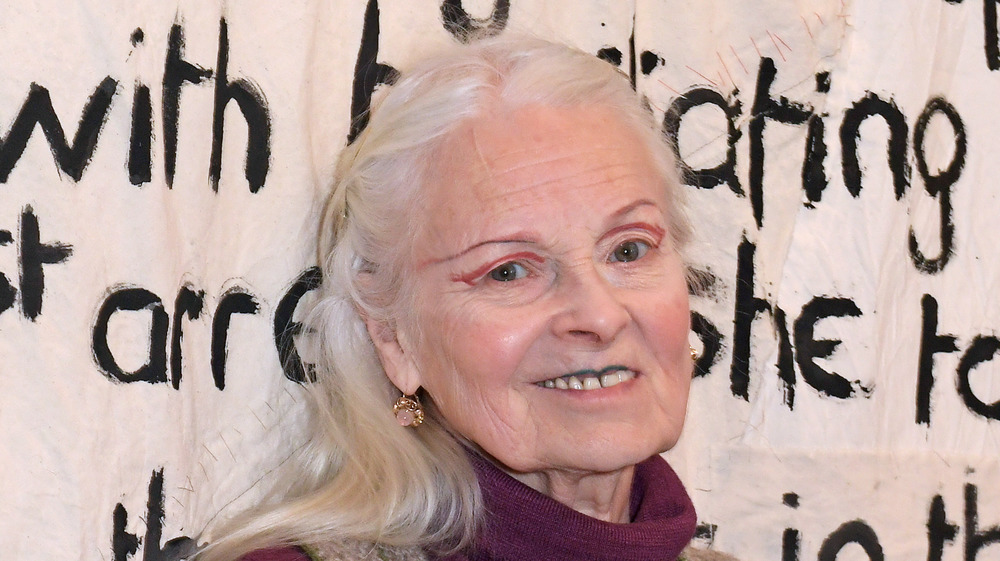 David M. Benett/Getty Images
Few people in the fashion world are as iconic, subversive, or revolutionary as Vivienne Westwood. The British fashion designer's contribution to the industry has been nothing short of immense. Born and raised in rural Derbyshire, Westwood's fashion career began with a bang in the early '70s with her first punk fashion shop, "Let it Rock," later renamed "Sex." By 1976, she and her then partner (both romantic and business) Malcolm McLaren had become the official designers for the punk band the Sex Pistols — and the rest is history. From popularizing the punk Mohawk to creating the first boob t-shirt to her infamous towering platform shoes, Westood's work has gone down in fashion history. Throughout the years, the designer has released countless groundbreaking collections and has received numerous prestigious awards — and she continues to push the boundaries to this day (via Vogue).
Westwood has consistently been described as "outspoken," "outlandish," or simply "out there." However, for someone whose life and career has been so loud and so public, you may be surprised that there are a few facts that may come as a surprise to you. Here is the untold truth of Vivienne Westwood.
Vivienne Westwood used to be anti-religion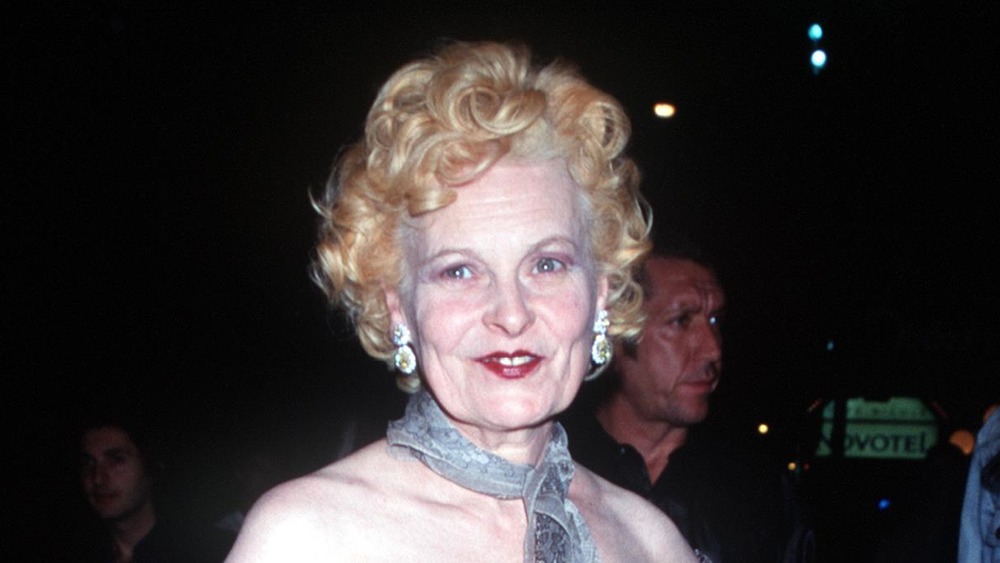 Robin Platzer/twin Images/Getty Images
In 2014, Vivienne Westwood opened up to The Guardian about how she'd changed since her early punk days. As she explained, one of the biggest differences was her view of religion. "I was anti-religious at one time," she confessed, adding, "I'm not any more." As the designer went on to explain, she's learned to appreciate the concept of God over the years. And while she may not practice any religion herself, she could understand how it's helped people. "Human beings have the potential to evolve and become more and more wonderful because they are aiming at that perfection," she explained. It sounds like Westwood has learned to be a little more accepting.
In fact, it's clear that Westwood's opinions have shifted dramatically. In 2004, her relationship with religion was incredibly different — she definitely was very anti-religion! As she told the Independent, "Anybody who's religious is a nutcase. No, they're a lunatic." The interviews are only a decade apart — it's pretty wild how much her views on religion have shifted!
Vivienne Westwood received her OBE wearing no underwear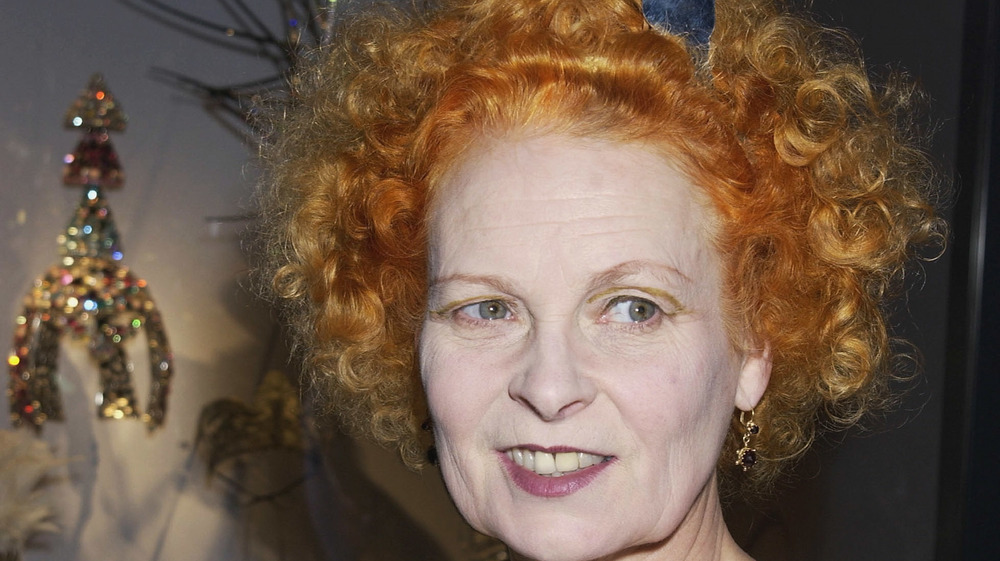 Dave Benett/Getty Images
One of Vivienne Westwood's most infamous moments happened in 1992 when the designer received the prestigious OBE. Receiving an OBE, or Order of the British Empire, is a pretty big deal, involving a traditional royal ceremony at Buckingham Palace.
Well, trust Westwood to cause a stir. As the Daily Mail reported, the designer pulled a highly provocative stunt at the ceremony: she failed to wear any underwear under her dress. She then twirled around in the palace courtyard to show off her very bold fashion statement.
In 2006, the designer was awarded another royal honor, and apparently she repeated the stunt again. Upon receiving the award from the Prince of Wales, she reportedly explained, "I don't wean them [knickers] with dresses. When I'm wearing trousers I might — my husband's silk boxers." Whether you think her stunt at the palace was shocking or hilarious, one thing's for certain: Westwood is one brave woman!
Vivienne Westwood hates watching TV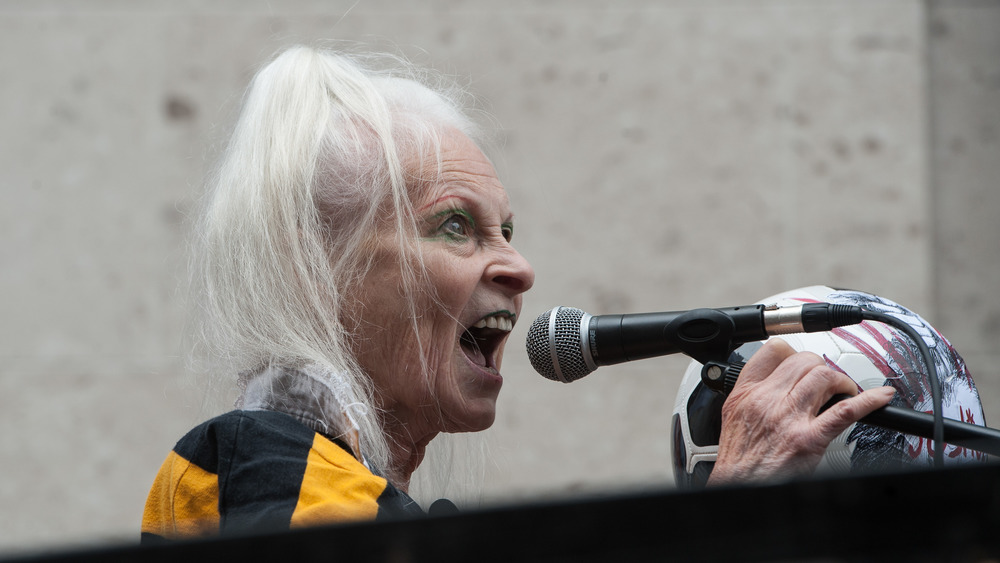 Guy Smallman/Getty Images
For most of us, switching on our favorite sit-com or medical drama is a much-needed opportunity to unwind, relax, and get lost in a fictional world. For Vivienne Westwood, however, television is not an enjoyable pastime. In fact, by all accounts, the designer practically hates it! As the Independent reported in 2012, she "doesn't approve" of the medium. The designer explained to the publication that she decided to switch on her TV for the 2012 Olympics opening and closing ceremonies, where one of her dresses was on show. "I did see the bit with my dress but, honestly, that's not so important to me," she revealed.
So, why the TV hatred? Well, Westwood explained to The Guardian in 2008 that in her opinion, it serves as a "distraction" from thinking. "If people are not thinking then we really don't have any future," she declared. "We live in this terrible, terrible danger because everyone is not thinking." Sounds like Westwood doesn't like switching off in front of the TV — even for a few hours!
Vivienne Westwood hated a 2018 documentary about her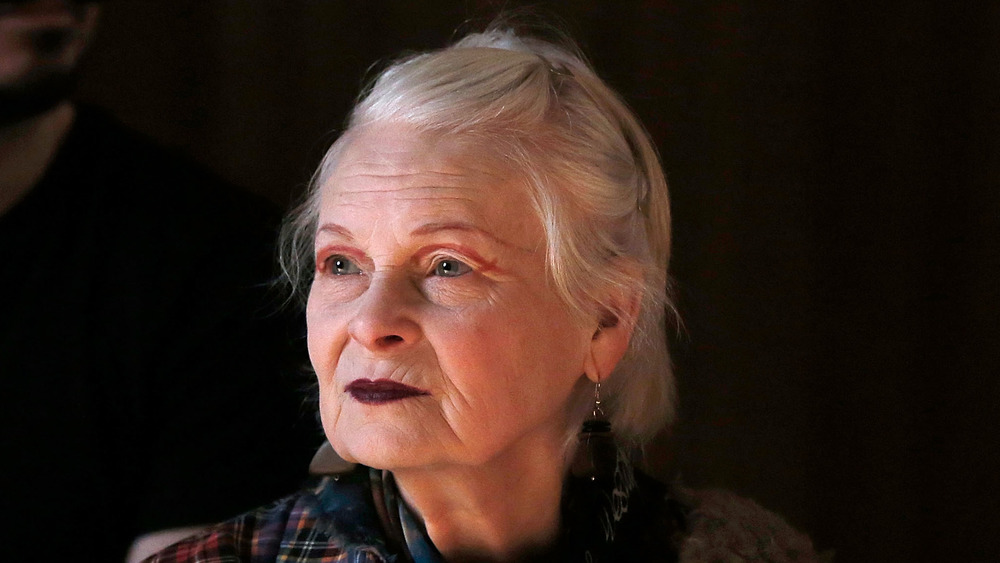 John Phillips/Getty Images
In 2018, director Lorna Tucker released a documentary about Vivienne Westwood called Westwood: Punk, Icon, Activist. Tucker and Westwood had been friends for a decade prior to the release of the film after bonding on a film set. As Tucker told Fashionista, Westwood quickly became one of her biggest idols. However, their friendship was cut short with the release of the documentary — Westwood hated it.
Apparently, the designer had requested for certain intimate scenes in the film to be cut, but Tucker refused in the name of artistic integrity. While the film was undoubtedly far more nuanced thanks to these scenes, Westwood and her company have denounced Tucker and her film. Westwood even tweeted, "Lorna Tucker asked to film Vivienne's activism and followed her around for a couple of years, but there's not even five minutes of activism in the film. Instead there's a lot of old fashion footage which is free and available to view online. It's a shame because the film is mediocre, and Vivienne and Andreas are not." Yikes!
Vivienne Westwood didn't cry for years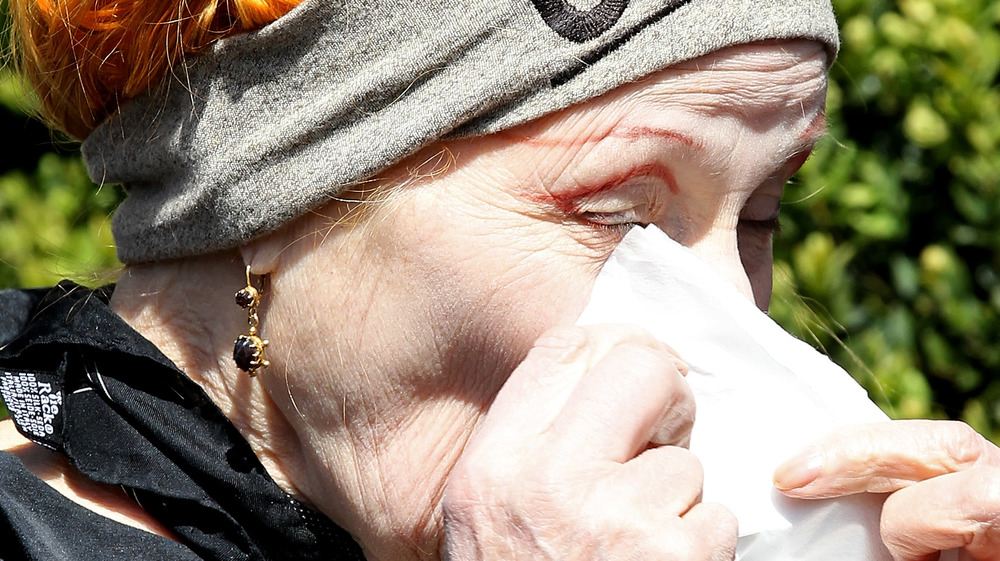 Chris Jackson/Getty Images
Vivienne Westwood is occasionally described as an emotional person. It's true — her work is filled with vibrant emotions of anger and revolt. But it turns out, Westwood doesn't always have an easy time expressing her emotions. As she revealed to The Guardian in 2014, she went through a very, very long period without shedding a single tear. "I have not cried since I lived with Malcolm," she confessed.
Malcolm McLaren is Westwood's ex-partner; the couple met in 1965 and even had a son together. But in the early '80s, they broke up (via The Rake). "Malcolm needed me to cry every day," she continued. "He just couldn't leave the house without trying to make me upset." 
However, once their relationship ended, Westwood simply "stopped" crying all together. In fact, she even finds tears to be a physical struggle now. As she put it, "I envy people who can cry."
Vivienne Westwood isn't proud of her mothering skills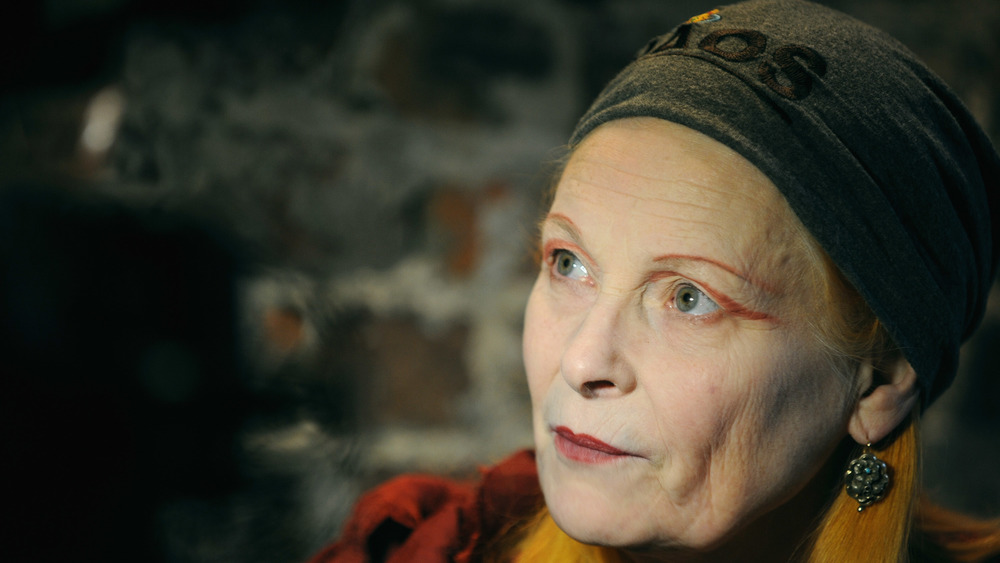 Ian Gavan/Getty Images
Vivienne Westwood has always been a busy woman. In fact, since opening her first shop in the '70s, the fashion designer has worked non-stop. As she confessed to the Independent, her voracious work ethic meant that she missed out on spending time with her children. "I know I was a terrible mother," she said bluntly. "I didn't put my children first."
It's not the only time Westwood has opened up about what she sees as her failure in the motherhood department. At the 2016 Cheltenham Literary Festival, the designer said, "If you don't want children and you don't want to spend time with them, try not to have them." She cited her own mother who "made herself ill" worrying about her own parental skills (via Art Net). It's clear that Westwood's own experience of motherhood has made her rethink her stance of having children in general.
Vivienne Westwood has an extremely close relationship with Andreas Kronthaler, her partner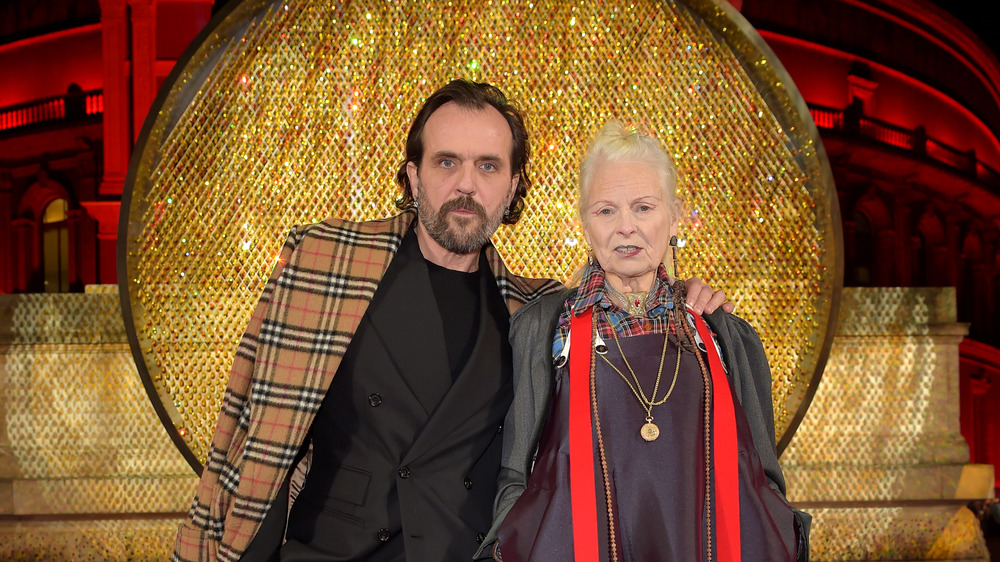 Antony Jones/bfc/Getty Images
Vivienne Westwood met Andreas Kronthaler, a fellow fashion designer, in 1988 and the couple married in 1993 (via Evening Standard). Despite being 25 younger than his wife, Kronthaler has proven to be an excellent partner for Westwood. In a 2008 interview with The Guardian, Westwood described their relationship, saying, "It's amazing, it's incredible. I felt so sure about it." She went on, gushing, "He's so supportive and we're just so interested in each other. He's an amazing person." Sounds like Westwood finally met her match!
By the sounds of things, the couple has a very healthy relationship. For one thing, they don't mind spending time apart; he frequently travels without her. "I hate to travel," Westwood continued. As the designer then confessed, she has no worries about the future of their relationship. "I know he's committed to me," she said confidently. "We support each other, intellectually and in all kinds of ways." Sounds like an ideal partnership!
Vivienne Westwood calls herself an anti-feminist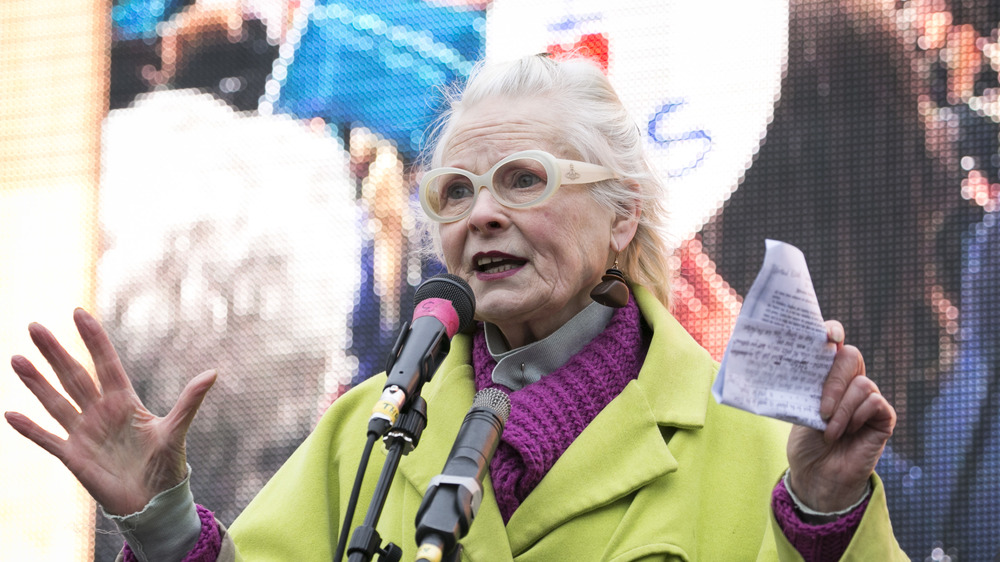 John Phillips/Getty Images
It would be easy to assume that Vivienne Westwood had a strong feminist agenda. After all, she's spent the majority of her career proving herself in an industry predominantly dominated by male designers (via Business of Fashion). However, the designer revealed to The Guardian that she actually identifies as an anti-feminist; her take on feminism is actually pretty controversial. "They don't see the wood for the trees and everything has to be viewed from this feminist point of view," she said boldly.
Westwood went on to explain her issues with the feminist movement. "I know women have suffered and I think it's great that people stand up for the women's rights, but the problem with feminists is that they somehow consider women to be superior beings," she continued. "And in the end, they just want to be men anyway." Wow, it sounds like Westwood has some pretty bold opinions when it comes to feminism. However, whether she identifies as a "feminist" or not, it seems that Westwood does care about equality for women.
Vivienne Westwood absolutely loves lettuce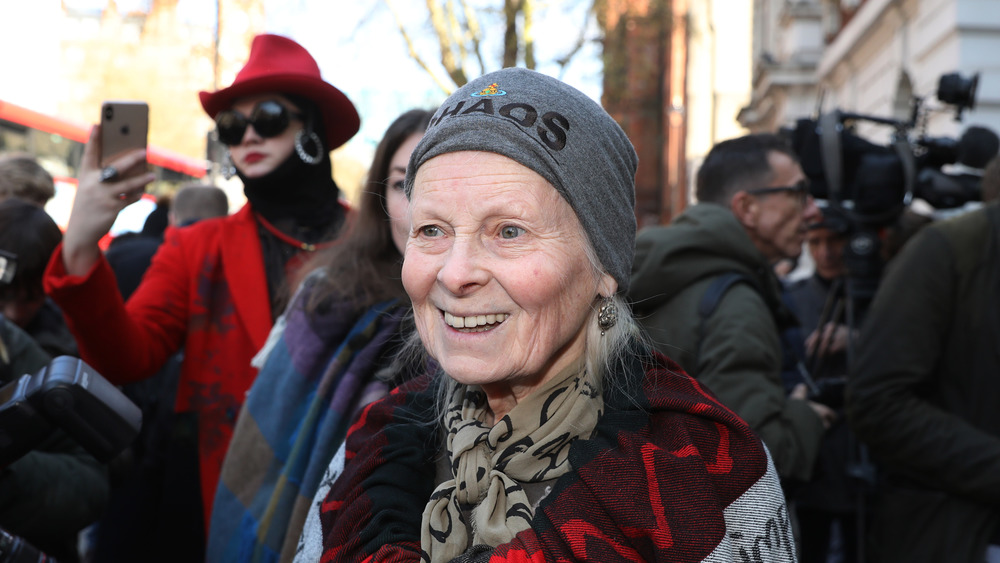 Dan Kitwood/Getty Images
Here's one of the weirder facts about Vivienne Westwood: the designer seriously loves her lettuce. As she told The Guardian, it's actually her favorite food. "Andreas and I eat one a day between us on average," she revealed. "I make a very good, simple salad dressing...garlic, oil, lemon, a bit of sugar and a bit of bouillon powder — it's always different." What a bizarre favorite food! Even those of us who love salad probably wouldn't eat half a head of lettuce a day.
Additionally, it seems that Westwood is pretty passionate about healthy eating. In fact, in a speech outside the Prime Minister's home, the designer controversially said that people who can't afford organic food should simply "eat less" (via the Independent). "You've got all these processed foods, which is the main reason people are getting fat," she proclaimed. She then explained her own diet: "I eat vegetables and fruit. I don't eat meat." Sounds like Westwood is actually pretty passionate about lettuce — especially if it's organic.
Vivienne Westwood loves books more than fashion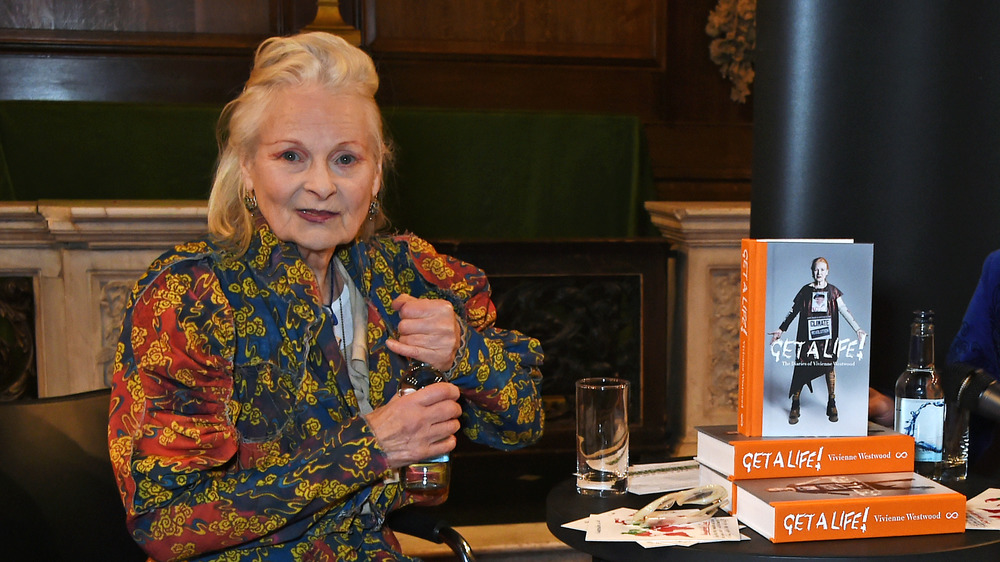 David M. Benett/Getty Images
Most people who know Vivienne Westwood know her for her contributions to the fashion world. However, many folks don't realize that the designer actually loves one thing more than fashion. As Westwood confessed on the BBC radio program Desert Island Discs, she simply adores books. As she explained, if left on a desert island, she would definitely miss reading! "I have always regretted the fact that I've never had enough time to read," she shared. However, Westwood eventually decided to "create a salon" to gather people together to discuss "ideas, and, of course, art." She even said that she would give up fashion if she could devote her life to reading.
So, what does Westwood like to read? As she told the Independent, her favorite pastime is reading; at the time, she was reportedly reading a biography of Aldous Huxley. And in Interview magazine, Westwood spoke about Cormac McCarthy's The Road, which is one of her favorite novels. In that same chat, Westwood even confessed that she might have become a writer in another life.
Vivienne Westwood loves Dutch artwork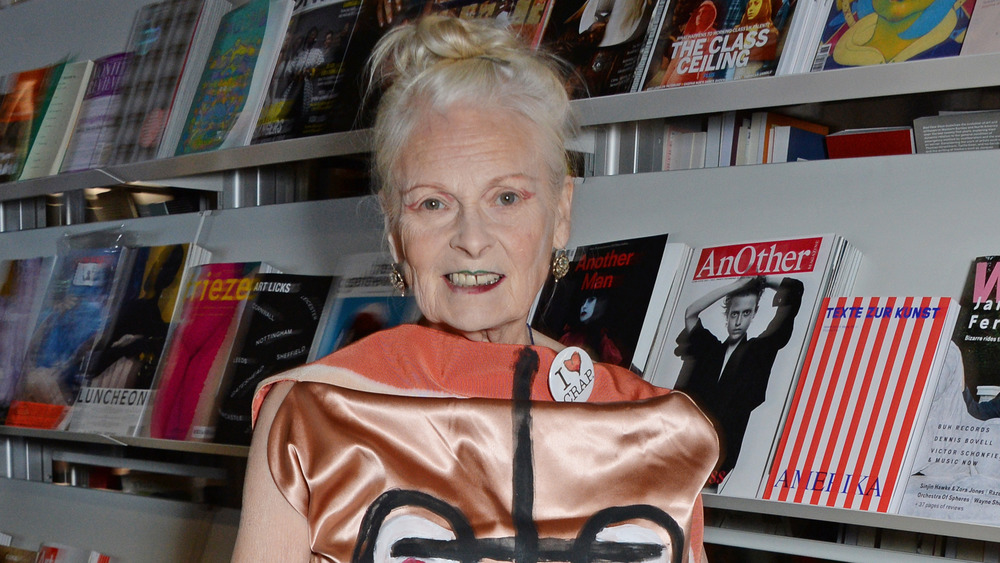 David M. Benett/Getty Images
Books aren't the only thing that Vivienne Westwood is passionate about, as she's also a huge fan of classic Dutch paintings. As she explained in an interview with In Camera, "My favorite painter is Titian and Velasquez and also Vermeer." Westwood went on to list several other painters that she loves seeing at London's Wallace Collection. "These decorative, pretty, pretty things, it was so easy for Boucher, Watteau, those Comedia Del'Arte, they have wonderful things in there," she gushed.
Westwood also appreciates the painter Aert Van De Ne'er. "He's famous for his paintings in moonshine, all these paintings of canals, you feel cold when you look at them," she continued. It's clear that Westwood has delved deep into the world of fine art and really knows her stuff. "To look at a painting is to enter a world," she added. We have to say, we're impressed.
Vivienne Westwood used this controversial symbol in her early designs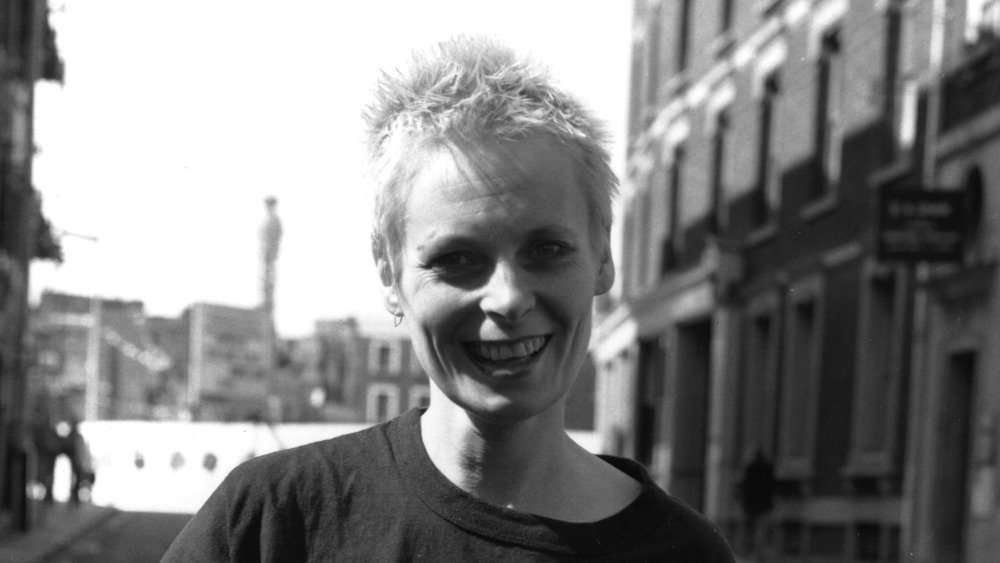 Peter Cade/Getty Images
Vivienne Westwood is nothing if not provocative. Notably, in one of her earliest designs, Westwood decided to include an incredibly controversial symbol on a T-shirt that came into prominence during the Second World War: the swastika. The symbol was used by Adolf Hitler and has become a symbol of fascism and anti-Semitism (via the BBC).
In an interview with In Camera, Westwood shared that adding the symbol was [her ex-partner] Malcolm McLaren's idea. She then explained why they chose to use it. "We hated the older generation and it wasn't young people, but old people we felt were responsible for the mismanagement and cruelty in the world still going on... To us, it was a way of saying to the older generation, 'We don't accept your values or your taboos.'"
However, since her punk days, Westwood has changed her opinions in many ways. As she explained, she's realized that this attitude was potentially "harmful." As she said, "What I learnt from punk rock was that you don't change the establishment by attacking it." Sounds like Westwood probably would have rethought using the infamous symbol if she was designing the T-shirt today.
Naomi Campbell wore Vivienne Westwood shoes during her epic catwalk fall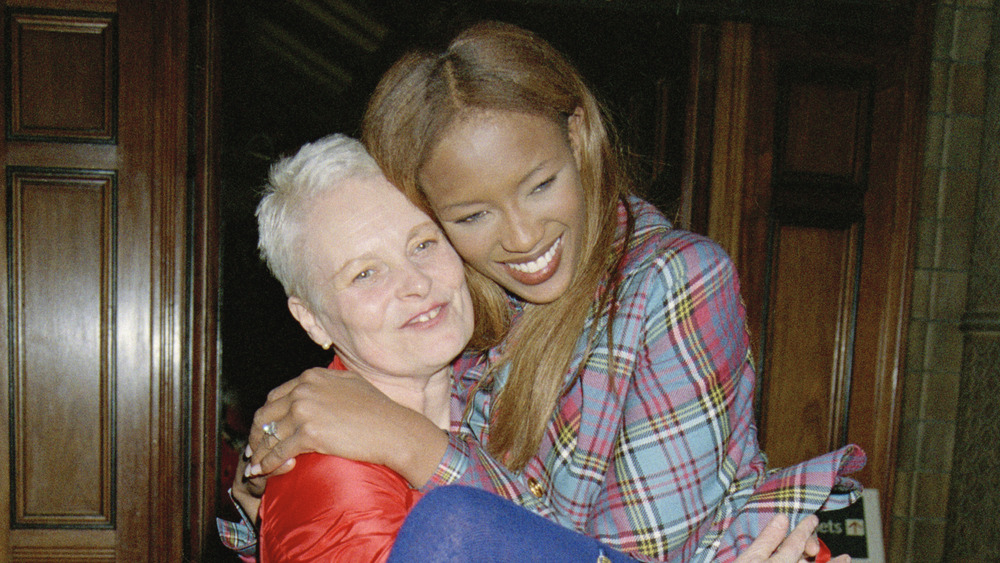 Dave Benett/Getty Images
One of fashion's most iconic moments happened in 1993, when supermodel Naomi Campbell tumbled to the catwalk floor while wearing a pair of Vivienne Westwood platform heels. The incident is so famous that Campbell and Westwood spent four whole minutes discussing it for Giocurve. "The reason you fell is because you had these rubber tights," Westwood recalled. Apparently, the accident happened when the model's thighs rubbed together, got stuck, and caused her feet to wobble. We can hardly blame her — those shoes are seriously high!
Additionally, at the time, Westwood went to check and see if Campbell was okay. "I went backstage immediately after you got off the catwalk... and you were lying on the floor between the rails," Westwood continued. Apparently, Campbell had said that she would go out again, but if she fell one more time, Westwood would have to come get her! It's adorable to see what a close relationship these two fashion powerhouses have — and it's pretty fascinating to get the inside scoop about this infamous catwalk moment.
Vivienne Westwood has become passionate about the environment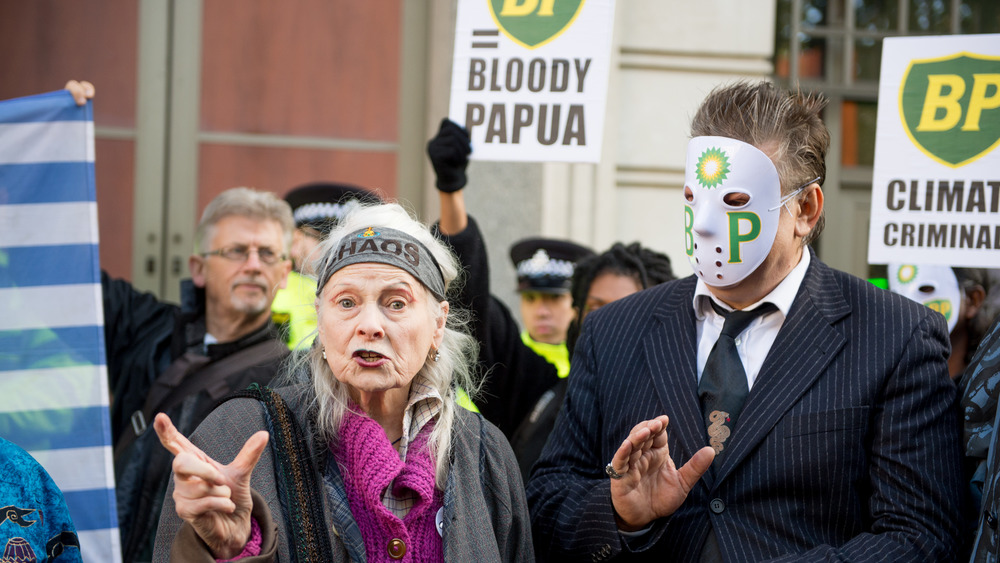 Ollie Millington/Getty Images
In 2020, Vivienne Westwood told The Guardian that she had a plan to combat the ever-growing climate crisis — and some of the planet's other pressing issues. Her idea was to sell packs of playing cards at artworks for £100 a piece. "You see, anybody who is prepared to pay £100 for a pack of cards is buying them because of what those cards represent," she explained. "So if Greenpeace sells hundreds of sets of cards, they are in a position to say, we have hundreds of people supporting us." Apparently, Westwood thinks that this movement will help to convince governments around the world to alter their entire economy. 
Additionally, Westwood's strategy involves ending private land ownership so that no one can cut down rainforests or damage the planet's ecosystems further. "The strategy to save the Earth is on these cards," she continued. And when asked by Interview magazine about her legacy, Westwood had a thoughtful answer. "I would hope to live long enough to see that people are confronting the problem of climate change, because if they do, then I think they'll manage to stop it," she revealed.