Biden's Oval Office Already Looks A Lot Different Than Trump's. Here's Why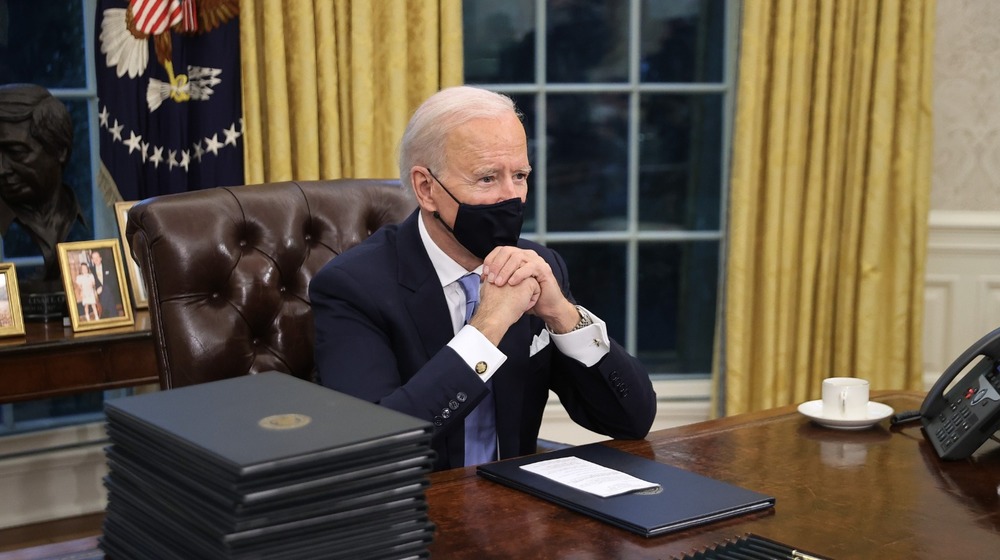 Chip Somodevilla/Getty Images
The White House Oval Office may look the same for just about everyone except the most eagle eyed observers, but if you play "spot the difference" with historical photographs that are laid side-by-side, you'll find the differences that visually set every presidential term apart. These differences involve more than just new family photographs, but different paintings on the wall, different rugs, and even different drapes.
The deputy director of Oval Office operations, Ashley Williams, tells The Washington Post, "[The Biden] Oval is an Oval for Day One. It was important for President Biden to walk into an Oval that looked like America and started to show the landscape of who he is going to be as president."
The Biden Oval Office is a nod to America's political icons, starting with the portrait of Franklin D. Roosevelt, which sits across from his desk. The messaging is not lost on The Washington Post, which points out that FDR shepherded the country as it went through some of the most trying times in the 20th century, from the Great Depression to World War II (via Miller Center).  
The Biden Oval Office reflects a Biden presidency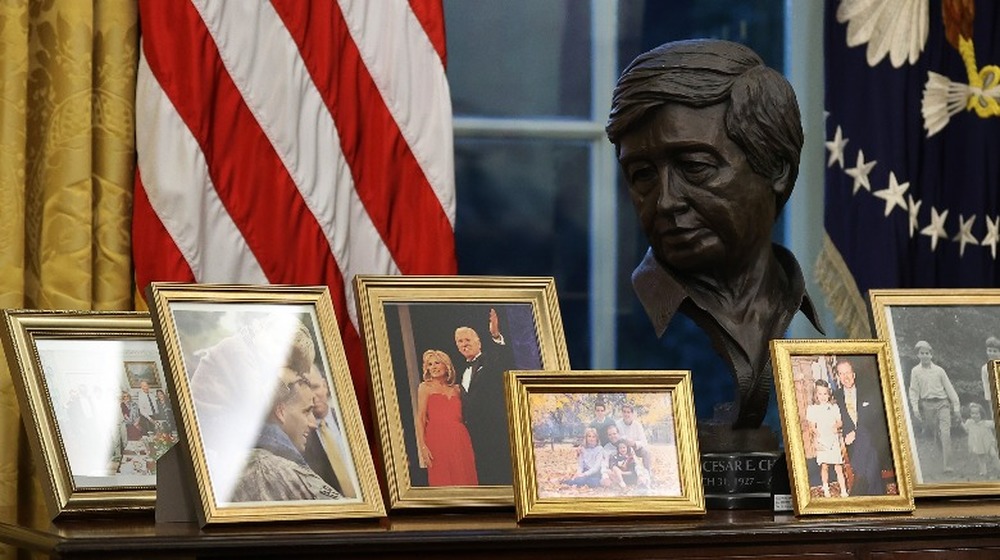 Chip Somodevilla/Getty Images
There are busts of civil rights icons including Martin Luther King Jr, Robert F. Kennedy, prominent union leader Cesar Chavez, Rosa Parks, and Eleanor Roosevelt. The Oval Office now also features a sculpture by Native American artist Allan Houser, and which previously belonged to the late Hawaiian legislator Daniel K. Inouye. The deep gold drapes and the darker blue carpet are throwbacks to the Clinton Administration (via The Washington Post).
Notable for its absence is the portrait of controversial president Andrew Jackson, which was displayed prominently during the time of Donald Trump. In its place, along with FDR's portrait, are paintings of George Washington, Abraham Lincoln, Alexander Hamilton, and Thomas Jefferson. As CNN's John King points out, "It is Joe Biden's stamp on the Oval Office... Joe Biden in decorating his Oval Office is essentially inviting the idea that great patriots can disagree.... Hamilton and Jefferson disagreed about a lot..."
One thing item that has remained untouched is the Resolute Desk, which was made popular during the time of the late President John F. Kennedy, and which was used by at eight presidents including Kennedy. The desk has been in place since the Carter Administration (via House Beautiful), and it remained untouched since Trump left on the morning of January 20.