Why Twitter Has An Issue With Tom Hanks' Inauguration Special Outfit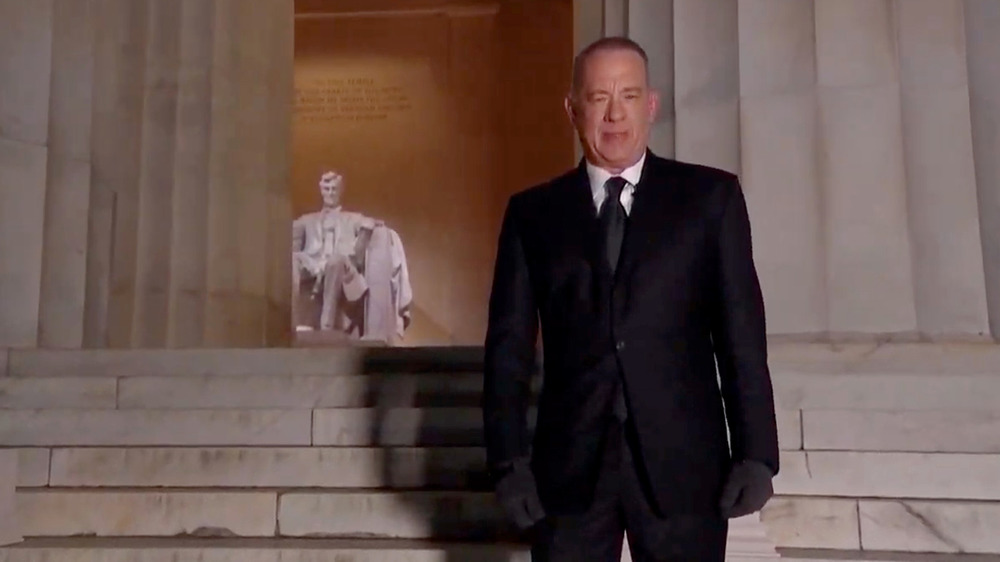 Handout/Getty Images
What is there not to love about Tom Hanks, the multi-Oscar winning award actor, and the man who introduces himself as "I'm that actor in some of the movies you liked and some you didn't. Sometimes I'm in pretty good shape, other times I'm not. Hey, you gotta live, you know?" on his Twitter account.
After four years of staying, for the most part, out of the political spotlight, Hanks has stepped right back in to host the Biden Inauguration special, "Celebrating America." With his dark suit and gloves, he cuts a stunning figure against the backdrop of the regal Lincoln Memorial, and for the most part, both he and the special show has been awe-inspiring, but Tom Hanks is triggering social media for another reason.
"Somebody please get Tom Hanks a coat, my inner Jewish mother is freaking out," one viewer wailed on social media. "My husband and I, being the elderly couple we are, have spent this whole #InaugurationAtHome concert talking about how Tom Hanks should be wearing a coat," another said. A third posted: "I suppose we are all a bit numb after the last four years, but Tom Hanks is literally numb right now. Someone give him a coat."
Social media thought Tom Hanks deserved warmer clothes at the Inauguration special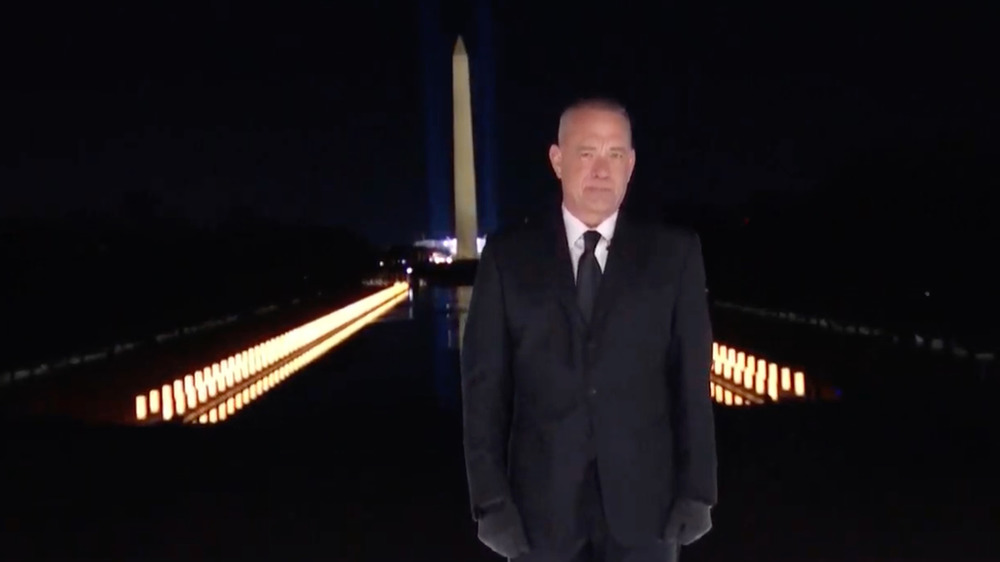 Handout/Getty Images
The comments never stopped coming. A fourth user referenced the cool outfit Senator Bernie Sanders pulled together for Inauguration Day, saying: "Who isn't letting Tom Hanks wear a hat and winter coat? Can he borrow Bernie's? My guy looks like he's struggling to keep his teeth from chattering every time they cut to him." And we think this user speaks for all of us: "Am I the only one who's worried about @tomhanks freezing out there? Get that man a scarf and a coat before he gets pneumonia!"
Weather.com might agree. A check shows that temperatures in Washington, D.C. currently hover at 33 degrees — and thanks to windchill, it actually feels like 30 degrees. We can only hope the cutaways mean that the man one social media user called "national treasure and America's dad" gets a chance to grab a hot chocolate and sit in a blanket. Otherwise, as one user puts it: "Tom Hanks looks very cold, can we get him a coat so he can celebrate america in warmth?"