Here's What You Should Know About Hair Steaming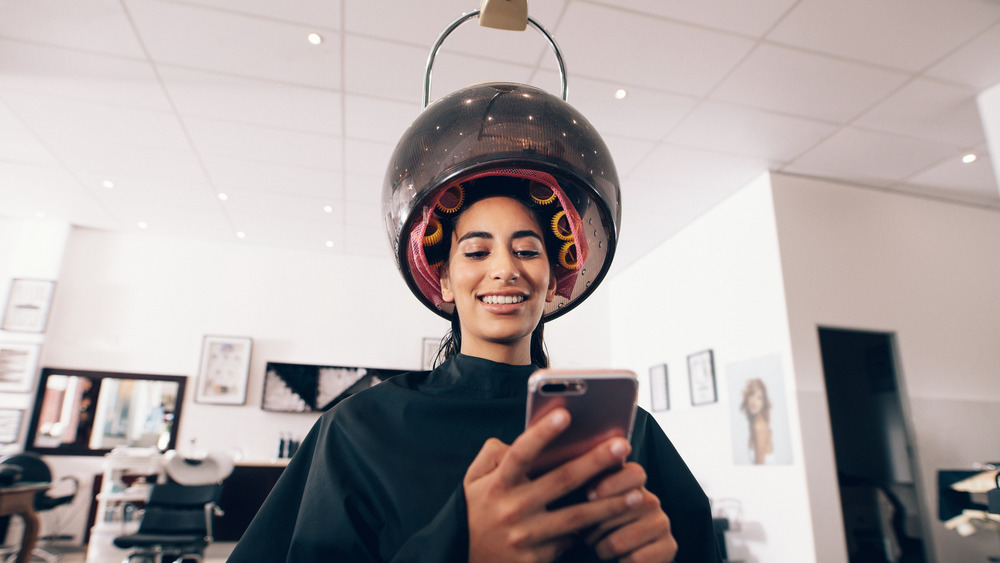 Shutterstock
People with thick hair likely know the struggle of keeping it properly moisturized and frizz-free. Especially during the cold-weather months, it seems like new split ends and frayed strands pop up every day. A staple in old school salons, hair steaming works in a similar way to hair masks — that is, it nourishes strands with classic products and ingredients.
According to Glamour, the process starts with application of various oils and creams that hydrate parched strands, then you apply heat — often from a dryer at the salon. Wrapping your hair in a plastic cap during this process helps evenly distribute and trap the heat, Elle notes.
Trichologist and colorist Bridgette Hill tells the outlet, "Steaming is using moist heat to open the hair cuticle to allow benefits of treatments, oils, and masks to penetrate deeper into the hair fiber for maximum hydration and moisture. When the steam produces moist heat, the cuticle slowly, gently swells and is infused equally with water and treatment," she explains. "Dry heat from a dryer lifts the cuticle, allowing the healing ingredients to penetrate the strand, but does not allow the product to penetrate deeply."
Essentially, the steam opens the cuticle up to a degree that the strands can more deeply absorb the nutrients from the oils.
Steaming does wonders for your scalp as well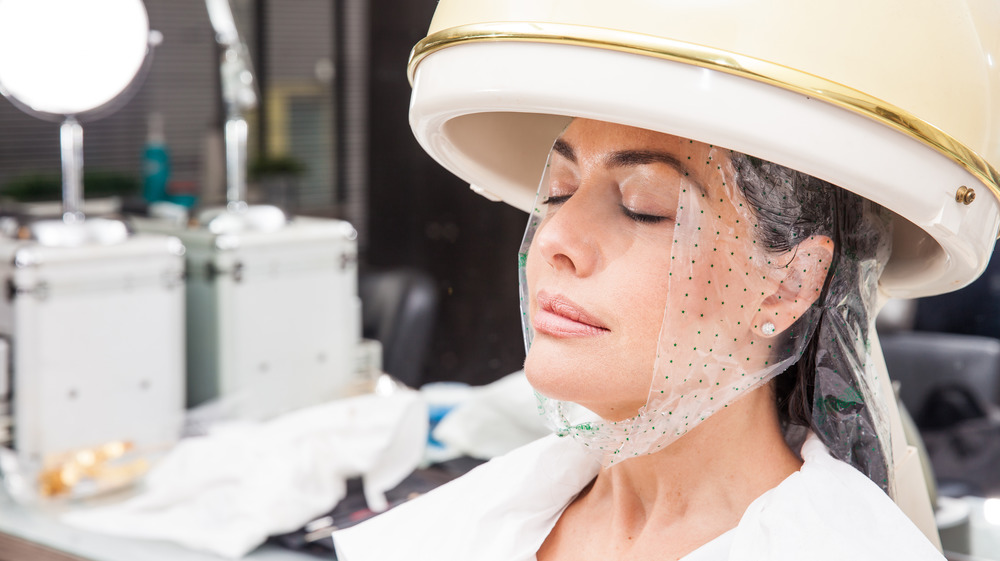 Shutterstock
Beyond just nourishing dry hairs, steaming treatments give your scalp the TLC it needs. Just like during a regular facial, the use of steam helps to open up the pores, Glamour notes. From here, your skin can more readily release impurities and build up that comes from using styling products on a regular basis.
"Steaming the scalp is a primary step necessary for removing built-up skin cells and improving blood flow and circulation. Similar to the hair fiber, the steam also allows for the active ingredients to penetrate the dermis at a deeper level," Hill told Elle.
Sitting down for 30 minutes with your products placed in your hair while heat opens the cuticle can be enough to make a noticeable difference in the way your mane looks. Since the steam offers a continuous stream of warmth, your hair can more easily absorb the nutrients from the mask or serum you've applied for the entirety of the time. In addition to hydrating your follicles, the hair steam treatment can aid in blood flow throughout the scalp, improving your hair's strength and helping it grow faster, the outlet notes. 
If your hair mask isn't cutting it, consider adding a steam to your routine and watch as your strands grow long and smooth.