Here's What Biden Is Doing On His First Full Day In Office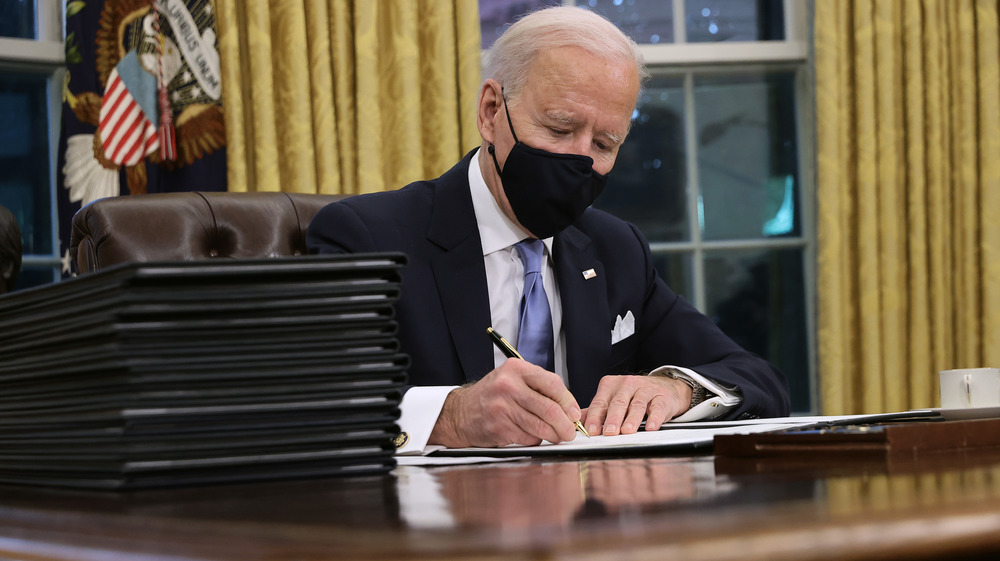 Chip Somodevilla/Getty Images
It's been less than 24 hours since Joe Biden was sworn in as the 46th President of the United States, and in that short time, things already look vastly different than what has become normal day-to-day business at the White House over the last 4 years. To say he hit the ground running would be an understatement.
According to NPR, in between inaugural ceremonies on January 20, President Biden not only signed 15 executive actions in his first few hours as Commander-in-Chief, but he also reinstated a sense of formality and structure to White House communications. As the Guardian noted, with the return of daily press briefings and an actual outline of his schedule for the day, Biden has done away with sweepingly vague statements like, "President Trump will work from early in the morning until late in the evening. He will make many calls and have many meetings," which were common practice for the former President.
So what's on his schedule for the first full day in office? According to his daily agenda, published by CNN, he's going to be busy.
COVID-19 protocols and briefings will be his main focus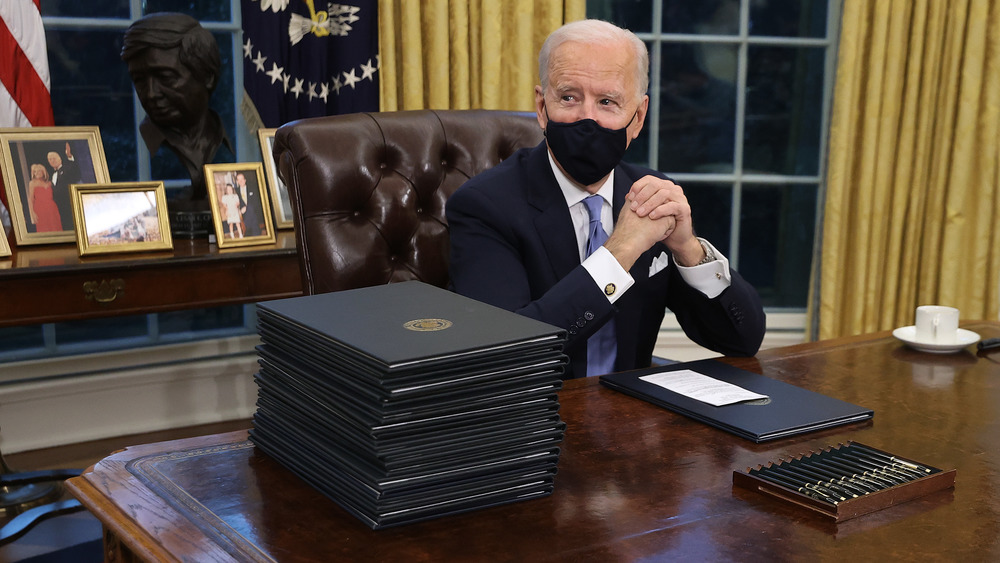 Chip Somodevilla/Getty Images
Not only did President Joe Biden rejoin the World Health Organization and install Dr. Anthony Fauci as an official liaison with the global initiative within his first few minutes sitting in the Oval Office, but the 15 executive actions he signed as described by NPR, also focused on setting clear and deliberate COVID-19 protocols including, a federal mask mandate which would require masks and social distancing on all federal properties.
Those efforts will continue today. As CNN notes, after President Biden and Vice President Kamala Harris receive the President's Daily Brief, the President will "deliver remarks on his administration's COVID-19 response." POTUS and Harris will then have another meeting with their COVID-19 team, likely to discuss his plan to administer 100 million vaccinations in his first 100 days in office (via Forbes).
Additionally, White House Communications Director Kate Bedingfield told CNN that Biden will sign executive orders, "that direct agencies to exercise the Defense Production Act," which ensures that essential supplies like N95 masks and personal protective equipment, including testing kits and vaccine supplies are widely and readily available. Included in his COVID-19 initiative, as reported on by Forbes, will be a federal mandate that masks be required on all interstate public transportation, the creation of a COVID-19 Health Equity Task Force that will ensure vaccines are distributed equally and fairly, and increased funding for FEMA which will ultimately set up community vaccination sites across the country.