Kelly Mi Li Dishes On Filming Netflix's Bling Empire And The Show's Biggest Feuds - Exclusive
In January 2020, Netflix unleashed their latest series Bling Empire, a reality show centered on the extraordinary lifestyles of California's wealthiest Asian and Asian-American socialites. Think of it as all the drama patented by The Real Housewives blended with the wildly expensive lifestyles and unique cultural moments that inspired Crazy Rich Asians. We're not just talking millionaires — we're talking billionaires.
At the time of this writing, viewers have graced the show with an astounding 88 percent score on Rotten Tomatoes, and it's clear the series swiftly cemented itself as one of the platform's most binge-worthy so far this year. This particularly rings true for 30-something women inspired by the overwhelming success of self-made star Kelly Mi Li.
Mi Li executive produced the series alongside Jeff Jenkins, the man partially responsible for some of reality TV's most iconic shows (think: Keeping Up with the Kardashians and The Simple Life, which deserves a spot in the early aughts hall of fame). Now that Mi Li has proved she's both a star behind the camera and in front of it, she sat down with The List to answer some questions about her show. Here's everything you wanted to know behind-the-scenes of Bling Empire.
Bling Empire isn't faking it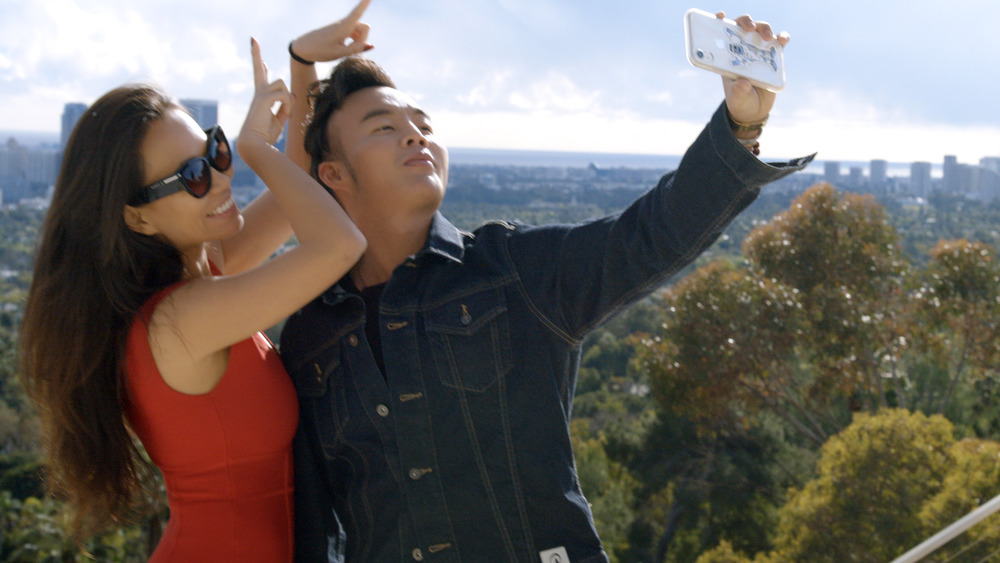 Netflix
Sometimes, the reality in reality TV has a very loose definition. It's no secret that reality series cast people to ramp up the drama, but sometimes, it gets awkward when it feels like nobody is actually friends in real life. Critics argue that this was the fatal flaw of Vanderpump Rules, which hired a group of newcomers for season 8 before axing nearly the entirety of its cast in 2020 following a series of public scandals (via BuzzFeed).
Bling Empire manages to succeed where its predecessors failed, largely because what you see on TV is actually what's happening in real life. It's got the genuine charm and camaraderie of Vanderpump's early years with a heck of a lot more cash (because let's be honest: The only struggling waiters on-screen are the people serving the cast). As Mi Li told The List, Bling Empire's main players are all tight-knit friends.
"I've been friends with everybody for a very long time," she said. "I think I know Christine [Chiu] and Kane [Lim] the longest ... for almost 10 years now. Jamie [Xie] and Kevin [Kreider], I met about three years ago, so they're probably my newest friends, but we've all known each other for a long time."
Kelly Mi Li goes outside of her comfort zone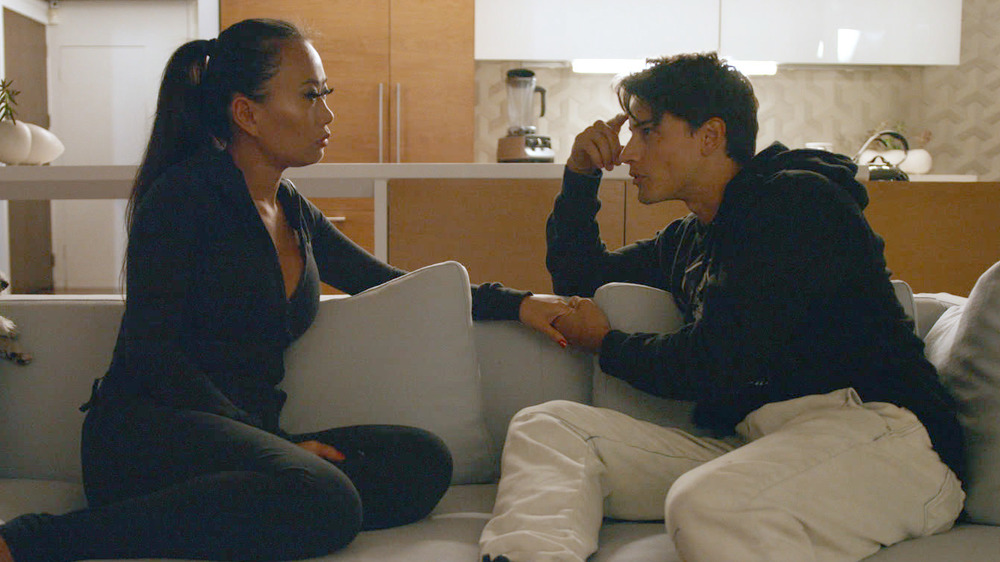 Netflix
The fact that Bling Empire's boldest personalities somehow managed to find each other almost a decade ago proves that the universe is the best casting agent. Friends or not, chatting and airing out your relationship issues is totally different when you're doing it in front of an army of producers and camera operators. As Mi Li told The List, it inherently goes against the private nature of Asian culture.
"It was a little scary at the beginning just because you're opening up your whole life to the world," she said. " And in our Asian culture, it's always been like stay low-key, stay private, don't air all your dirty laundry, kind of thing. But [I'm] just very grateful that we had this opportunity, and towards the end of it, you kind of forget the camera's there. Our crew was so great, you kind of just forget they were even there."
Filming also forced Mi Li to confront the longstanding issues she had with her boyfriend Andrew M. Gray, who fans might recognize as the red Power Ranger. In doing so, the pair inadvertently produced some of the most emotional content in the series. "The show kind of forced us to face our problems instead of keep hiding it or keep downplaying it," she admitted. " ... [Andrew is] able to watch it from a third person, where he realized there was a lot of trauma in his childhood."
Kelly Mi Li talks Bling Empire's friendly feud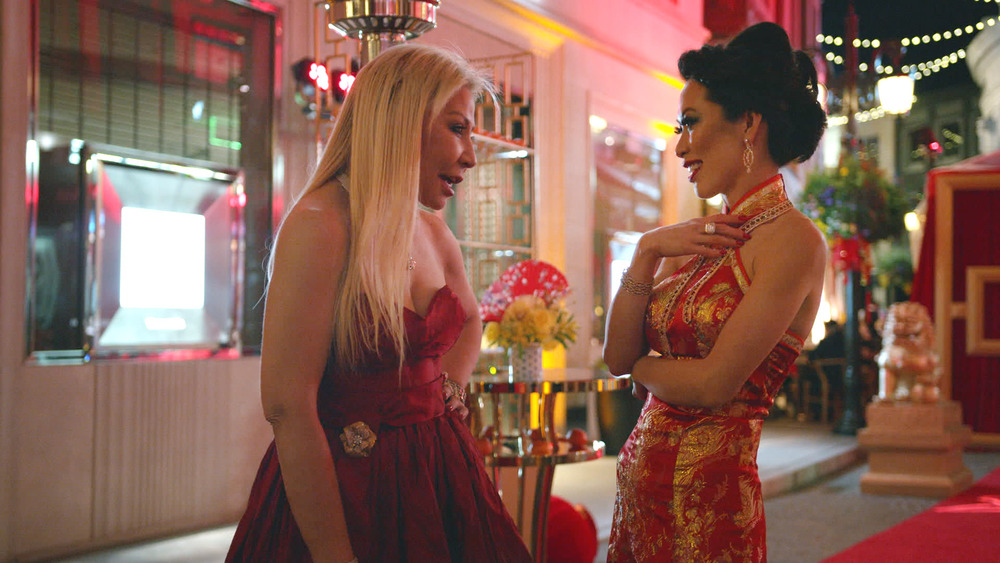 Netflix
Bling Empire wouldn't be a reality show unless the cast had a couple disagreements. Though Mi Li's relationship with Gray was trying, fans watched a notable rivalry blossom between so-called "couture queen" Christine Chiu and Anna Shay, the daughter of billionaire Edward Shay, over a ridiculously lavish dinner party. There are few things more petty than sending a message through a seating chart, and Mi Li believes their feud is one of the biggest on the show.
"I think the dynamic between Christine and Anna, it's interesting to me," Mi Li told The List. "Anna lives in her own world. She doesn't live by any rules because she doesn't need to, so she's not competitive. She's kind of doing her own thing, where I think Christine was a little competitive, and she wants to have the title of Queen Bee in Beverly Hills. I think that fuel and that fire was interesting to me."
In case you're wondering: Shay and Chiu's on-going feud appears to be alive and well in 2021. More recently, Shay balked during an interview with Oprah Magazine about how "embarrassing" it must've been for Chiu to find a sponsor to pay for a dinner party of her own. Similarly, in a separate Oprah piece, Chiu mused about having "plenty of time" to plot her revenge, which points to a season 2. At the time of this writing, nothing has been confirmed by Netflix, but we've got our fingers crossed.
You can catch Kelly Mi Li and the rest of the cast on the premiere season of Bling Empire on Netflix now.