Here's What Michelle Obama Really Thinks About George W. Bush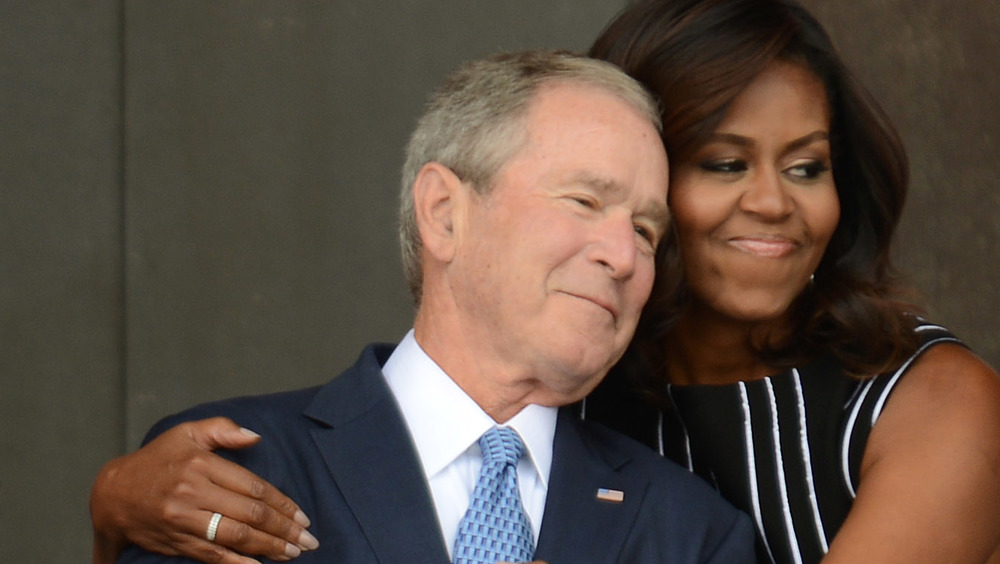 Astrid Riecken/Getty Images
It might be easy to assume that if two people are on opposite sides of the political spectrum, they might not be friends. But in the case of former First Lady Michelle Obama and President George W. Bush, that assumption would be wrong. The pair are proof that partisan differences don't have to stop a friendship from forming and enduring.
Part of what binds them together is the protocol of where they sit as a former first lady and a former president. On the Today Show back in 2018, after the pair had made news at John McCain's funeral when Bush handed her a cough drop, Obama explained that at all official functions, she will always be sat next to Bush; "we are forever seat mates." She seemed pretty happy about the arrangement saying "He is my partner in crime at every major thing where all the formers gather. So we're together all the time and I love him to death. He's a wonderful man; he's a funny man."
Michelle Obama and George W. Bush have important shared values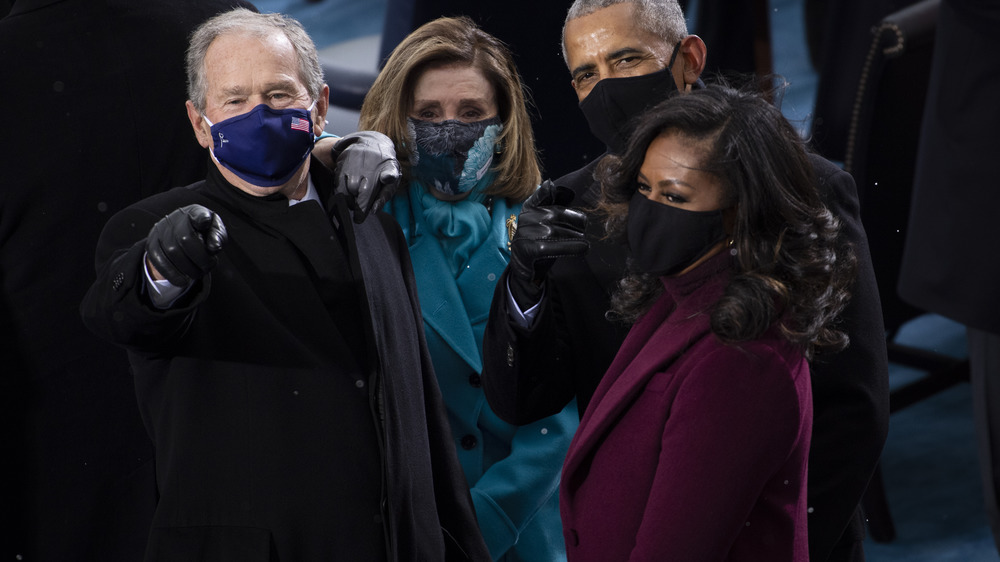 Pool/Getty Images
Obama went on Today again in 2019 and in an interview with Jenna Bush-Hager, Bush's daughter, she mentioned the relationship again. "I had the opportunity to sit by your father at funerals, the highs and the lows, and we shared stories about our kids and about our parents. Our values are the same. We disagree on policy, but we don't disagree on humanity. We don't disagree about love and compassion."
So unexpected is a friendship between those who might seem like political rivals, that friendly public interactions between the pair have made headlines. When Obama was First Lady, she and Barack attended the opening of the National Museum of African American History and Culture in 2016, as did George W. and Laura Bush. When she greeted the former President with a hug, it made national news, and Bush told People that the moment was one between friends; "When I saw her, it was a genuine expression of affection."