The Heartbreaking Death Of Hank Aaron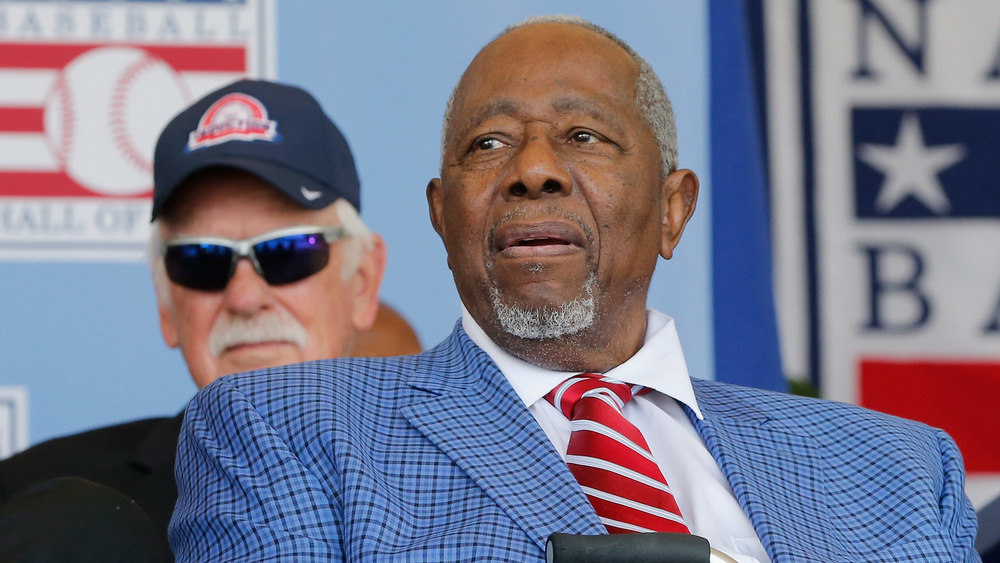 Jim Mcisaac/Getty Images
At age 86, baseball Hall of Famer Henry Louis "Hank" Aaron has died. His daughter confirmed the news to Atlanta's WSB-TV. The former Atlanta Braves player, often referred to as "Hammerin' Hank," was known for breaking baseball legend Babe Ruth's all-time home-run record in 1974 when he hit his 715th career home run versus the Los Angeles Dodgers on April 8. He ended his career with 755 total, according to the New York Post.
He was born in Mobile, Alabama, per WSB-TV, on Feb. 5, 1934, and was one of eight children. Although his family was poor and struggled to provide him with the equipment he needed to practice baseball, Aaron credited them for his success. "If it hadn't been for my brother, my uncle, sharing their love and making me realize that — although I had a dream at that time — but if I keep looking and pursue it, that I could match it," he told WSB-TV in an interview honoring his 80th birthday.
Hank Aaron played a crucial role in the civil rights movement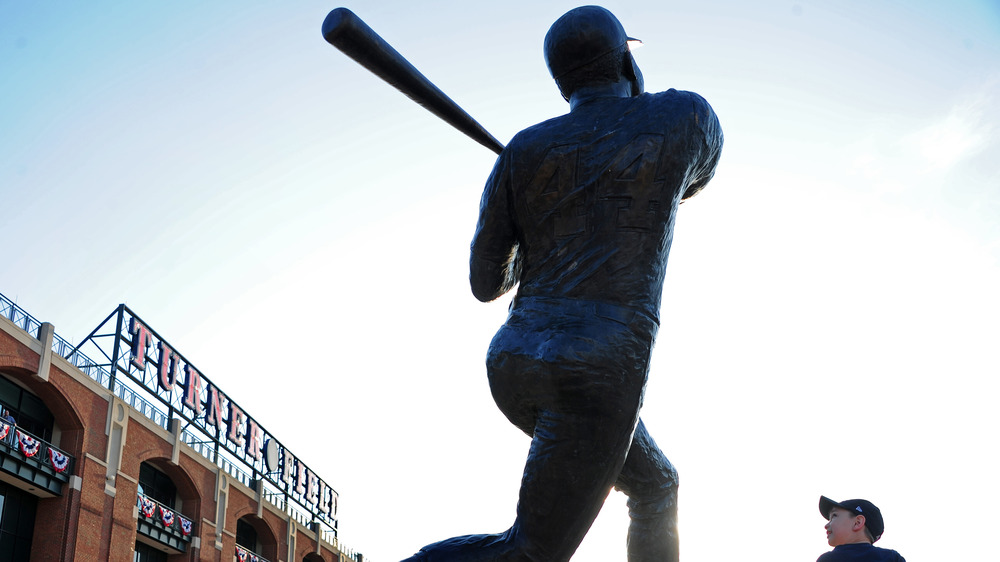 Scott Cunningham/Getty Images
Leading up to his record-breaking home run in 1974, Hank Aaron received a slew of death threats via mail (via The New York Times). According to WSB-TV, his family couldn't even attend the game where it took place, at Atlanta-Fulton County Stadium, due to safety reasons. But that spotlight made Aaron realize his influence, and the change-making role he had in the Black community.
"I realized that I had some kind of role that I should be playing. I'm not talking about a baseball role ... someone who had a role to play to help other Blacks like myself," he told WSB-TV. "My hope is one day people will judge me by character rather than by the context of my color. And I think when that day comes, that's the day I'm going to say 'Hallelujah.'"
Aaron was inducted into the National Baseball Hall of Fame in 1982 and received the Presidential Medal of Freedom in 2002, per ESPN. On Jan. 5, according to The Associated Press, he received the COVID-19 vaccine and encouraged other Black Americans to do the same. "I don't have any qualms about it at all," he said. "I feel quite proud of myself for doing something like this. ... It's just a small thing that can help zillions of people in this country."