Dan Rather's Tweet About Face Masks Is Causing A Stir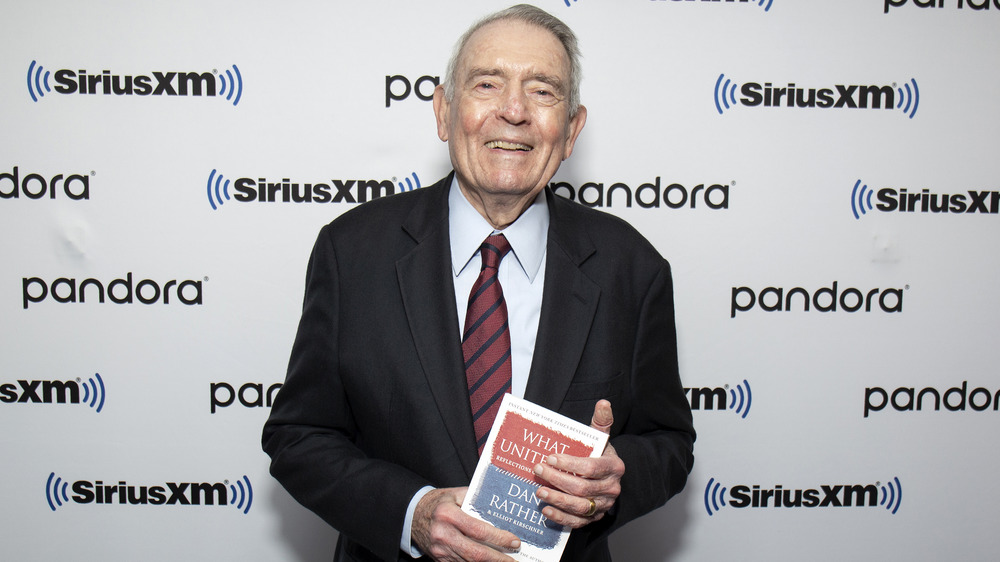 Santiago Felipe/Getty Images
For decades, veteran journalist Dan Rather has informed and entertained the world through his work at CBS Evening News, 60 Minutes, The Big Interview, and most recently his Sirius XM show, Dan Rather's America, along with a brand-new Substack newsletter. His enduring popularity can be attributed both to his ability to get compelling stories and to his outspoken style, always tinged with a touch of down-home Texas humor. It's that combination that has made him a popular presence on Twitter in the last few years (via Biography). 
Rather has pulled no punches expressing his opinions of the Trump administration in his tweets, particularly the former president's discrediting of the media and his divisive us-vs.-them rhetoric. (One paragraph from Rather's most recent book, What Unites Us, says, "We see elected officials pounding their chests, saying their vision of America represents the only real patriotism. To them, I say that patriotism is not a cudgel.") The Saturday after Joe Biden's inauguration, the newsman remarked, "As I settle into a Saturday evening I breathe deeply, reflecting on how nice it feels to know that my sanity won't be tied to the destructive whims of Mr. Twitchy Twitter Thumb."
Surprisingly, though, Rather is getting attention for a recent tweet on a topic that doesn't mention Mr. Twitchy... um, the former president. 
Dan Rather has strong words for people who wear masks incorrectly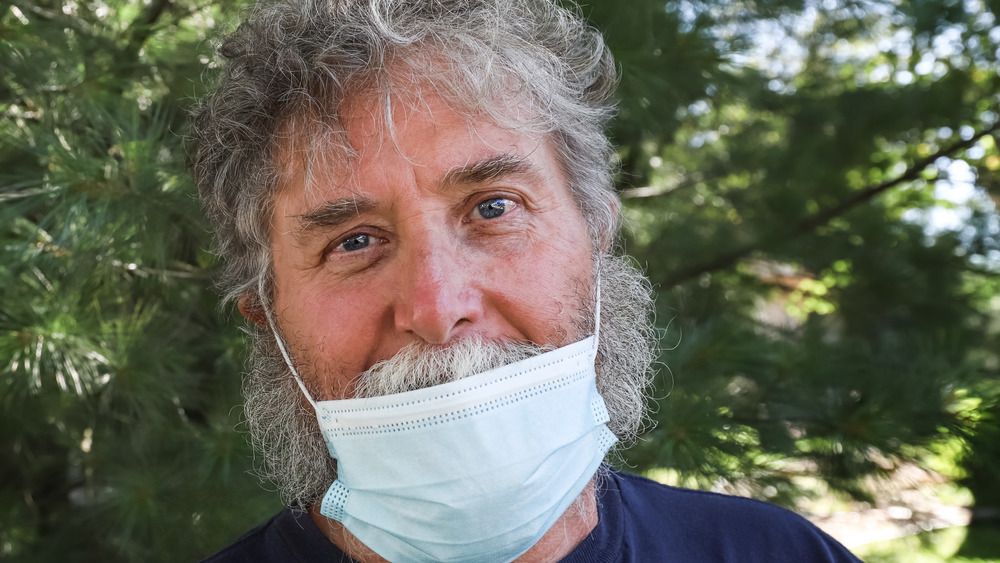 Shutterstock
On Saturday afternoon, Rather tweeted: "If you're wearing a mask and not covering your nose, you are not being half right. More like a half wit. Cmon folks. Pull it up." He didn't put his remarks into context, but perhaps he was inspired by someone he saw on the street or at a local Target. It might also have been a dig at Republicans, who have been less likely than Democrats to wear masks and follow social distancing guidelines (per US News & World Report). 
The observation got more than 100,000 likes and 14,500 retweets, along with a host of responses. Most of them were enthusiastic approvals: "If people would only do the responsible thing; it's not hard to do and it works." "If kids can handle it at school, then adults should be able to." "It amazes me how many people only wear a mask because they're told to. They don't grasp the reason for the mask so they don't wear it right....Willful ignorance." And, well, let's just say there were a lot of comparisons between face masks and underwear.
There were a few dissenters, however. One woman explained that despite all precautions — including mask-wearing — both she and her father contracted COVID-19. "Nothing is 100%," she said. Another fan announced, "Most masks don't stop aerosol transmission anyway, so it's crappy to criticize people for not wearing them right." 
The naysayers aren't likely to sway Rather. At 90, he's learned a little about life, and as a member of a high-risk group, he surely wants to do everything possible to make sure he can continue sharing his thoughts on social media.