Kim Kardashian's Latest Video Has A Subtle Dig At Donald Trump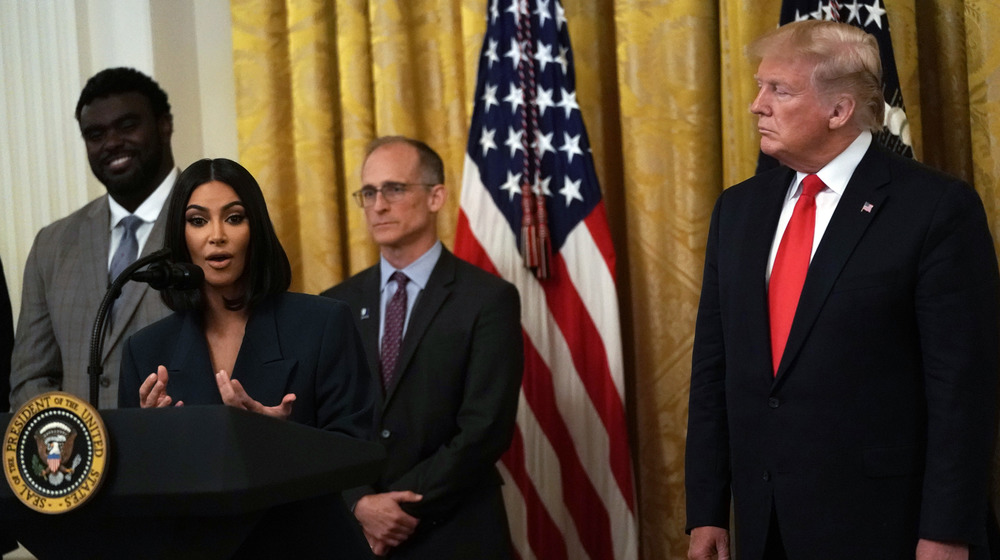 Alex Wong/Getty Images
Kim Kardashian's journey as a lawyer in training has taken her to many interesting places. It even took her to the White House twice, in 2018 and 2020 (via People). Kardashian's interest in criminal justice caused her to appeal to former President Donald Trump. She spoke with him not just about general criminal justice reform, but argued for commutations on behalf of a number of cases she became involved with. 
One of those cases was that of Chris Young, who recently was released from prison after serving 10 years of a life sentence. Kardashian lobbied on his behalf after learning he received the sentence for a non-violent drug offense, Entertainment Tonight Canada reports. He arrived home on January 23. Kardashian shared a video of his arrival on her Instagram Stories, along with a few words about his release.
"Chris Young is FREE after more than a decade behind bars. Wow! My heart is so full!" Kardashian wrote (per ET Canada). "It brings tears to my eyes to see Judge Sharp welcome him home," Kim wrote. "He was forced to sentence him to a life sentence based on mandatory minimums and ended up resigning due to these injustices. Judge Sharp and I went to the White House a few years ago asking for clemency for [Chris Young]. He's so deserving and so smart and I can't wait to see all he accomplishes in this life!"
Kim proceeded to thank the many people who worked on the case with her. Noticeably, she left out former President Trump.
Kim's first trip to the White House was pretty controversial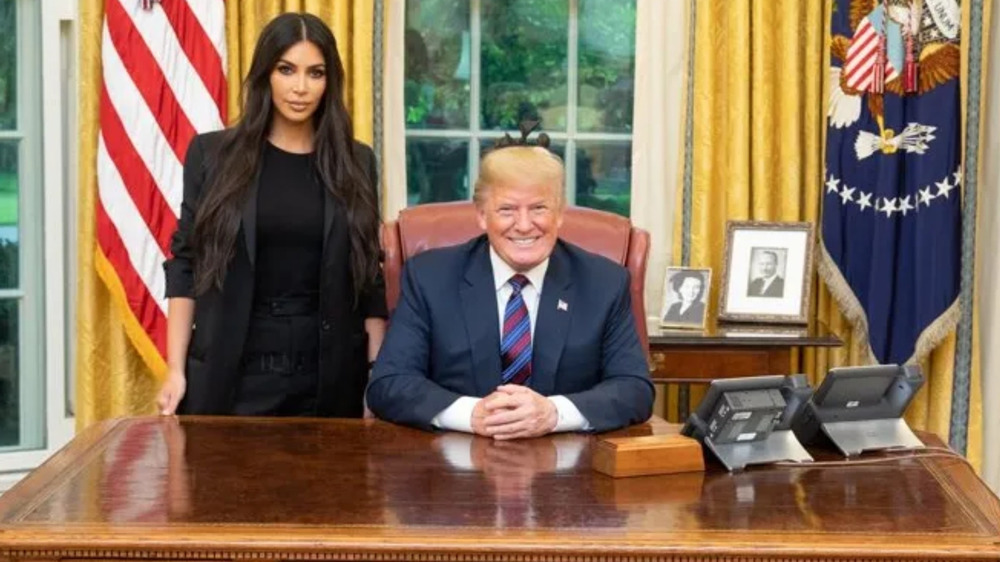 Kardashian's relationship with the Trump family has always been a point of controversy. She spoke about it during her appearance on David Letterman's Netflix series, My Next Guest Needs No Introduction (via Yahoo Entertainment) .
"Trust me. Everyone called me and said, 'Don't you dare step foot in that White House or your reputation is done.' And I said, 'I have to step foot in there or these people's lives don't have a chance,'" Kardashian told the legendary late-night host. 
In the conversation, Letterman pressed Kardashian on how she could reconcile working with the divisive former president. She maintained that it was for the greater good and well worth it when inmates like Alice Johnson were released. "Hopefully, for the next multiple administrations, I'll be working with the White House, helping them with clemencies," Kim added. It will be interesting to see if that works out for her as she continues her journey to passing the bar.