The Major Change That Was Just Made To White House Press Briefings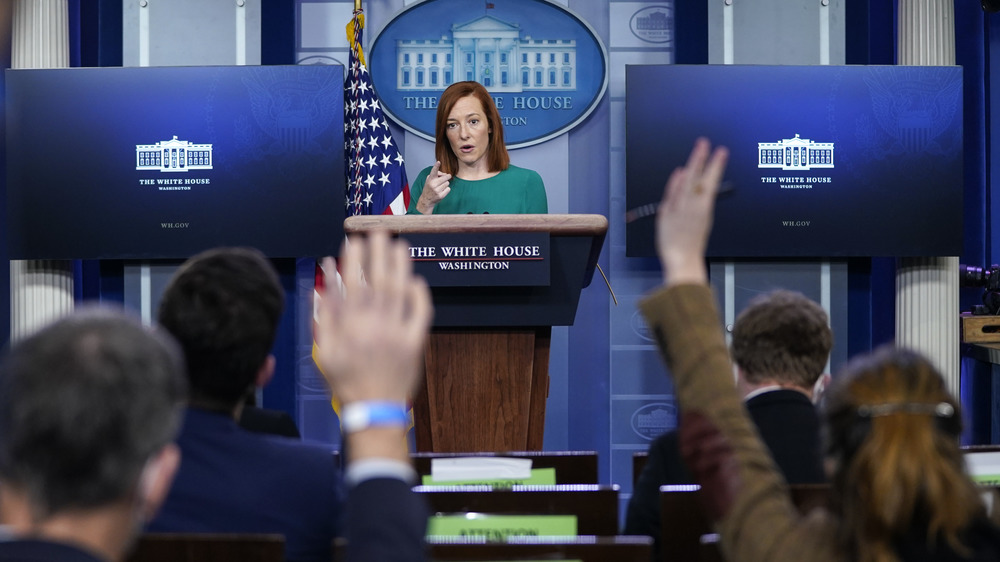 Drew Angerer/Getty Images
White House Press Secretary Jen Psaki has been on the job less than a week, but she's already made changes that have brought the temperature down, at least for White House briefings. She addressed "the importance of bringing truth and transparency back to the briefing room," while acknowledging that didn't mean they would always agree. "There will be moments when we disagree, and there will certainly be days where we disagree for extensive parts of the briefing even, perhaps. But we have a common goal, which is sharing accurate information with the American people," Psaki said (via The Guardian).
Today, truth, transparency, and inclusivity meant a new addition to nationally televised White House briefings: an American Sign Language (ASL) interpreter, who joined the Monday briefing through a live stream. In explaining the addition, Psaki said, "The president is committed to building an America that is more inclusive, more just and more accessible for every American (via NPR)."
The addition of an ASL interpreter at White House briefings was mandated last fall by a federal judge, after the National Association of the Deaf sued the White House for failing to provide interpreters for pandemic-related press conference (via NBC).
Georgia firefighter Andrea Hall recited the Pledge of Allegiance in both ASL and out loud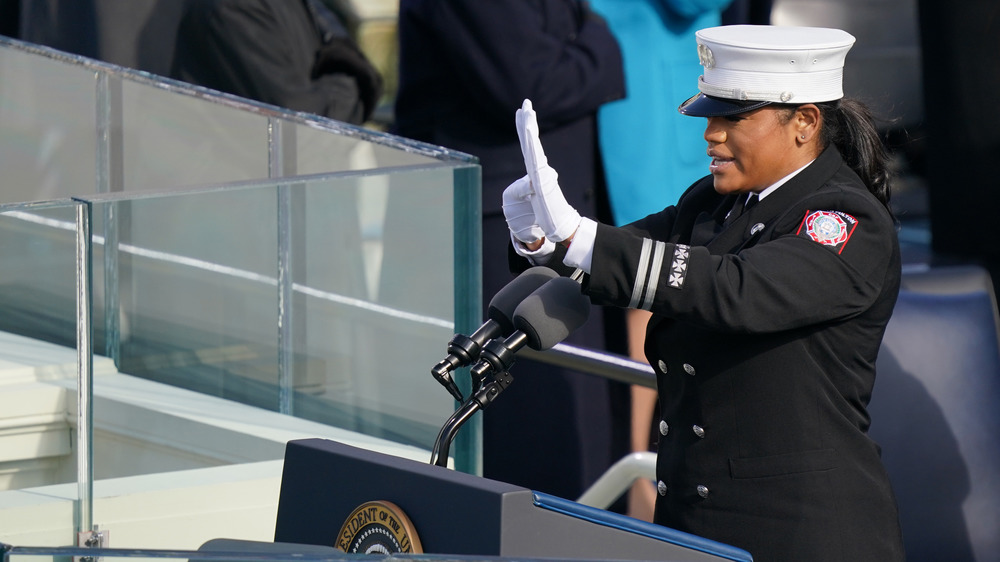 Pool/Getty Images
The administration hit the ground running on this front, when it enlisted the help of Georgia firefighter Andrea Hall to recite the Pledge of Allegiance in both ASL and out loud on Inauguration Day (via NPR). This drew praise and confessions of happy tears from the Twitterverse, with one user plainly stating, "Accessibility matters."
Many other Twitter users celebrated the decision to have an ASL interpreter at daily briefings. One user pointed out the difficulties the deaf community has dealt with due to coronavirus, saying, "I keep thinking of an acquaintance who is hard of hearing and relies on lip reading ... then everyone masked up. You would feel so isolated and forgotten." 
Another Twitter user celebrated what he saw as the inclusivity as a whole exhibited by the Biden administration thus far, tweeting, "Thank you for including tribal leaders as part of the governor and mayoral pools. Between this, acknowledging minorities issues, and having ASL translation, you've already put White House communications light years ahead of where they were only two days ago."
A fourth simply tweeted, "Thank you for adding a space for ASL!! Glad to see the Press Secretary is listening!!"