Dr. Fauci Reveals What He Really Thought When Trump Made His Disinfectant Comments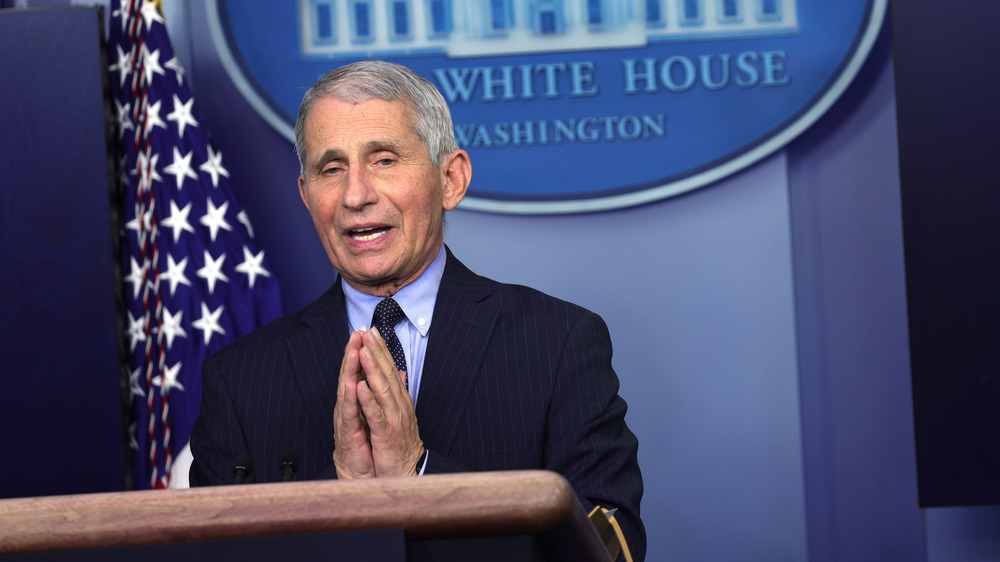 Alex Wong/Getty Images
In April 2020, then-President Donald Trump memorably suggested ingesting disinfectants like bleach into the body as a strategy to treat COVID-19. In an interview with CNN on Monday, Jan. 25, Dr. Anthony Fauci, the director of the National Institute of Allergy and Infectious Diseases, told Erin Burnett that his immediate reaction to the comments was concern that people would harm themselves by following Trump's advice.
"You're going to have people who hear that from the president and they're going to start doing dangerous and foolish things, which is the reason why, immediately, those of us who were not there said, 'This is something you should not do.' Be very explicit," Dr. Fauci told Burnett. "The (US Centers for Disease Control and Prevention) came out, I think, the next day and put in one of their publications, 'Do not do this.'"
Trump later claimed that his comment was sarcastic (via NBC News), but CNN noted Gov. Larry Hogan of Maryland reported that hundreds of his constituents made phone calls inquiring about the effectiveness of ingesting disinfectants.
Dr. Fauci says he took "no pleasure" in contradicting Trump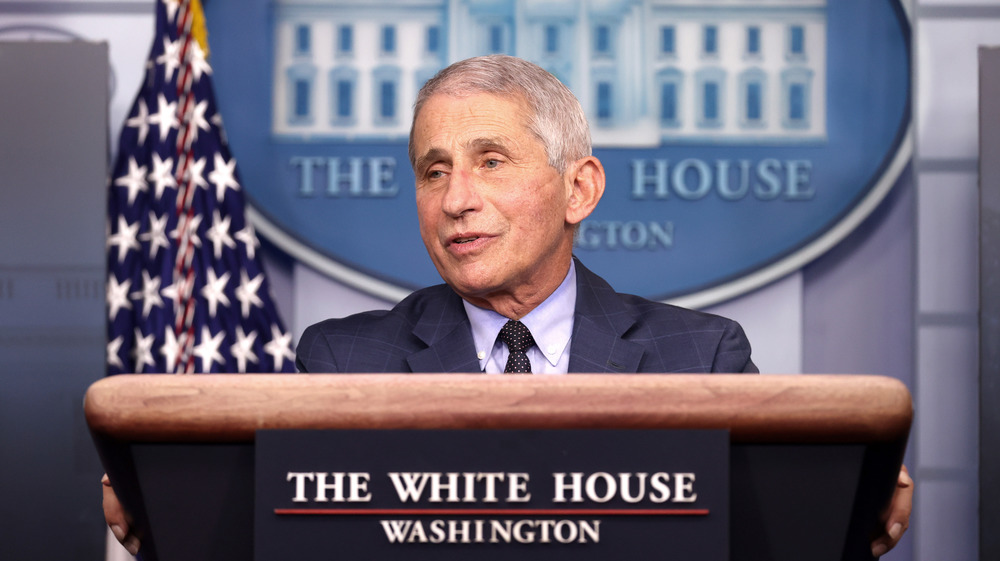 Tasos Katopodis/Getty Images
Dr. Fauci made clear in his interview with CNN that he didn't enjoy contradicting the president during an already-divisive time. However, he needed to ensure that Americans had accurate information about COVID-19 prevention and treatment. "I took no great pleasure out of contradicting the president, but I had to get out just to maintain my own integrity, but also to stand up for science that the data did not show what they were claiming," Dr. Fauci told Burnett.
In his first press briefing under the Biden administration, Dr. Fauci expressed relief that the new president won't undermine him and his scientific expertise. "The idea that you can get up here and you can talk about what you know, what evidence, what the science is, and know that's it — let the science speak. It is somewhat of a liberating feeling," Dr. Fauci stated at the briefing on Thursday, Jan. 21 (via CNBC).
Dr. Fauci said that he and President Biden are on the same page about honesty and transparency when it comes to speaking to the public about COVID-19 — and they'd spoken about this very issue just 15 minutes before the press briefing. "One of the things that we're going to do is to be completely transparent, open, and honest," Dr. Fauci told reporters. "If things go wrong, not point fingers, but to correct them and to make everything we do be based on science and evidence."