Poet Amanda Gorman Has A New Job Lined Up After The Inauguration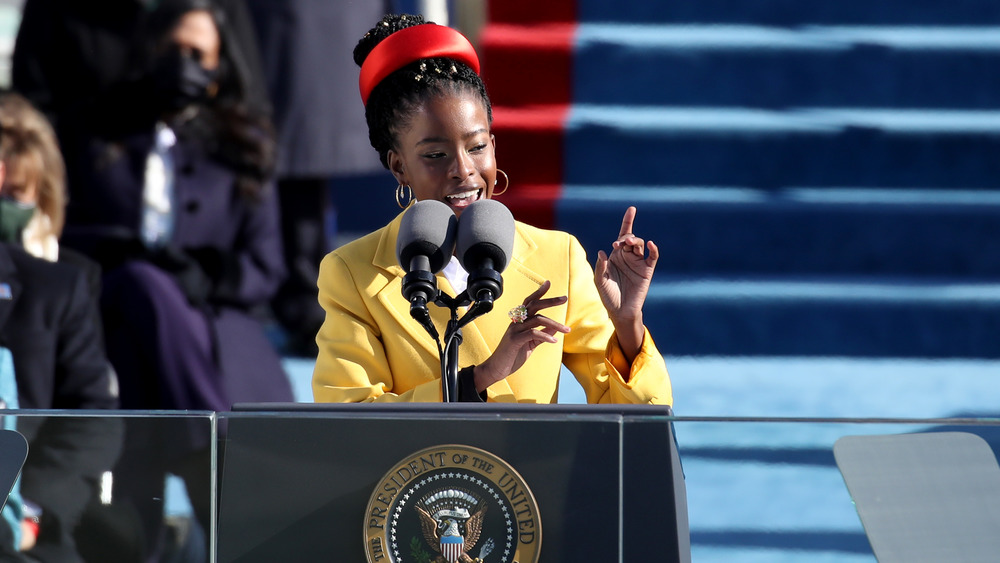 Rob Carr/Getty Images
Amanda Gorman made headlines as the youngest inaugural poet when she performed her poem "The Hill We Climb" at the inauguration of President Joe Biden, and she's proving herself to be a true renaissance woman. It was just announced that Gorman has signed with IMG Models (via The Hollywood Reporter). As such, she joins the likes of Gigi Hadid, Bella Hadid, Chanel Iman, Gisele Bündchen, and more (via IGM Models). The company made the announcement on Twitter, where many fans were quick to fans congratulate Gorman. 
In an interview with Vogue right before her inauguration performance, the 22-year-old Los Angeles native said, "[Fashion] has so much meaning to me, and it's my way to lean into the history that came before me and all the people supporting me." It turns out that the Harvard graduate, who became America's first National Youth Poet Laureate in 2017, is no stranger to the fashion world.
Amanda Gorman has modeled before
Gorman has modeled before, having appeared in ads for Helmut Lang in the past. She was also front row for the Prada show during Milan's 2019 Fashion Week (via Vogue). Gorman explained why her attendance was so special, telling Vogue, "Poets aren't well represented in the fashion world, let alone young female poets of color. Prada is such an iconic fashion house. I was honored to get the invite."
She also detailed to Vogue why she didn't see any problem with loving poetry and loving fashion. "There's this idea of the poor, suffering poet, and I try to exhibit that the poet can be stylish, too." 
Gorman can now add modeling to her growing list of accomplishments, which also includes the upcoming publication of two books. Gorman's debut children's book, Change Sings, and poetry collection, The Hill We Climb, will be published by Penguin Random House in September (via her website).