Halsey Shares Exciting Family News With Fans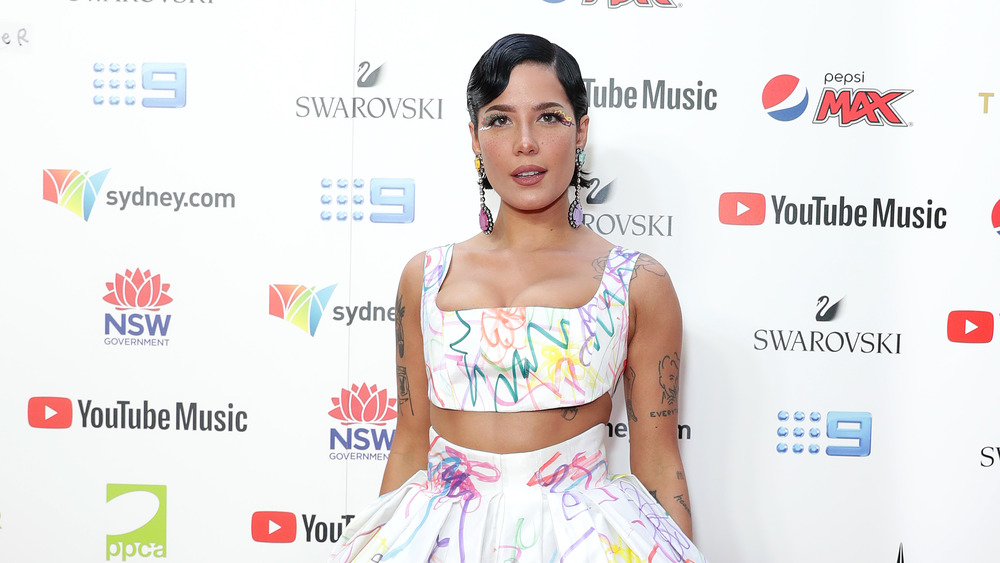 Mark Metcalfe/Getty Images
Just this past week, Halsey announced she was canceling her upcoming summer tour due to COVID-19 concerns (via People). This is obviously the right, responsible choice for everyone's safety — but could the cancelation also have something to do with the shocking news the star just announced via her Instagram?
Indeed, on Wednesday, Halsey shared a selfie that clearly showed a burgeoning belly, captioning the image simply, "surprise." The announcement was accompanied by rainbow, angel, and baby bottle emojis, leaving little doubt the singer was revealing she is pregnant. She also shared two more shots in which she only wears jeans, and shows off a cute baby bump.
According to In Touch Weekly, Halsey's boyfriend, Alev Aydin is the baby's father. The couple was first linked in October of last year. He took to the comments section of Halsey's post to share his excitement over their impending bundle of joy, writing, "Heart so full. I love you, sweetness." Halsey responded, "I love you!!!! And I love this mini human already!"
Celebrities and fans react to Halsey's exciting baby news
Both stars and fans quickly shared their congratulations and shock at the big news in the comments of Halsey's Instagram post. Actress Ruby Rose said, "Wow wow wow! Congratulations." Model and actress Emily Ratajkowski, who is also expecting her first child, simply commented, "Yay." January Jones, a mom of one according to E! Online, commented, "Whaaaaaaaaaatttt??? Congratulations Momma!! You're gonna love it!!" And country singer Kelsea Ballerini adorably commented, "ahhhhhhh she's a mamaaaaa!!!!!"
Meanwhile, the post was liked for over 2.1 million people at time of writing — and the post had just been shared an hour earlier!
The meaning behind the emojis Halsey chose for her announcement
It us important to note there is more significance behind the emojis that accompanied Halsey's pregnancy announcement than may meet the eye. According to People, the soon-to-be mom previously suffered a miscarriage. The angel emoji may be intended to honor that baby, while the rainbow denotes a rainbow baby — a baby that is expected after a loss. Fans may also notice that in the Instagram post, the singer wears a rainbow crocheted top, another beautiful way to both share her happy news, and pay tribute to her experience with loss.
About her miscarriage, the expectant mom previously said, "It's the most inadequate I've ever felt. Here I am achieving this out-of-control life, and I can't do the one thing I'm biologically put on this earth to do. Then I have to go onstage and be this sex symbol of femininity and empowerment? It is demoralising" (via Elle).