The Chrisleys Speak Out Against 'Unfathomable' Comments About Their Granddaughter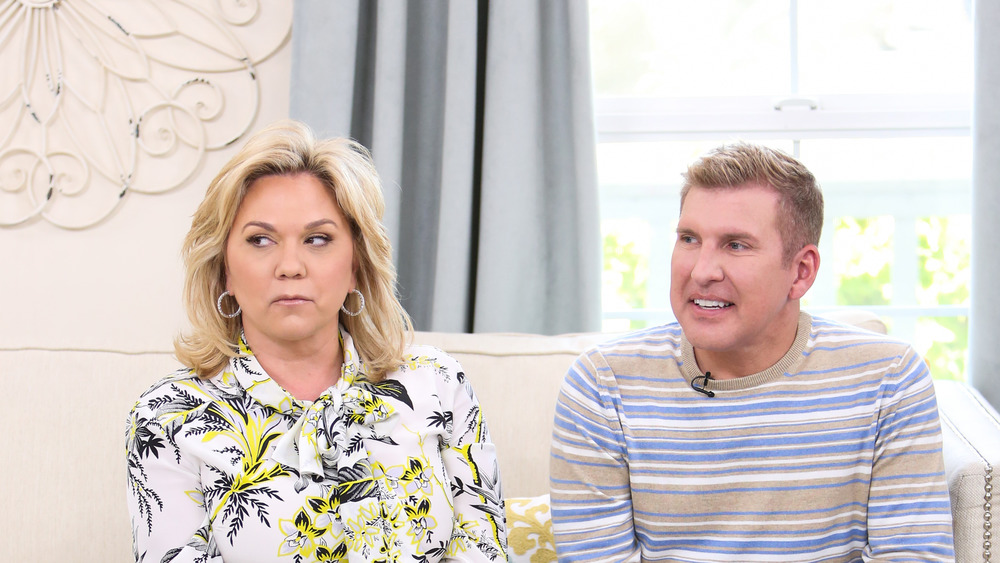 Paul Archuleta/Getty Images
In the second decade of the 21st century, you would think that we'd have made more progress in the fight against hate speech and racism. Regrettably, we still have a very long way to go, and every day seems to bring more reminders that our work isn't over yet. Even celebrities face the worst that the public can dish out simply because of their racial identity. The Chrisley family of Chrisley Knows Best know this all too well. The show may present a lighthearted look at the life of the quirky Georgia real-estate family, but behind the laughter, there's a darker side to their story that parents Todd and Julie Chrisley have to contend with on the daily.
As fans of the show know, patriarch Todd Chrisley has been married to Julie for nearly a quarter-century. The couple has three adult children, and Todd also has two children from his first marriage. They've also raised their 8-year-old granddaughter, Chloe, since she was a baby. (Her dad, Todd's son Kyle, has struggled with mental health and substance abuse issues.) Chloe is biracial, a fact the Chrisleys celebrate proudly, even as they acknowledge that she faces unique challenges. They're also determined to do their part to address racism in this country. Daughter Savannah once told People, "It's my duty to stand up for Chloe and for people and all young girls and women and people of color."
Though Todd and Julie's social media posts about their granddaughter are usually met with glowing praise, the couple still has to contend with the trolls who spew hateful comments.
Todd and Julie Chrisley speak out against 'ignorance and hate'
Last year, after discussing racism on his Chrisley Conversations podcast, Todd was stunned to see a comment on his Instagram page from a woman who openly disapproved of interracial relationships (via US Magazine). He responded by saying that "color doesn't screw kids up, but ignorance and hate surely will," adding that he would pray "that God tempers your heart and grants you clarity."
More recently, Julie told Page Six that she's had to deal with her share of haters as well. "I can deal with just about anything, but the things that people have said about her on social media are absolutely unfathomable," she said. "It breaks my heart and it makes me realize how far as a country we still have to go." She also implied that the commenters feel empowered to mouth off because they can hide behind the anonymity of a home computer screen. 
Avoiding the trolls may be why Todd and Julie's social media doesn't include many images of their beautiful granddaughter. Their Insta and Twitter pages are more likely to include promos for the new season of their show or for sponsored products. But on Martin Luther King Day, Todd posted a quote by the great civil rights leader — "I have decided to stick with love; hate is too great a burden to bear" — and added a comment of his own. "If we all could just adhere to these words, the world would be better off."