Demi Moore's Runway Appearance Is Causing Quite A Stir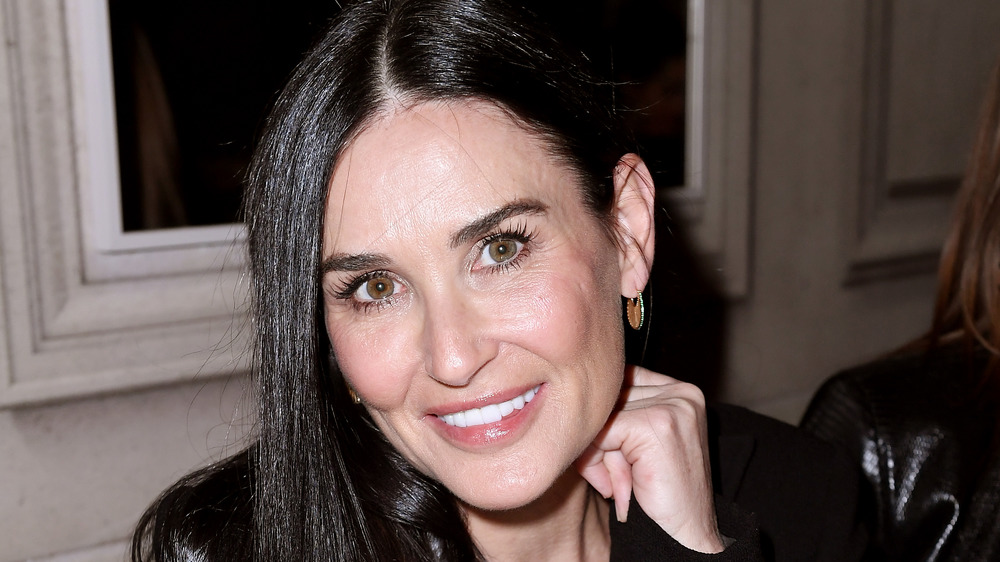 Jacopo Raule/Getty Images
When Demi Moore walked the runway in a Fendi fashion show in Paris this week, the internet immediately began buzzing about how different she looked (via Distractify). Of course, the iconic actress, who has been working in Hollywood since the early 1980s, always looks beautiful (via IMDb). But this latest appearance sparked questions about whether she has undergone drastic plastic surgery.
According to The Blast, it was her ultra-sculpted cheekbones and plumped-up pout specifically that got people talking. Sharing a photo of an altered Moore, one Twitter user commented, "This makes me sad." Another noted, "It took me a while to recognise Demi Moore at the Fendi Couture show." And one more user took to Twitter to ask, "What did Demi Moore do to her gorgeous unique face?"
Meanwhile, plastic surgeon Dr. Frank Agullo offered his opinion about what procedures Moore may have recently undergone, telling The Blast, "Demi's injector has certainly gone overboard with fillers in the cheeks, lips, and mandible; to the point of looking unnatural. It seems she has had a facelift, but the fillers get all the attention. On a positive note, her face and neck skin are much smoother which is probably a combination of Micro-Botox and radiofrequency."
No one knows for sure if Demi Moore went under the knife
It must be said that aging in front of the world cannot be easy. And 2021 certainly doesn't mark the first time that Moore likely had some form of work done to maintain her youthful look. In 2018, Life & Style noted the star had probably had plastic surgery. But overall, in the past, people have mostly praised the actress for her commitment to staying in shape into her fifties, and whatever procedures she has had done were seemingly not nearly as drastic as what fans recently witnessed.
Sadly, the reception to Moore's latest look has been pretty critical, with social media users saying things akin to that she ruined her face (via MEAWW). To be fair, we have no proof the 58-year-old had plastic surgery. Could the star have achieved the unique look with makeup or special effects? For now, she isn't commenting. And again, to be fair, Moore is hardly the only celebrity who has had plastic surgery, if indeed this is what she did.