The Surprising Way Matthew Perry Convinced Julia Roberts To Make A Friends Appearance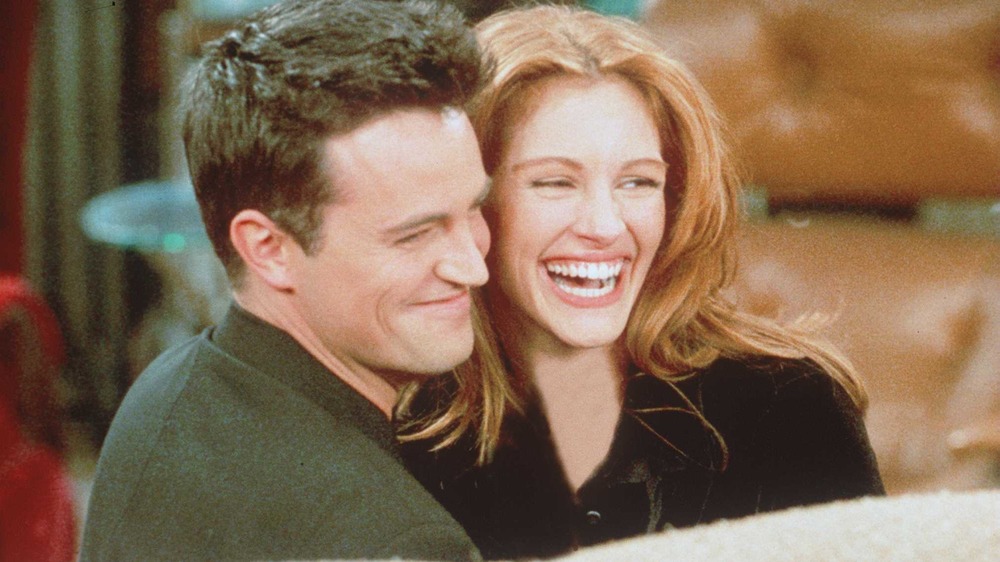 Getty Images/Getty Images
From Brad Pitt to Reese Witherspoon to Brooke Shields, Friends had a slew of iconic guest stars, one of the most notable being the appearance of Julia Roberts as Susie Moss, Chandler Bing's old friend from elementary school. The cameo took place during part two of the "The One After the Super Bowl" episode, and in it, she chastised Chandler for pulling her skirt up in class, earning her the traumatizing nickname "Susie Underpants."
Chandler laughed it off, as he does, proceeding to ask her out. She agreed and, on their date, flirtatiously urged him to wear her panties during dinner. Off to the restroom they went, and while he changed, she stole his clothes to avenge her childhood self. As it turns out, Matthew Perry as Chandler wasn't the only one who got to flirt with Roberts — according to Friends creators Marta Kauffman, David Crane, and Kevin Bright, he charmed her off-set to get her to come on the show.
The flirtatious negotiation happened over fax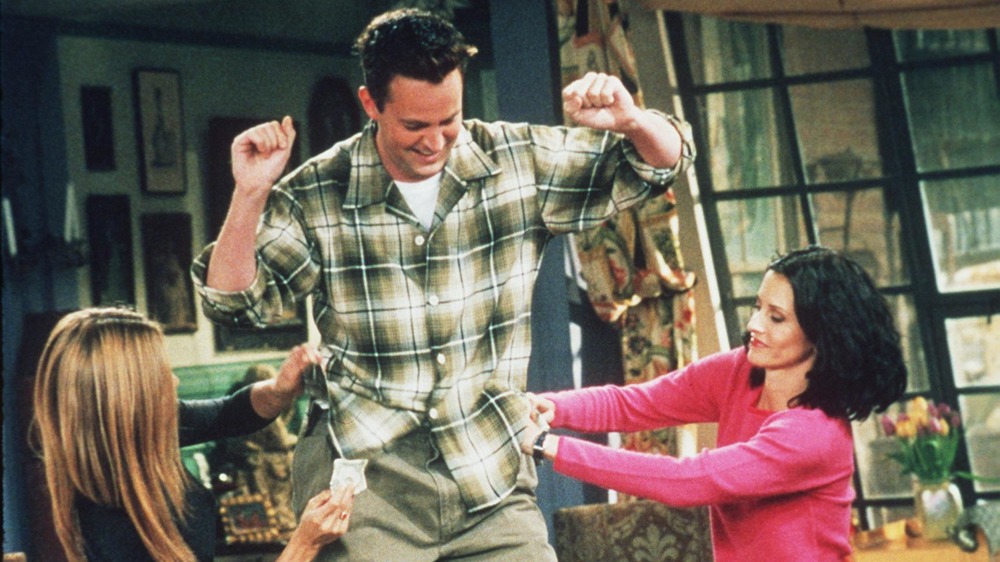 Getty Images/Getty Images
It was the '90s, after all. "Matthew asked her to be on the show. She wrote back to him, 'Write me a paper on quantum physics and I'll do it,'" Bright recently told The Hollywood Reporter. "My understanding is that Matthew went away and wrote a paper and faxed it to her the next day." Staff writer Alexa Junge added, "There was a lot of flirting over faxing. She was giving him these questionnaires like, 'Why should I go out with you?' And everyone in the writers room helped him explain to her why. He could do pretty well without us, but there was no question we were on Team Matthew and trying to make it happen for him."
Not only did Roberts agree to appear on the show, but she also ended up dating Perry for about a year. The writers, and then-NBC Entertainment president Warren Littlefield, were shocked to land one of the biggest actresses of her time. "I remember when I got a call and they said, 'Oh, we got Julia Roberts' and it was like, 'Are you f*cking kidding me?'" Littlefield said. According to THR, the episode ended up being the most-watched Friends episode of all time.