Who Plays Don Cheadle's Lookalike In The Michelob ULTRA Super Bowl Commercial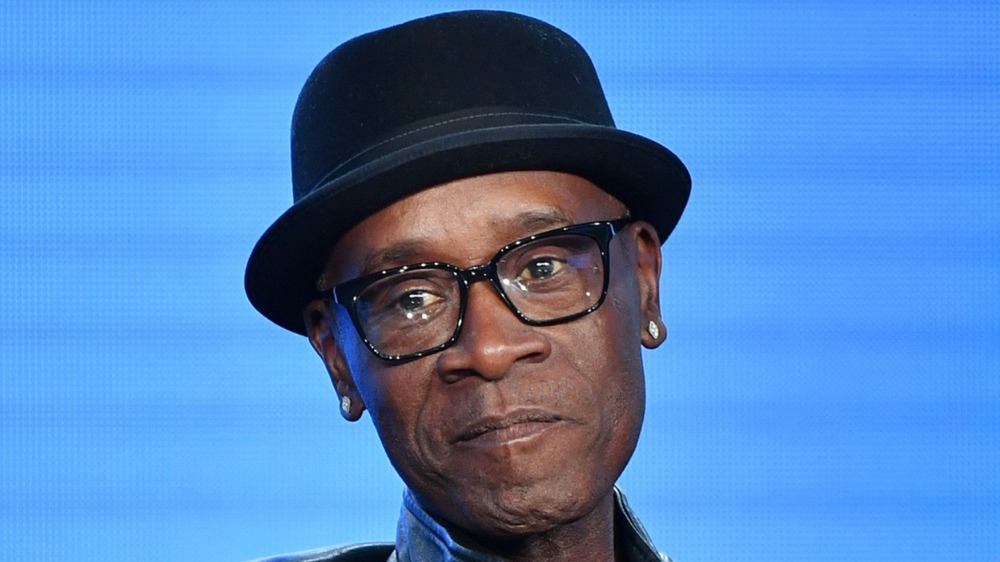 Amy Sussman/Getty Images
While a number of companies sat out this year's Super Bowl commercials, and even the iconic Budweiser Clydesdales did not make an appearance (outside of a Sam Adams parody commercial, that is), one of Budweiser's Anheuser-Busch stablemates, Michelob Ultra, actually ran two separate spots. One, for their flagship lite beer, starred a bunch of famous athletes, but the other, one for their newer hard seltzer, starred...well, a bunch of people who weren't quite what, or who, they seemed to be (via YouTube). ET Online says that while you may think you recognize Serena Williams (who's actually in that other Michelob Ultra commercial), Usher, Malu, Megan Fox, and Lucy Liu, all of these famous faces actually belong to doppelgängers.
Except, of course, for Don Cheadle, who is exactly who he appears to be...well, at least one of him is. So who's Cheadle's impostor? He may not be Don, but he's a real-deal Cheadle: Don's look-alike brother, Colin.
Don really enjoyed working with his brother
Don Cheadle spoke with Entertainment Tonight about the ad a few days before the Super Bowl, and it was evident that the award-winning actor didn't feel he was slumming it one bit by doing a TV commercial. For one thing, he feels the product he's endorsing is "cool," being the first all-organic seltzer approved by the USDA. For another, he was pretty psyched to be appearing as part of a Super Bowl broadcast, especially this year since, as he said, "the Chiefs are in it, my team, so that's dope for sure." (Sorry things didn't work out the way you wanted, Don.)
Perhaps the best part, however, was being able to work with Colin. Cheadle revealed that his brother "has been mistaken for me many times" and said that what with a product he could get behind and a game he was looking forward to, "being able to combine all those things, and have my brother be a part of it, it's just a win-win. It's huge." Whether the two will be working together in the future, or whether we'll see Colin branch out into more acting work of his own, we don't yet know. But how awesome would that be to have twice as much Cheadle?