The Truth About Claudia Conway's Audition For American Idol
Claudia Conway is perhaps best known for her public clashes with her parents, who are none other than former Donald Trump senior adviser and the first female to run a successful presidential campaign, Kellyanne Conway, and lawyer George Conway (via The Washington Post, Time, and New York Post). The 16-year-old notably shares her very opposite political views from her conservative family via social media, although it's worth noting her father leans to the left as well. In one example of how the teen collides with her well-known mother, Conway said, "My mom is my best friend but we do fight all the time over politics, and I'm always shut down by my entire family."
But it seems the mom and daughter's differences amounted to more than just contentious dinner table talk, with Conway tweeting over the summer, "i'm officially pushing for emancipation. buckle up because this is probably going to be public one way or another, unfortunately. welcome to my life." Again, to be fair, the timing of her announcement came after her mom made the decision to leave her post under Trump to focus on her family (via Chicago Tribune). So, maybe the family was intent on working things out. Still, the teen is clearly dedicated to making a name for herself outside the shadow of her mom's political achievements.
With that in mind, Conway is taking on a new role as a potential contestant on the reality singing show, American Idol (via Daily Mail).
What we know about Claudia Conway's American Idol audition
Indeed, if you thought you recognized Conway in a commercial for the upcoming season of Idol, you'd be right. During Monday night's episode of The Bachelor, ABC aired a promo for the highly-anticipated return of Idol and featured the famous teen. We see Conway getting ready for her audition, when she confesses, "I'm very nervous, but very excited."
Of course, fans of the TikTok star, who has 1.7 million followers on the content sharing platform, already knew she was auditioning for the show, as she posted a video announcing the move back in November of last year. At that time, Conway also noted she met host Ryan Seacrest, and looked very pumped to sing for the judges. 
For its part, American Idol took to Twitter to report that the rumors were true, tweeting, "You heard that right. @claudiamconwayy is looking for a golden ticket. Find out Sunday if she has what it takes to be #TheNextIdol on #AmericanIdol." Followers were quick to comment about Conway's appearance, with the response to her audition dividing viewers.
How American Idol fans reacted to the news that Claudia Conway may be on the show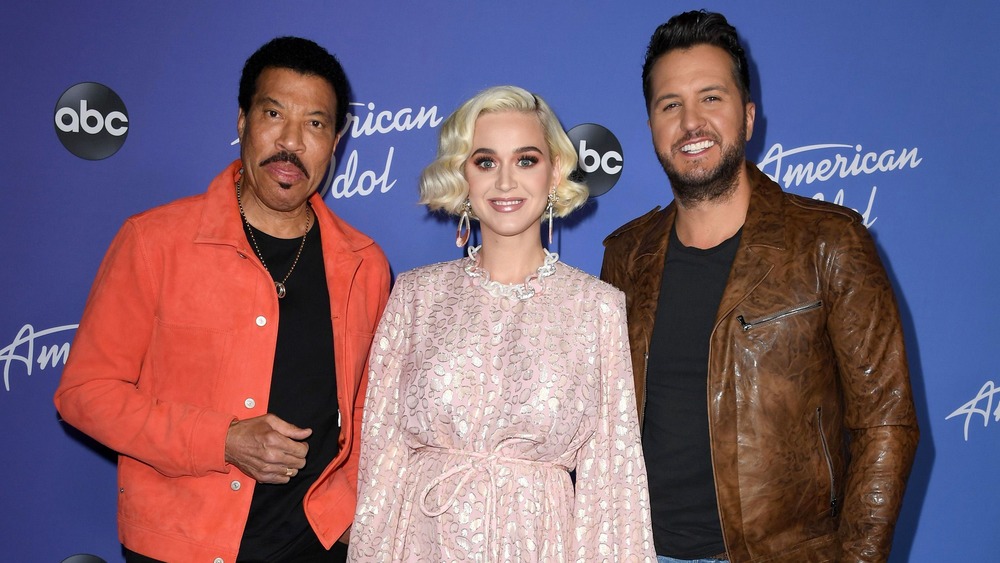 Jon Kopaloff/Getty Images
Some Idol fans applauded Conway's ambitions to sing for Katy Perry, Luke Bryan, and Lionel Richie, with one noting, "With even a modicum of talent, Claudia Conway could rise to establish herself as America's new sweetheart! I hope she's got that and more!"
Meanwhile, others pointed out that her appearance on the show is sure to create controversy, with one commenter saying, "I get giving Claudia an opportunity, but no one wants to see her parents on screen with everything going on in their personal life." Another noted, "Mutual exploitation...party of two...your table is ready."
Other Twitter users were not thrilled about the choice to feature the teen, with one commenting, "this is shameful." Another commenter spoke for many by tweeting, "Hard pass – when AI decides to go low political, I decide to just go. Pretty sad and pathetic AI." Finally, another commenter simply said, "This feels exploitative."
Will Claudia Conway make it to Hollywood?
We don't yet know if the teen is going to get a golden ticket and pass the first round of auditions, advancing to Hollywood or beyond. In her audition, she tells the famous judges, "I'm Claudia Conway. My parents are high profile political figures." The spot also shows Perry telling the controversial 16-year-old they are looking for the next American Idol. So is that Conway?
Well, as Variety notes, the commercial ends with Seacrest telling the audience, "She's a social media sensation... but will she get a ticket to Hollywood?" You may be wondering what qualifications Conway has to be an Idol, and she addresses these questions via TikTok, telling her followers, "I've been singing my whole life, I grew up in musical theater. Music has been one of the pillars in my life and I wouldn't be here without it."
Meanwhile, Conway also shares she plays multiple instruments, and claims the show approached her about auditioning, adding, "So everyone thinks that this is a publicity stunt or me trying to be like, whatever, but no — music is my passion."