Pink's Daughter Shows That Musical Talent Runs In The Family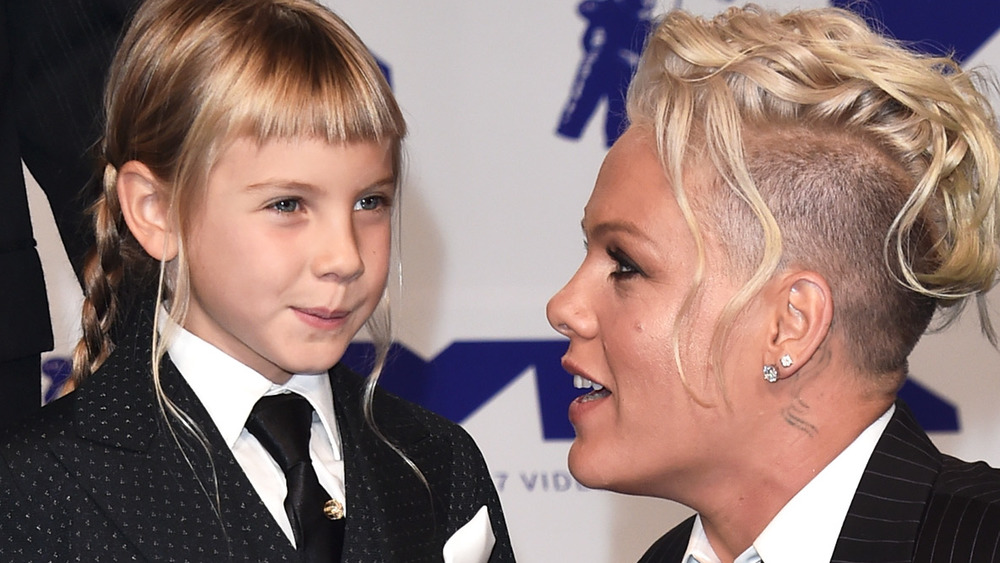 Alberto E. Rodriguez/Getty Images
If you were anywhere on social media or YouTube in 2018, you're probably already aware that Pink's young daughter Willow inherited her mother's powerful voice, thanks to a then-viral video of the pop star and her child duetting the emotional ballad "A Million Dreams" from the musical The Greatest Showman (via News24). But now, 9-year-old Willow is coming into her own as a budding vocalist and has made an impressive debut on her mom's TikTok. Pink's first-ever contribution to the popular social media platform was posted on Monday, Feb. 8, and featured Willow singing the song "Cover Me in Sunshine."
The short clip opens with Pink and her daughter deciding what song Willow will sing. Soon after the decision is made, Willow belts out a few impressive and powerfully upbeat lines, the lyrics of which are: "Cover me in sunshine / Shower me in good times / Tell me that the world's been spinning, since the beginning and everything will be alright / Just cover me in sunshine" (via E!).
Fans are loving Pink's daughter Willow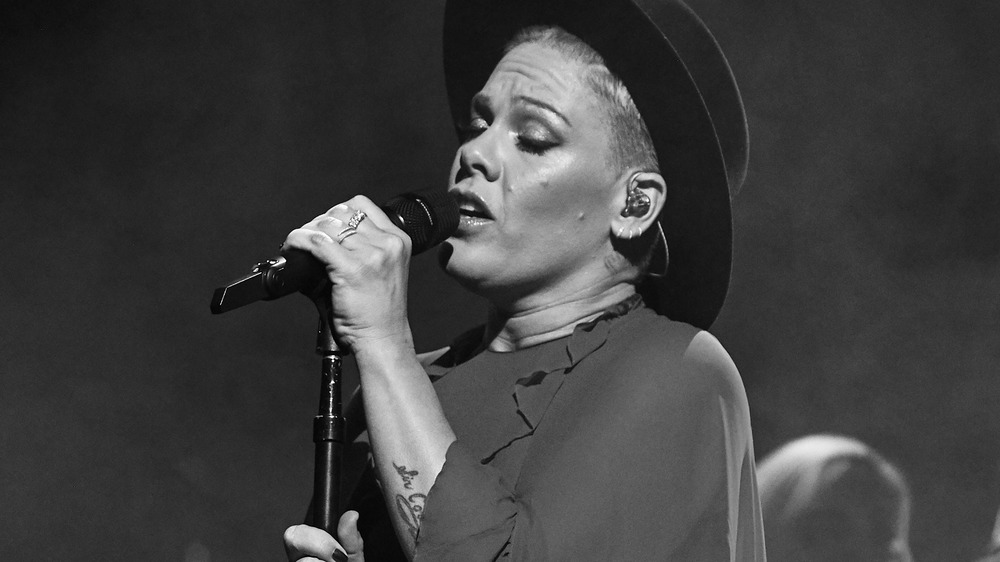 John Shearer/Getty Images
After Pink's one day on TikTok and posting a single video, the singer-songwriter has already amassed nearly 200,000 followers, and fans are loving Willow's performance, posting compliments like: "Go willow!!! Can't wait to see you sell out arenas all over the world like your mamma! Xx," "Mom did everything right! What a strong, confident, great girl. Always stay yourself, because the other always exist," and "SHE IS THE QUEEN OF POP it's over for you Alecia" (via Glamour). For those who may not get the reference, Pink's real name is Alecia Beth Moore. 
In a recent interview with Redbook, Pink sang the praises of her bold daughter, saying, "I no longer wake up and sit on the couch and go, 'Am I happy?' I wake up and go, 'Hi, Willow! Let's dance! Look at the sun!'" She went on to say that she sees fierce independence in her daughter, and she respects it. "I look at Willow and she's so naughty and fiery, and I'm not going to take any of her fierceness personally ... My mom took all of my behavior personally. Everything I did, she thought it was an act of rebellion against her. But it was just me being me. And that's something I want to post on every mirror in my house: This is not about you!"
So perhaps it's fitting that Pink's debut on TikTok was not, in fact, about her, but about this "fiery" daughter she's so proud to be raising.