7 Little Johnstons' Amber Dishes On How Life In The Spotlight Impacts Her Family - Exclusive
Viewers of TLC's 7 Little Johnstons have quite literally watched the five Johnston kids evolve from youngsters to teenagers in front of their eyes. Has that experience, growing up in front of a camera for a TV reality show, affected them? 
"I'd be crazy to say that, no, it hasn't. Because, obviously they're out there ... Privacy is a little bit exposed, but I don't think that it has had a negative impact," Amber Johnston said in an exclusive interview with The List. 
According to the Johnston family matriarch, the experience of opening their lives to television viewers has been an overwhelmingly positive one. "I think, if anything, it's taught them value, it's taught them work ethic," she explained. "When we started this journey, we started it with, 'This is a job. It's a family job in a sense of family business, and we're all seven in it. And when we no longer all seven want to be in it, then it's not going to work, but we must all work together.'"
Amber Johnston makes sure her children stay grounded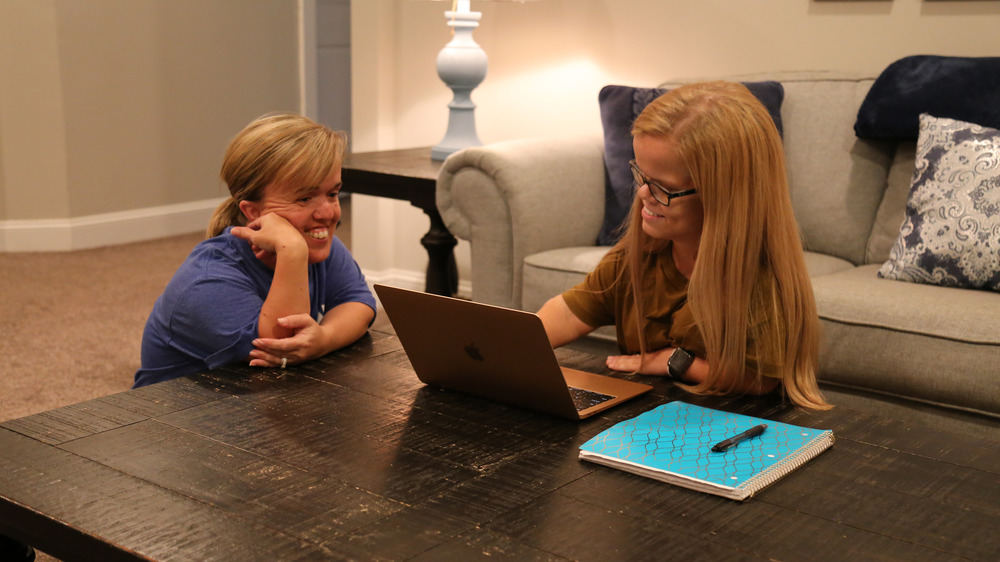 TLC
By embracing the attitude that creating a TLC reality show is akin to running a family business, 7 Little Johnstons' Amber Johnston said she's trying to ensure that her children don't get caught up in the trappings of celebrity. 
"[Doing the show] has literally taught [them], since Emma and Alex were eight years old, the value of working hard," she said of the family's approach to the show that bears their name. "And they obviously see when we do, and we produce a product and obviously monetarily, were paid for it, what it allows us to do."
Despite the money that fame and hard work brings, Amber Johnston focuses on keeping her kids grounded. "We have kept life very normal to the extent of, the kids remained in public school, they were expected to get full-time jobs, Johnston said. "Our little kids, they run a full-time online shop of their own. Our biggest mission was that we started as the Johnstons and we will finish as the Johnstons," she continued. "We're not going to become some high-end Kardashians. And our kids, the values and the expectations that we have of our kids before we started the show are going to be the same when we finish the show."
Viewers of 7 Little Johnstons will never have the full picture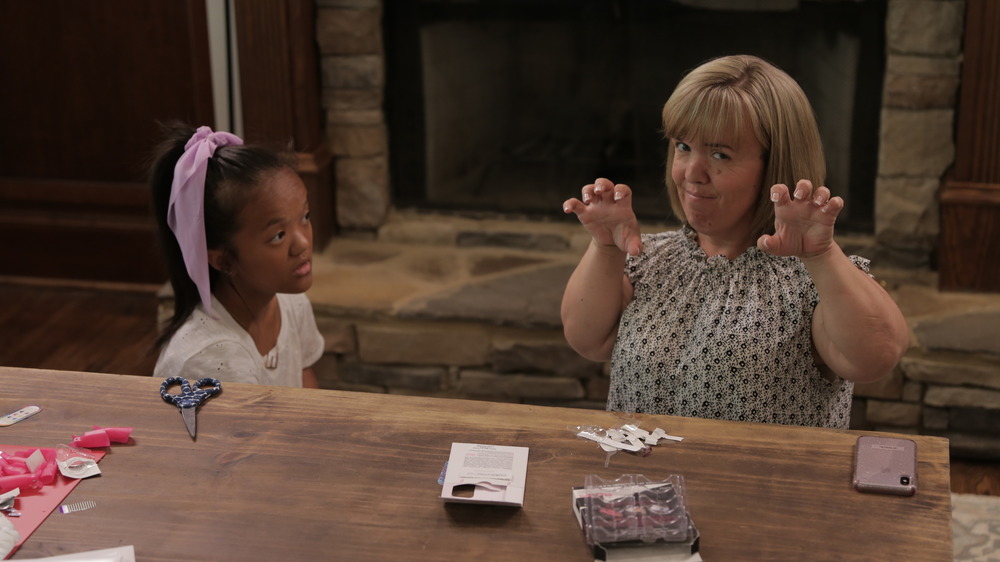 TLC
One phenomenon that 7 Little Johnstons' Amber Johnston has experienced has been meeting viewers who feel they know her family better than they actually do, and become overly familiar if they happen to encounter the family in public. As she told The List, this sometimes leads to strangers who "tell you everything that you're doing wrong." Johnston explained. "We get it, probably if we go outside of our bubble, like outside of school, work. We get it daily. That they come up, they use our first names and, you know, how they know this and that, that was done and what we're doing."
However, as Johnston pointed out, "Clearly, it's very hard to know somebody watching them 44 minutes a week." That doesn't stop some people from feeling like they do — and that they somehow deserve something in return. "Viewers feel like you owe them something as well," Johnson said. "If they happen to see you, that you need to stop, take photos, put in time with them, things like that ... We used to have people come to our house regularly in our driveway, in our backyard, knocking on the doors and getting very upset that we wouldn't let them in and things like that."
Season 6 of 7 Little Johnstons airs Tuesdays at 8 p.m. ET/PT on TLC. Catch the mid-season finale on February 16.