The Color Coordination Tip You Need To Know For A Perfectly Organized Closet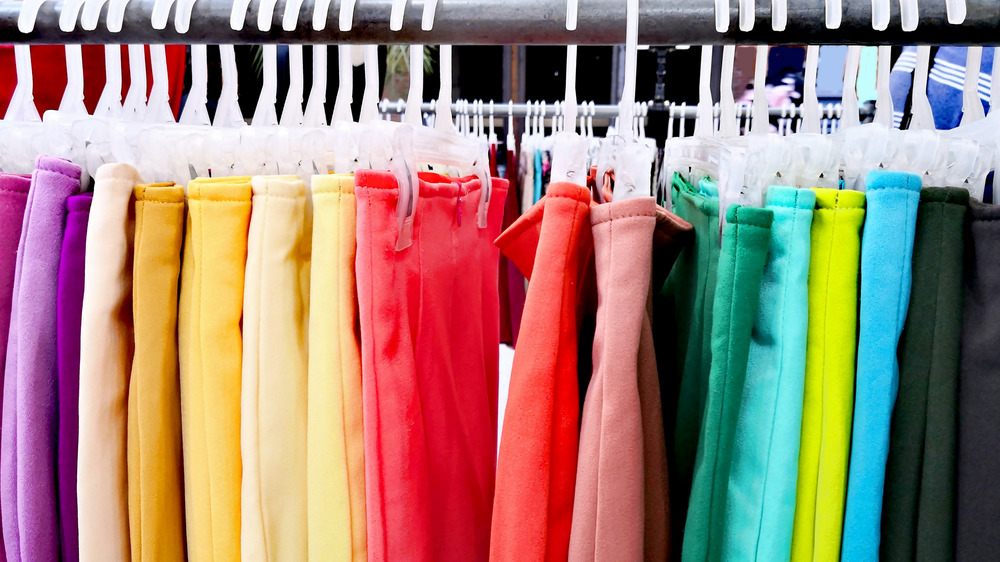 Shutterstock
Research continues to find a correlation between your mood and the colors in your life; apparently, this might hold true when it comes to your closet as well. Rather than organizing by item, displaying your colors may be helpful when you're running late or need the perfect red to go with your denim — especially if your closet doesn't currently have any rhyme or reason, a color-coded system may be best for you.
InStyle recommends starting by finding the best hangers. There are two options: opting for uniform neutral-hued velvet hangers or finding velvet hangers to coordinate with your colors. According to The Spruce, velvet hangers save tons of space while offering your clothes a non-slip surface to adhere to. Either way, your hangers can enhance your organizing skills while giving you a pretty display to look at when you're getting dressed.
If you're opting for the neutral hues, it may be best for creating a calmer vibe in your storage room. Interior decorator at Inspired Home Interiors, Pattie Kelly, told InStyle that monotone hangers help keep your attention on your clothes rather than the pieces holding them up. "Move everything onto a white or beige velvet hanger, and this includes pants that can hang using clips. Creating a blank canvas like this allows the clothing to take center stage when color coordinating."
Otherwise, if color-coded hangers make more sense to you, you can tie various colored ribbons on your hangers that correspond with the hue of your clothing for easy reference.
Instead of organizing by color, organize from dark to light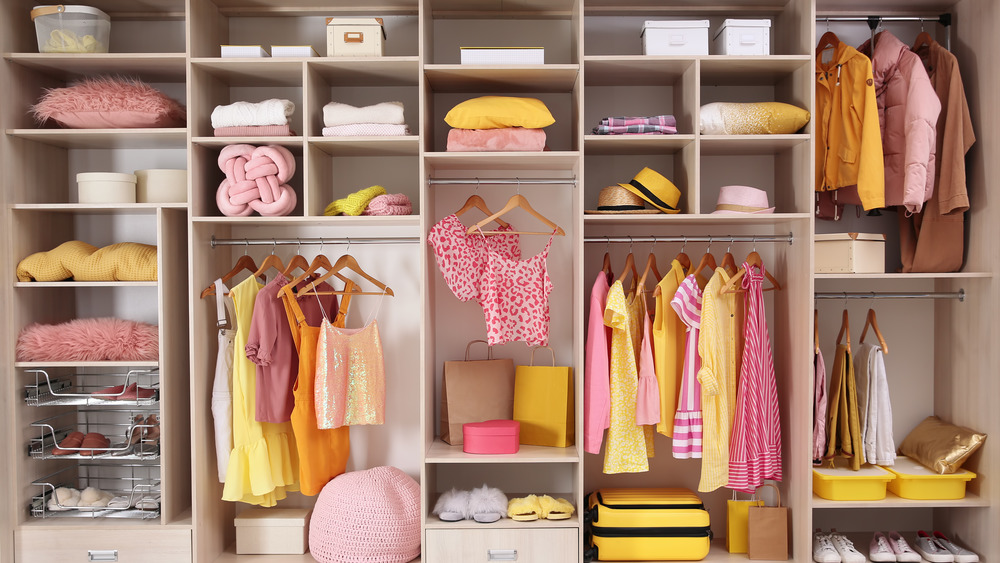 Shutterstock
Even if black is your color, you can still make your closet the most organized part of your house. InStyle explains that coordinating your items based on their hue can make your search for the perfect top that much easier. So, instead of having a rainbow of colors, you can have a gradually shifting palette; darkest colors go towards the left and the lighter shades stay on the right. "Organizing guru Marie Kondo, whose method I'm certified to teach, says the resulting palette reminds her of the crash of a wave in the sea," Diana Horn, founder of Room to Thrive Home Organizing tells the outlet. "While you might not need ocean-specific imagery for you to love your new wardrobe, we could all use a light and welcoming vibration, like a breath of fresh air, when we go to our closets."
But, if you do go the multi-colored route, organize by the colors of the rainbow — ROYGBIV, the Closet Factory explains. This offers the greatest contrast in hues and is easier to remember when you're putting your clothes back in their respective places. And, when you run into your multi-colored sweaters and other items, just go by the main color present on the garment, the outlet recommends. You can even syphon off a section for patterns and prints if you have a lot of them.
Who knew that your closet could be as aesthetically pleasing as your clothes?