Queen Elizabeth's Nighttime Ritual Is The Ultimate Self-Care
Chris Jackson/Getty Images
Queen Elizabeth II is about to mark 69 years on the throne. The queen has met with dignitaries from around the world for over six decades since she was crowned back in 1952, after the passing of her father, King George VI (per Harper's Bazaar). The beloved queen was only 25 and newly married to Prince Phillip when the crown was placed on her head and the scepter in her hands. Remaining visible and accessible to her subjects has been an intricate part of her reign. She and the royal family make two thousand engagements throughout the year, according to Royal. 
The 94-year-old has naturally aged, but still believes in keeping a routine for her daily beauty and sleep habits, which have helped her keep her longevity and outlive most of her predecessors (via Zoomer). If Majesty ever came up against a stressful situation, you really can't tell, since her wrinkles are little to none. So what's her secret to eternal durability and health?
The queen has tea time on the regular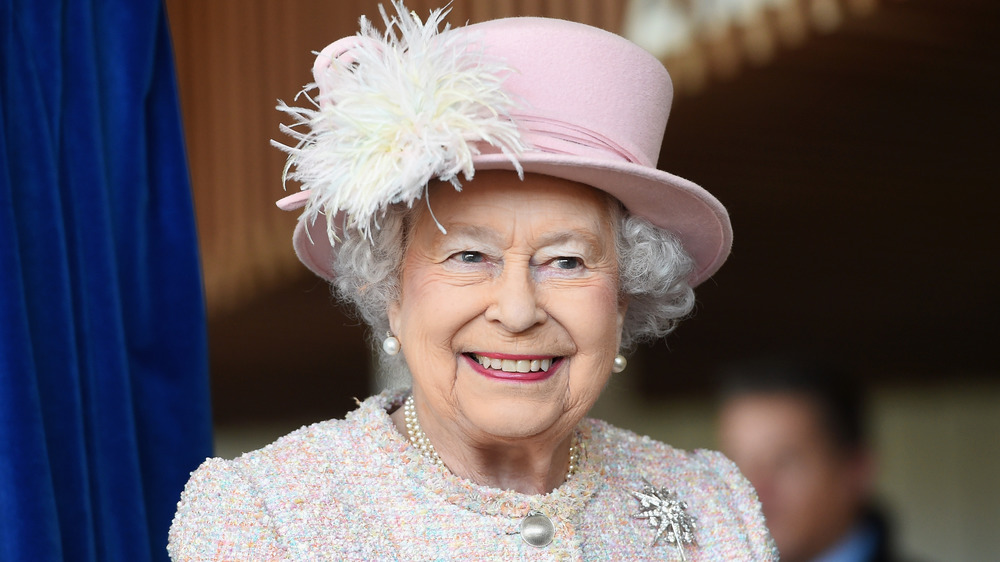 Stuart C. Wilson/Getty Images
We all have our nighttime habits, and this doesn't exclude Queen Elizabeth II. But the reigning monarch's might be a little more excitable than just making sure she has rubbed in her overnight serum. It all starts with her five p.m. tea time. It was revealed by The Sun that she drinks Earl Grey with Malvern water, not picky at all. Talk about being a disciplinarian — she's even said to ignore the scones and feed them to her beloved corgis.
But with all the social engagements on her calendar, the queen is expected to look the part. This is where her beauty regime comes into play, according to Hello Magazine. Her Majesty's daily practice is kept top secret and known to few, but there have been some slip-ups by the palace, which has helped the outlet narrow down some of her favorite brands. A little known fact is that the queen loves Clarins. She even had the French company make a shade of lipstick to match her coronation dress. Hello divulged that the queen also enjoys wearing their Powder Compact in Transparent Fair. While the palace never discloses her favorite products, royal warrants help to leave a trail of breadcrumbs along the way.
The queen enjoys 'me time'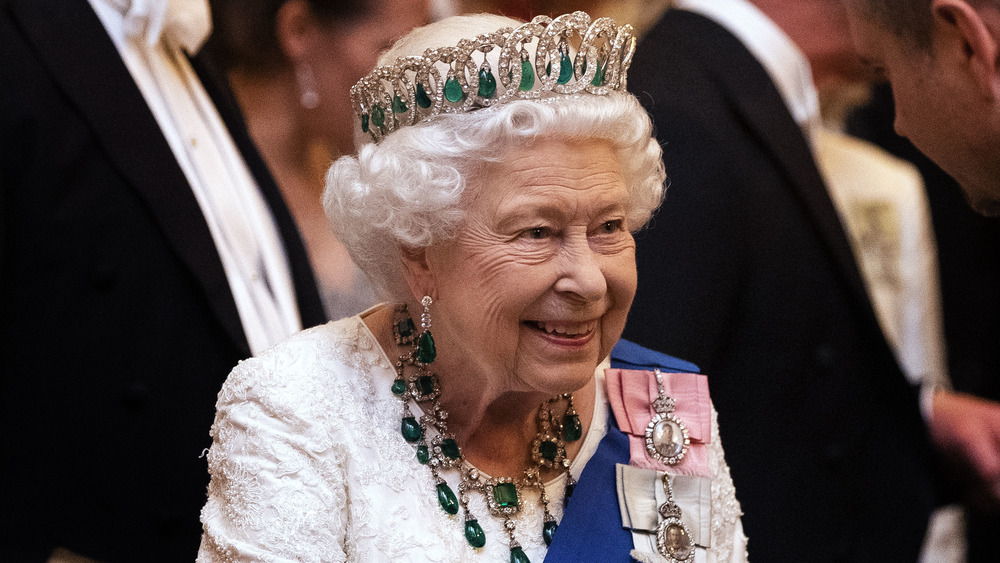 Wpa Pool/Getty Images
This writer and the queen have one thing in common, our love for chocolate cake. While there may not be a piece of cake she has ever said no to, it would undoubtedly be the tiniest of slivers. But even though she may have a sweet tooth, Cheat Sheet shared that she enjoys eating a well-balanced diet, which usually includes fish and veggies for dinner. The queen also chooses to eat alone in the evening, possibly taking some much-needed me time from a long workday.
Routine seems to be king, or should we say, queen of the palace, and what Her Majesty says goes. Although a day in the queen of England's life sounds like it can be indulgent, she often chooses to be practical with her diet choices throughout the day. Even though she may have mastered the art of self-restraint, she never goes to bed without a glass of bubbly. Business Insider reported that no one can go to bed before the queen, and she usually tucks herself in around midnight. A day in a queen's life seems like hard work, but the title also comes with many perks. Maybe even applying a few of Her Majesty's tips to our everyday lives will have us living long into our nineties too.