The Real Story Behind Lizzo's Flute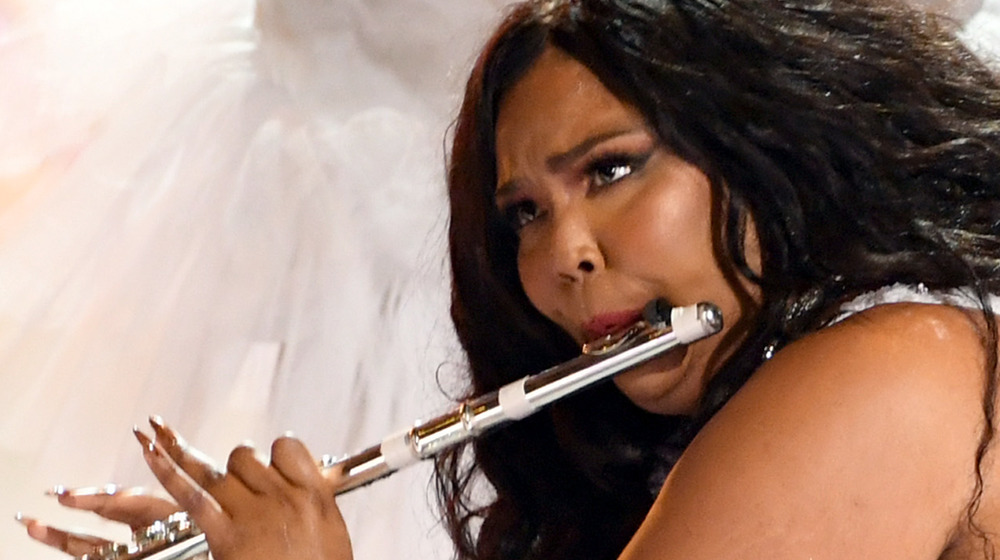 Kevin Winter/Getty Images
In 2019, Vulture argued, "Lizzo's Flute, Sasha Flute, Is the Most Legendary Flute of All Time." It's tough to disagree. Try thinking of anybody else in the public sphere who's known for brandishing a flute, let alone someone who does it with such unbridled enthusiasm and aplomb. Sasha is so influential she even has her own Instagram account, with almost 300,000 followers at the time of writing. She's nothing without her famous handler of course, but Sasha is fierce. 
The singer and rapper isn't the kind of performer who typically wields a woodwind instrument, but such is her power. By design, Lizzo is less enthralled to the historical meaning behind the instrument than what it represents in a more modern context. She's utilized it for a cover of A$AP Rocky's "Praise the Lord," Kendrick Lamar and Travis Scott's "Big Shot," and even, memorably, inspired her own viral challenge, the #FluteAndShootChallenge. So how did Lizzo and Sasha originally join forces? 
Sasha Flute has been a mainstay in Lizzo's life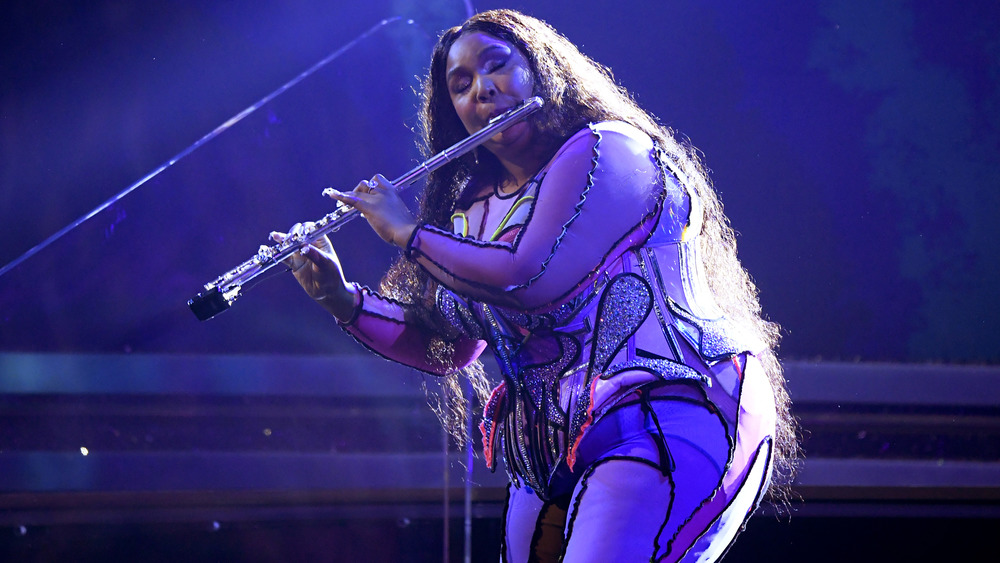 Kevork Djansezian/Getty Images
In a 2019 interview with CBS News, Lizzo confirmed being in band was actually cool in intermediate school, which was when the burgeoning superstar began playing the flute. However, as she got older, the Texas native noticed everybody else was losing interest, while she continued practicing for hours every day. Lizzo recalled, "I remember in the fifth grade, I just wanted to be really good. I was, like, 'I want to be really good at the flute. Everybody else is so bad.' And it was so hard to be good at it. It's a very difficult instrument. I became, like, obsessed with being good" (via CBS News). She played by ear to start. Band camp stints soon followed and, at one stage, Lizzo intended to attend the Paris Conservatory so she could eventually be a professional flautist. 
Fans of the unique musician will know she didn't finish college, quitting flute in the process. Upon making it as Lizzo, rather than Melissa Jefferson, the intrepid artist caved to encouragement from her father to pick up her favorite instrument once again. After adding flute to the breakdown of one of her songs, Lizzo realized how terrific, impactful and, essentially, different the sound was. Plus, "People went wild. And it made me feel close to [my father]" (via CBS News) Now she understands how being true to herself was the most important thing. Lizzo gushed, "I was so nervous that people would call me a nerd or think I wasn't cool. But as soon as I showed the world all of me, that's when they started to fall in love with me" (via CBS News). Sasha and Lizzo are clearly OTP.