The Truth About Tamron Hall's Husband, Steven Greener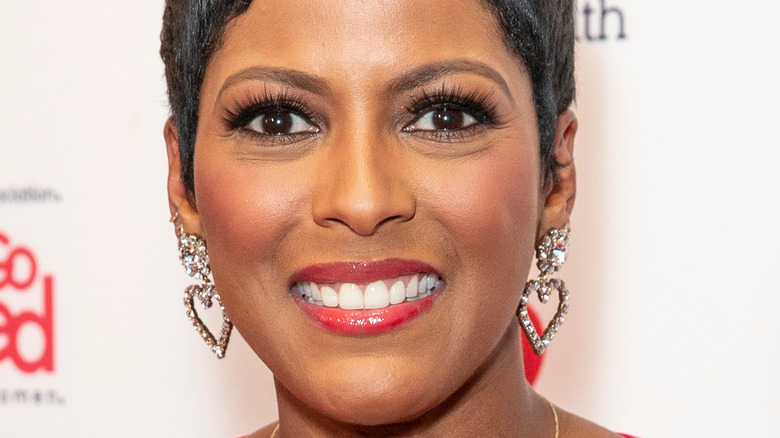 lev radin/Shutterstock
Talk show host Tamron Hall isn't one to brag about her relationship online. As Page Six reported back in 2019, she took to social media to make a surprise double announcement — to the shock of fans, Hall was not only married but expecting her first child. Alongside a video set to the tune of the inescapable "Baby Shark," the journalist noted, "I'm about to be a mommy shark very soon." With just a couple months left in her pregnancy, the then-48-year-old finally felt comfortable sharing the news.
As for the father, Hall confirmed that his name was Steven, with the publication advising that Steven is Steven Greener, a music executive. "My husband Steven and I are beyond excited!" she gushed in a follow-up Instagram post. Hall added, "There have been many tears, but today I embrace the smiles." In the ensuing time, the former "Today" star has kept her relationship strictly under wraps. It's unclear whether Greener isn't comfortable with the spotlight or if the couple simply wants to keep their home life private.
According to People, the happy couple began dating in 2017 but were friends for many years beforehand. "This was my deepest, greatest love, and I'd never talked about my personal life on TV. I always thought, 'One day I'll get married, and I don't want my husband to have to look at old episodes of me gushing over the last guy.' So I've always been very cautious. I think today, people mistake privacy for secrecy. People say he's my 'secret husband.' But we were going everywhere together; it was just a private thing I needed to protect," Hall told People.
Tamron Hall and Steven Greener are low-key couple goals
The private couple seldom shares photos on social media. In celebration of Valentine's Day, however, Hall shared a sweet selfie of the couple looking dapper en route to an event (taken in the Before Times, of course). "Happy Valentine's day to you Old pic same love and same fade lol," she wrote alongside it. Hall opined, "The ride is always unpredictable but the person next to you can help make the bumps easier to take." Of their plans for the day, she noted, "Last year dinner out, this year I'm cooking oxtails at home and loving it all." The former news anchor gave birth to son Moses in April 2019, sharing the happy news on Instagram and noting, "Photo credit: Dad who can't stop crying tears of joy" in relation to an ecstatic Greener.
The former Today host explained to People that she and Greener kept the pregnancy under wraps out of fear Hall wouldn't make it to the end. "I was high-risk, not just because of my age, but there were other medical factors too," she explained. However, after enduring several frustrating years of infertility and failed fertility treatments, Hall became a mother. Of how happy she is with her husband and son, the journalist gushed, "I don't think you can ever overuse the word grateful."
Greener is a music executive
Despite being married to Tamron Hall, there is little known about Steven Greener. According to Good Housekeeping, Greener is a music executive and currently works as the Head of Music Talent at Primary Wave Entertainment and has worked with superstars like Fantasia Barrino and Bernie Mac. Greener has also worked in production on projects like "Guess Who," "The Bernie Mac Show," and "Soul Men."
Perhaps the reason why the public doesn't know much about Greener is that he is fairly shy. As Hall told People, she had known Greener for years before they started dating, however, she eventually discovered that their friendship was much more. "I've known him for many years," Hall told People. "We would run into each other, and he's shy, so I wasn't clear that he was hitting on me exactly. I thought he was just being friendly." However, two years after they first met, at a pool party, Greener finally asked her out. During a co-hosting gig on "Live With Kelly and Ryan" in 2019, Hall revealed that they moved in together after only dating each other for three weeks, per Good Housekeeping.
While speaking to People, Greener also revealed that the couple's child, Moses, is his first child. "I'm constantly amazed by how lucky I am," Greener told People. "Tamron is one of the most authentic, loving, honest, caring people I've ever known. My favorite part of marriage and fatherhood so far is realizing every day I am exactly where I was always meant to be — with my family. I am home."