Why Kendall Jenner's Latest Photo Is Raising Eyebrows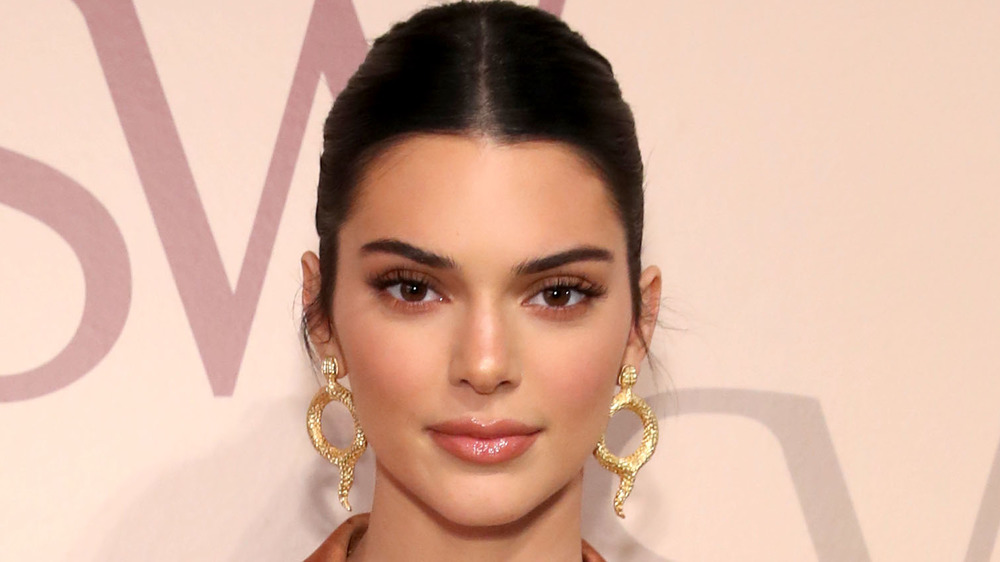 Cindy Ord/Getty Images
Kendall Jenner is one of the most beautiful women in the world, a highly sought-after supermodel with the world at her feet. And yet, much like her famous sisters, she's no stranger to controversy. Jenner's dodgiest moment came with her infamous Pepsi commercial which, as The New York Times reported at the time, was accused of trivializing the Black Lives Matter movement. Although she tearfully apologized on Keeping up with the Kardashians, the damage was done. 
Still, outside of that misstep, Jenner doesn't command nearly as much attention as Kim, Khloe, Kourtney, or even Kylie, whose massive social media following helped make her an icon. For the most part, the supermodel prefers to let the work speak for itself and stays out of the fray. Even her relationships are low-key, with Jenner only recently confirming her long-rumored romance with basketball star Devin Booker. Thanks to a recent post, though, she's found herself in hot water. 
Kendall Jenner is being accused of major photoshopping
Jenner took part in a photo shoot for the latest lingerie line from Kim's SKIMS brand, which was Valentine's Day themed. She shared a variety of behind-the-scenes shots and videos on Instagram, but one photo in particular caught fans' attention. The pic finds the super-slim supermodel standing in front of a mirror in a red bra and matching teeny-tiny thong, causing fans to immediately cry "Photoshop!" As Yahoo! reports, although several of Jenner's friends and family members praised her for looking amazing, fans called out how unnatural and Barbie-like her proportions appeared to be in the shot. Likewise, commenters complained that the Instagram image made them feel insecure. "Stop taking advantage and making money off of young women's insecurities," wrote one. Another pointed out, "A lot of young girls seeing this and being put under the impression that it's 100 percent authentic is damaging." 
In particular, Instagram user @problematicfame called out Jenner in a damning Instagram post, arguing, "This photo is very Photoshopped." They added, "Kendall is obviously very gorgeous but these are not her real proportions, nor are they anybody's." The user urged fans, "Please don't compare yourself to heavily edited images. Even Kendall doesn't look like this IRL." They also compared a still from one of the videos to Jenner's selfie, pointing out how unnaturally tiny her bellybutton looked while, in another, the curtain in the background was fading out, suggesting heavy editing. The KUWTK star appeared to respond to the controversy on Twitter, writing, "I am an extremely lucky girl. Appreciative of all that I have. But I want you to know I have bad days too and that I hear you! You are beautiful just the way you are!!! It's not always as perfect as it may seem."