Read This Before You See Yes Day
This content was paid for by Netflix and created by The List.
Allison Torres used to be fun. She used to be spontaneous. She used to say "yes" to everything, whether it was skydiving, or skipping work to spend a day at the beach, or taking a trip to some far-off, exotic location on a whim. But then, life happened. Allison got married. She had children. And, at some point, "no" became her default answer. Now, her children make videos comparing her to dictators like Stalin and Mussolini, while her husband, Carlos, gets to be "the fun one." Not. Cool.
But Allison is determined to get her groove back, and a chance encounter during a parent-teacher conference teaches her how: by giving her kids a "Yes Day." For 24 hours, Allison and Carlos vow to say yes to every ask — well, okay, almost every ask — that her children have. Was agreeing to this just a big parenting mistake?
Can Allison keep her word, reconnect with her family, survive the day, and prove that she's not the ultimate killjoy? You'll have to watch Yes Day, a family comedy from Jennifer Garner and director Miguel Arteta, to find out.
For Jennifer Garner, Yes Day is a real-life tradition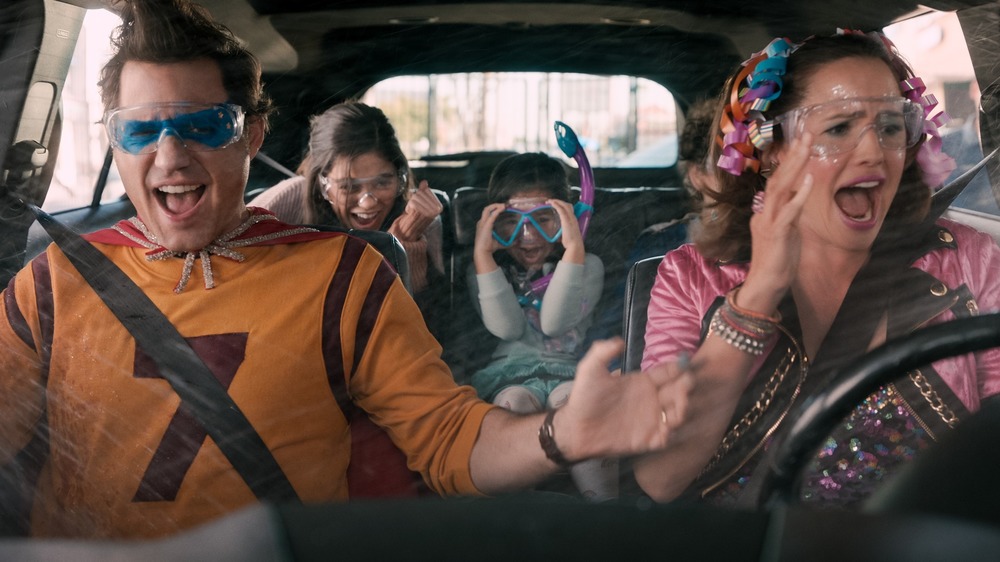 Yes Day didn't spring forth from screenwriter Justin Malen's imagination fully-formed. The idea actually comes from a children's book by the same name by award-winning author, filmmaker, and radio host Amy Krouse Rosenthal, with illustrations by critically-acclaimed artist Tom Lichtenheld.
In the book, the Yes Day festivities are a little tamer than the ones in the movie — pizza for breakfast and a food fight in the backyard are about as wild as things get. Still, Rosenthal and Lictenheld's is full of the same chaotic, irreverent energy as the feature film. It's easy to see why the book is so popular with children, including Jennifer Garner's.
See, Garner has been celebrating Yes Day with her family for over nine years, and it's one of the most memorable and most punishing days of her year. There's proof, too. In 2017, Garner's exhausted post-Yes Day selfie went viral, inspiring families around the world to hold their own Yes Days with their kids. In fact, it was that selfie that attracted the attention of producers Ben Everard and Lawrence Grey, who subsequently reached out to Garner about adapting Rosenthal and Lichtenheld's book for the screen. The result? Well, you can see that for yourself.
A cast that's awfully hard to say no to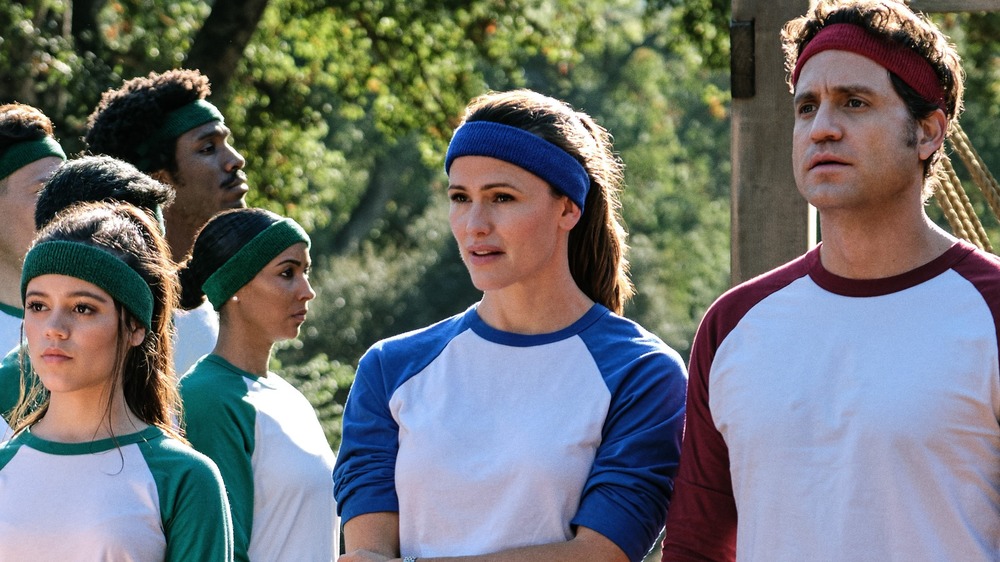 Matt kennedy/Netflix
Yes Day's star, Jennifer Garner, needs no introduction. Whether you know her as the ass-kicking double-agent from Alias, a Marvel anti-hero in Daredevil and its assassin-led spin-off, or her turns in romantic comedies and dramas like 13 Going on 30, Valentine's Day, Love, Simon, and plenty of others, you know that Garner has no shortage of talent, charm, or enthusiasm. If you're a fan, you'll see elements of some of her most famous roles in Yes Day, too. As Garner pointed out to Entertainment Weekly, a scene where Allison chucks bananas recalls her time as Elektra, and there's some Sidney Bristow-esque wire work during one of Yes Day's big set pieces.
Garner's partner-in-crime (and movie-parenting), Édgar Ramírez, scored Emmy, Golden Globe, and SAG Award nominations for his leading role in 2010's Carlos, a three-part miniseries about Venezuelan terrorist Carlos the Jackal. Really, though, that's just the tip of the iceberg. More recently, Ramírez has made a big impact in movies like David Ayer's fantasy-cop drama Bright and the gritty comic book adaptation The Last Days of American Crime. Don't worry, though. While Yes Day is Ramírez's first big comedy, you'd never know it from his performance. Like Garner, Ramírez is clearly up for anything.
Meanwhile, Jenna Ortega, who plays Allison and Carlos' oldest daughter, Katie, should be familiar from projects like the Disney Channel's Stuck in the Middle, the CW's satirical telenovela Jane the Virgin, thriller sensation You, and the horror-comedy sequel The Babysitter: Killer Queen. Her on-screen siblings are played by up-and-comers Julian Lerner and Everly Carganilla, while showbusiness veterans like Nat Faxon — who won an Oscar for co-writing The Descendants – Narcos' Arturo Castro, and stand-up comedian Fortune Feimster round out the main cast.
A crew that'll have you laughing all day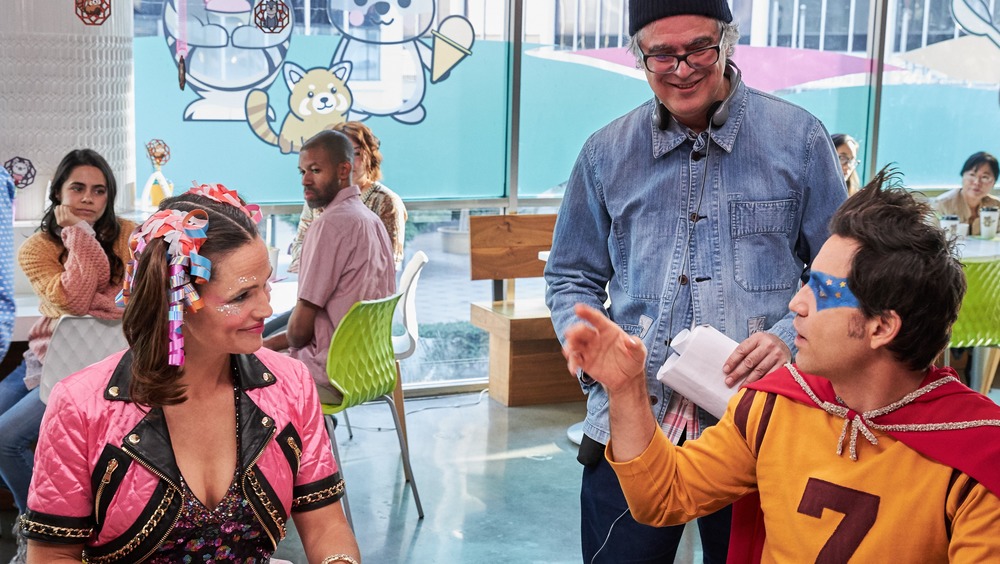 John P. Johnson/Netflix
It's hard to imagine a better person to helm Yes Day than Miguel Arteta. A comedy based on a beloved picture book? That's pretty specific, but Arteta has done it before: in 2014, he released Alexander and the Terrible, Horrible, No Good, Very Bad Day, starring no less than Yes Day lead Jennifer Garner.
But that's just the beginning. You want family stories that mix drama, comedy, and all of the feels? Just look at his episodes of Freaks and Geeks, Six Feet Under, and Enlightened. How about something funny? Features like Chuck & Buck, Youth in Revolt, and Like a Boss all fit the bill. Arteta's filmography is diverse, but there's a warmth and realness to even his most far-out work — and besides all that, he's a skilled hand when it comes to directing comedy.
Arteta is aided by a heartfelt script by Justin Malen, who captures all of the original book's charm while successfully ramping up the stakes and big set pieces in a way that better fits a feature film. That doesn't come as a surprise, of course. With movies like Father Figures and Office Christmas Party under his belt, Malen is well-equipped to handle a big-budget comedy. Just be careful. Once your kids see the movie, you may find yourself on the hook for a Yes Day all of your own. Good luck.