Harry And Meghan's Oprah Interview May Land Them In Hot Water With The Queen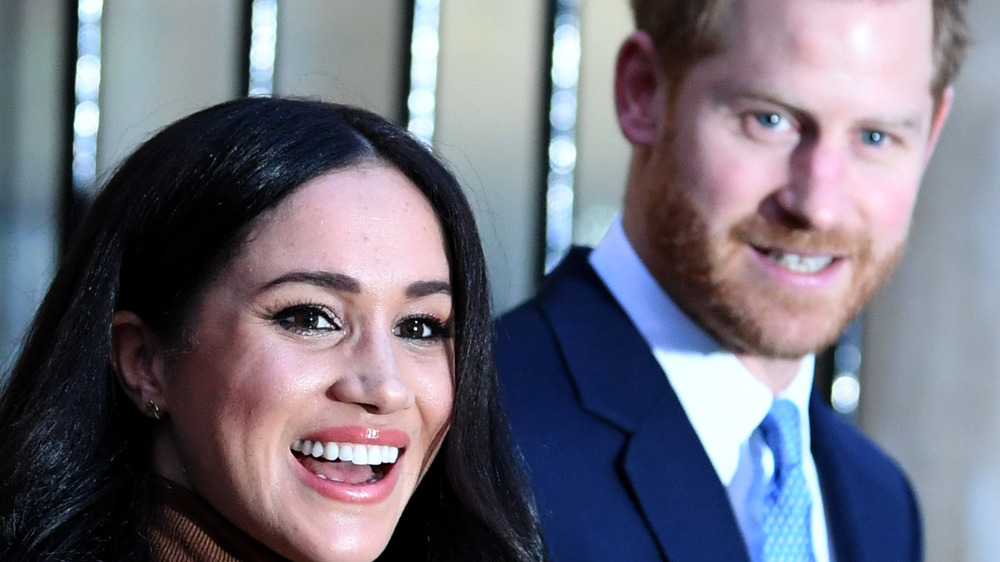 Wpa Pool/Getty Images
Any married couple has to face the possibility of friction within the family. But when the family in question are the British royals, things become stickier still — especially if one of the partners doesn't come from nobility. Prince Harry and Meghan Markle are a perfect example. The media was harsh enough on them: The prince caught heat for marrying a divorced American actress with no training in palace protocol, while Meghan got lambasted for everything from her choice in wedding flowers to the way she cradled her stomach during her first pregnancy (via Bored Panda).  
But it's the personal choices the Duke and Duchess of Sussex have made over the last year that have driven a wedge between them and Harry's closest relatives. Their decision to step back from their royal duties was a mutual one, but fingers were pointed at Meghan nonetheless. During the 2020 American presidential election, they appeared on-camera to encourage citizens to vote against "hate speech" and "misinformation" — a move that prompted the Palace to distance itself from the couple's views (via People). 
Even Prince William has been notoriously chilly toward his brother over his choice of bride and their separation from royal life (per ELLE). Now, the Sussexes are about to make another media appearance, and this could make things more awkward still for them and the other royals.
Harry and Meghan didn't inform the Queen first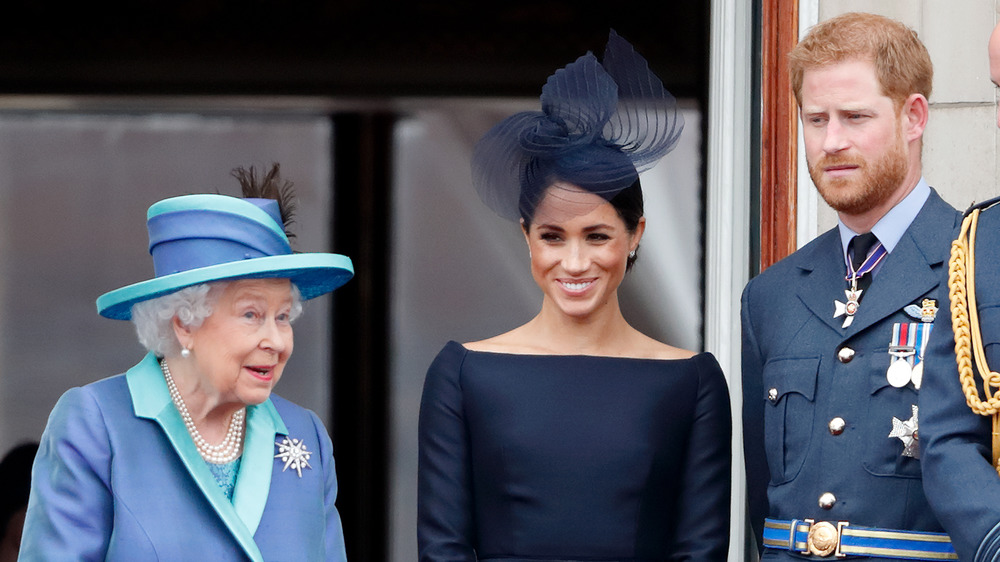 Max Mumby/indigo/Getty Images
Oprah Winfrey just announced that she will be conducting an exclusive interview with the duke and duchess, to be aired March 7. The 90-minute Oprah With Meghan and Harry special — a project Winfrey has pursued for years — will be a candid look into the couple's public and private lives, with no topic off-limits (per HuffPost). The one problem: The Sussexes didn't inform Buckingham Palace first (via Page Six), and that likely won't sit well with the Queen. 
A royal expert told the Daily Mail that while Harry and Meghan weren't required to tell the British monarch of their plans, it would have been the courteous thing to do. "If you're going to set off a nuclear bomb like this — doing a huge interview which will no doubt garner attention across global network — the decent thing to do would be to tell the Queen, tell your granny you're going to do it," said editor Russell Myers. 
He also pointed out the irony of a couple giving a tell-all interview after leaving the royal life in search of privacy. Prince William is also said to be concerned about what his younger brother might say. Their mother, Princess Diana, gave a similar no-holds-barred interview after her divorce from Prince Charles, and later regretted being so candid, according to Page Six.
Given the monarch's close relationship with her grandson and her apparent affection for her granddaughter-in-law (via Marie Claire and CheatSheet), it's hard to imagine that she would distance herself from them as a result of their TV appearance. But it's a risk the Sussexes are apparently willing to take for the sake of being able to tell their side of the story.