Newsmax Host Attacks Joe Biden For Not Taking Care Of His Dog
If John Wick taught us anything, we know it's never a good idea to mess with someone's dog. Apparently, no one told this to Greg Kelly of Newsmax. The conservative television personality apparently ran out of hard-hitting news and decided to start dissing on the Bidens' dog, Champ (via Newsweek). As you might expect, this was crossing a line for the internet, and keyboard warriors everywhere stepped up to answer.
Discussing his personal opinion about Champ from a questionably accurate historic and veterinary perspective, Kelly said, "I've never seen a dog in the White House like this. I remember back, Buddy, I remember Millie. I remember lots of dogs, but not a dog who seems — I don't know, I don't know how much love and care he is getting." The television celeb also referred to the pup as a "junkyard dog" and asked his guests to pile on. Conservative pundit Craig Shirley added, "He looks very dirty and disheveled and very unlike a presidential dog, Millie or Victory or something else in the past of the president's White House."
In the segment, Kelly notes that he's enjoying the experience saying, "I'm having fun with this, obviously."
Whether Kelly was jesting or simply has a misguided sense of humor — like John Wick — the internet does not appreciate someone messing with a dog.
Champ is a well-loved senior dog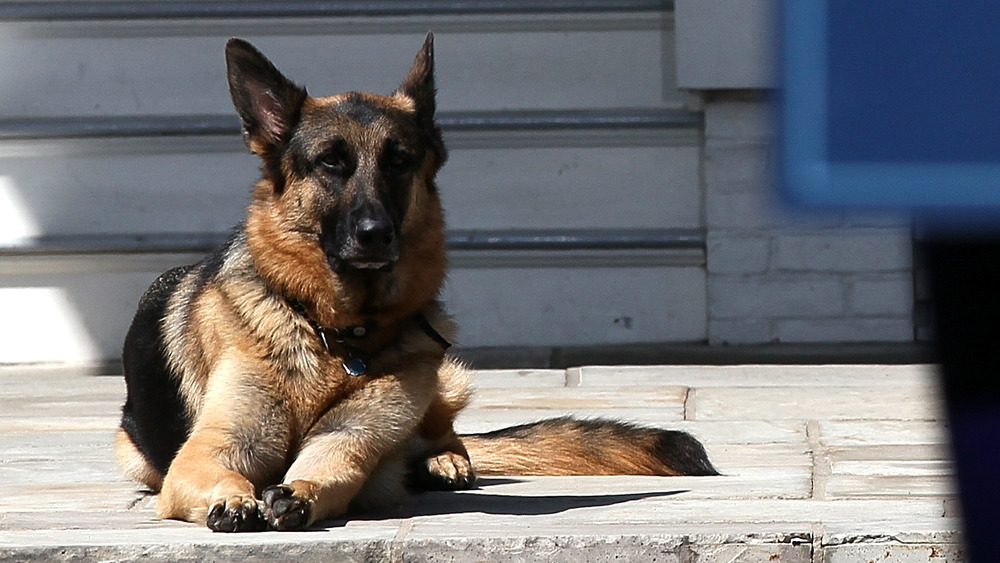 Win Mcnamee/Getty Images
Brian Williams of MSNBC responded in probably the most measured approach, explaining, "I know, because Champ can't speak for himself, here's what you should know about the Biden's very good dog: First of all, he's 12 and if you know German Shepherds, you know that's old for that breed," (via Newsweek). In fact, Champ Biden, the beloved German Shepard, has actually spent longer at the White House than Kelly's idol and former POTUS, Donald Trump. Joining the Biden family in Christmas of 2008, Champ lived in the vice presidential apartments for two terms, making is current residence the canine's third at the White House (via People).
Political Commentator Keith Olbermann snaps right back at Kelly and crew, noting of dog Champ, "He's in better shape than any of you - and smarter than all of you combined" (via Twitter). As noted by The Hill, the average lifespan of a German Shepherd is between nine and thirteen years — meaning this smiling canine is likely doing just fine, especially considering his age.
The above comments in defense of the Bidens' beloved dog are quite honestly the friendliest you'll probably see. In a drastically polarized nation, there are few things we seem to unite on. First it was watching Tiger King, then Bernie Sanders in mittens, and now it seems almost everyone agrees — presidential dogs are off limits to critics.