Here's What Vanessa Kirby's Net Worth Really Is
Vittorio Zunino Celotto/Getty Images
Following the success of the Netflix's The Crown, actor Vanessa Kirby is tackling more roles in Hollywood. Between various other shows and films, the British star has racked up considerable paychecks over the last few years. 
Celebrity Net Worth estimates her savings as worth a cool $4 million following her dramatic portrayal of the young Princess Margaret in the Netflix series. Kirby took on the role in 2016 and played the princess throughout the first and second seasons, before Helena Bonham Carter took over to portray Margaret's later years. Of her turn as the infamous Princess Margaret, the actress explained to The Guardian, "I wanted to try and find the person she was before she hardened, before she became bitter and self-loathing, which is what I sensed. I wanted to find the torment that's underneath those things."
Kirby has also starred in other shows such as The Hour, The Labyrinth, and Great Expectations. As for her time on the big screen, she's taken on roles in Me Before You, Genius, Kill Command, Queen & Country, Jupiter Ascending, and more. Additionally, The Guardian reports that Kirby landed a part in the latest installment of the Tom Cruise franchise, Mission Impossible. After winning a BAFTA and nabbing an Emmy nomination for her performance on The Crown, Kirby has also continued her work as a stage actress at the National Theatre. But let's learn more about Vanessa Kirby's road to success.
Vanessa Kirby's career started from an interesting place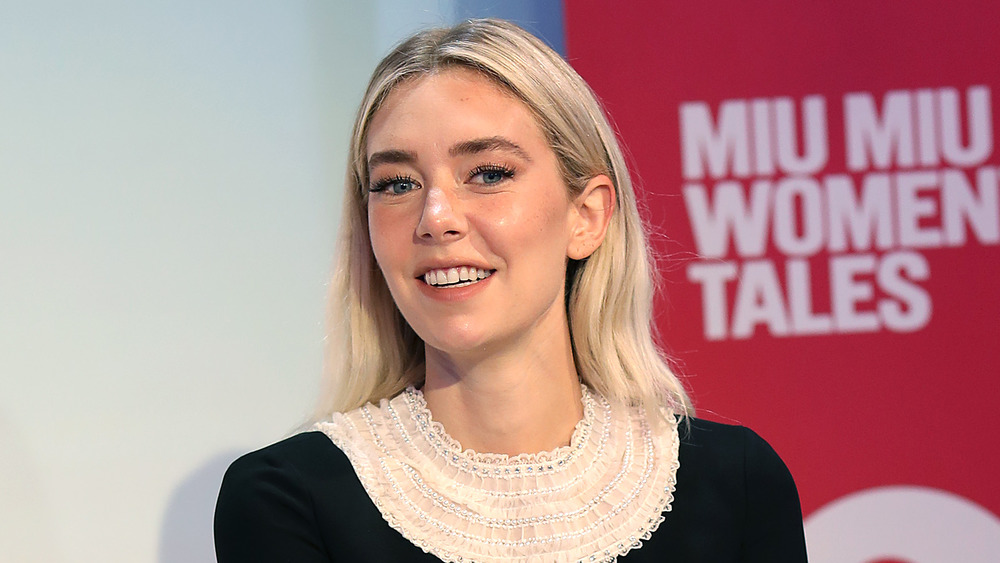 Maria Moratti/Getty Images
While she may be a millionaire actress today, Vanessa Kirby faced her fair share of difficulties early on. Eventually, the budding star found solace in acting as an outlet to deal with her torment from classmates at school. "It was always the drama side of things where I felt the most alive. The most myself," she told The Guardian. "I was quite badly bullied for a few years and I became self-conscious about everything I did in relation to the bullies. But drama was the place where I didn't."
But as her career continues to take flight alongside stars like Tom Cruise, Kirby is continuing to work on other goals, like a film of her own that focuses on "babies who are born addicted to drugs and how society treats those mothers." Not to mention, her more recent performance in Pieces of a Woman, in which her character gives birth onscreen, also has Hollywood talking. While speaking with fellow actor Amanda Seyfried for Variety, Kirby admitted that she felt "massive amounts of fear" and pressure "to get it right," saying, "Because when I read [the script], I realized that we see so many deaths on-screen — we so rarely see a full birth, and that's so weird." She mused, "I guess maybe because we haven't had as many female writers, and here was [screenwriter Kata Wéber] talking about her experience."
With a $4 million bank account and continued success, Vanessa Kirby's rising star is likely here to stay.