Janel Parrish Talks All Things Pretty Little Liars, To All The Boys, And Makeup - Exclusive Interview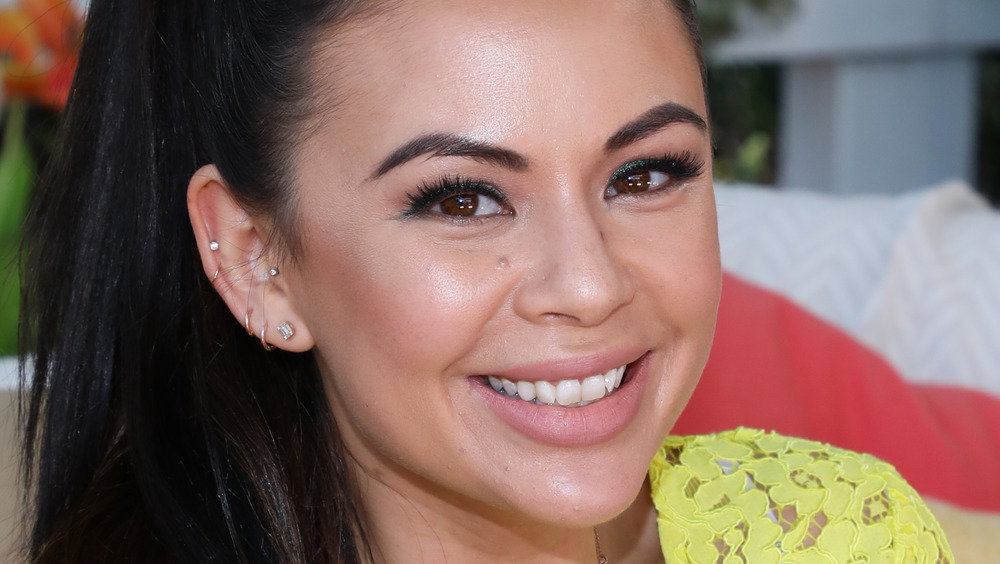 Paul Archuleta/Getty Images
Actress Janel Parrish got her start on Broadway when she was only 6 years old. Since then, she's worked to become a star on the big screen, too. After tackling the role of the mischievous Mona in Freeform's Pretty Little Liars, her acting career exploded. While many fans know her as Mona, many others have seen her as Margot in the three-part film franchise on Netflix To All the Boys. Though her on-screen acting career has kept her busy, she still always carves out time to make it back to her original home on the theater stage.
Fans have taken notice of just how fabulous this actress is off screen, too. Along with her Pretty Little Liars co-stars, Parrish has become a major makeup inspiration. Today she's even partnered with Ziploc to help give our makeup bags a whole new look.
In an exclusive interview with The List, the actress talks about her new partnership, makeup tips and tricks she's learned from the pros, her days on Pretty Little Liars, what New York Fashion Week's like in 2021, and the final installment of To All the Boys.
Janel Parrish reveals what New York Fashion Week is like during a pandemic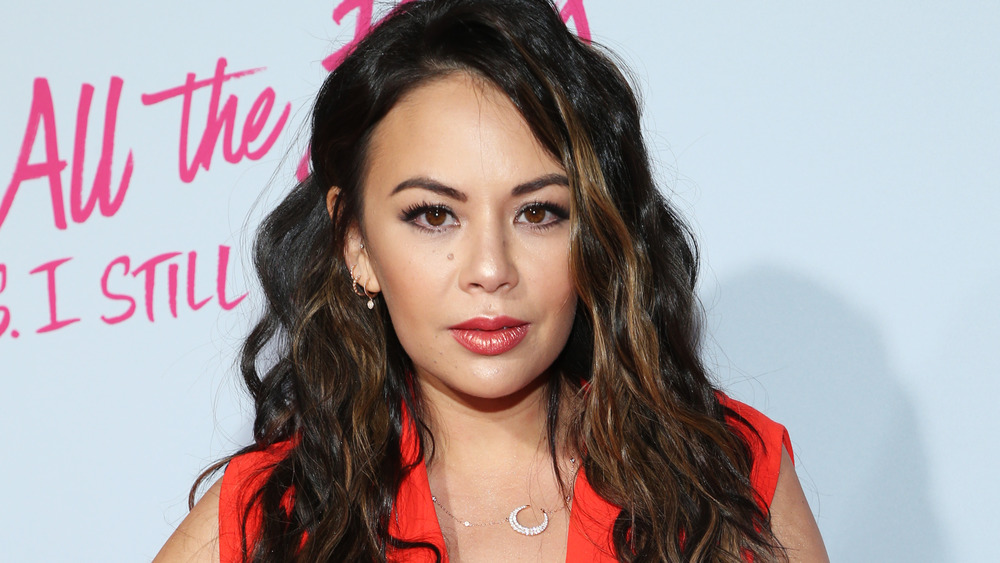 Phillip Faraone/Getty Images
What do you miss most about not being able to physically be at New York Fashion Week since it's all virtual this year?
Yeah. I really wish that I could be there. I mean, the energy of being there and watching the shows and just seeing everything up close and personal is unlike anything else, but I'm super excited. I mean, in this COVID world, right? To be able to attend virtually is the next best thing and still really cool. So I'm going to be making my own look up, I'm going to be using my own Hot Mess makeup line from the Ziploc campaign and putting them in my Ziploc accessory bags, which will be really fun. Thankfully, I'll have help this year. I'll have the help of an amazing makeup artist kind of showing me how to make an amazing look with the makeup that I already have.
Oh, awesome! And tell me a little bit more about your Ziploc partnership.
Yeah. So when Ziploc came to me with the Hot Mess makeup line, I was like, "Yeah, I can relate." Because I always have big purses, I'm always on the go, and all of my makeup falls to the bottom of my bag and then just breaks. And so I was like, yeah. So that's my Hot Mess makeup line, it's just the makeup that I own. That's already just a whole mess. So they have amazing Ziploc accessory bags. And so it helps me to keep all my makeup accessible and organized and not breaking, plus Ziploc accessory bags are the official accessory of New York Fashion Week, which is super, super cool. Yeah. And so now I don't have to have all my makeup fall to the bottom of my bag and then just break and end up a hot mess.
Where Janel Parrish's love for lipstick and lashes began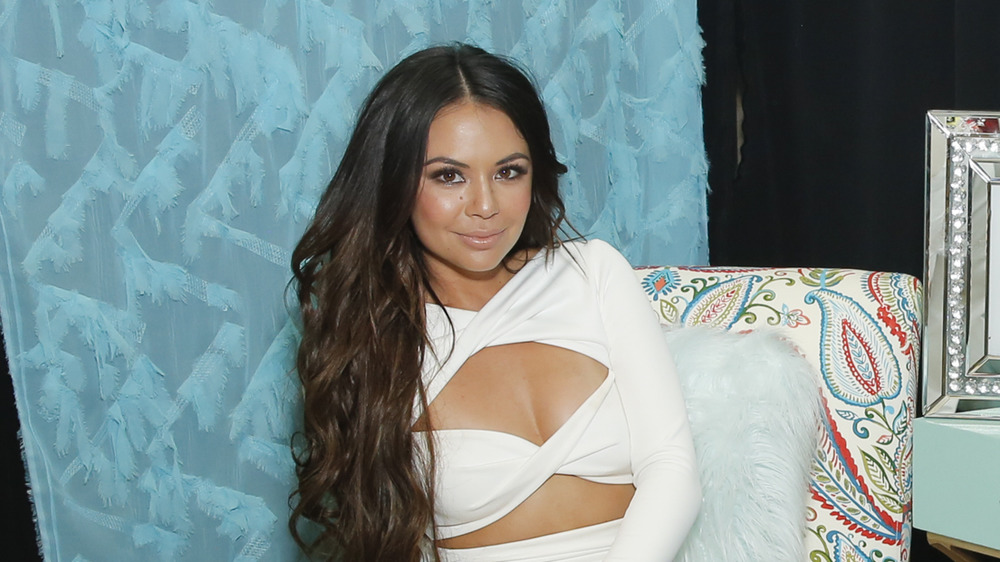 Alison Buck/Getty Images
What is one product that you cannot leave the house without from your makeup bag?
Oh. From my makeup bag, I always have to have a good mascara. I'm obsessed with all of the L'Oreal ones, they're just like my go-to. I like to use two, that's my trick. So I like to put the volumizing one on. Sorry, no, the lengthening one on first and then the volumizing. I always have a good lip balm in there and sunscreen because we got to protect that skin.
Absolutely! How is getting glammed up for an event different than getting ready to be on set to play a role?
I mean, I guess the only difference is that you're getting glammed up as yourself, right? Like when I'm on set, playing a role, I'm getting glammed up to be the role. And so whatever they're doing to my hair, my makeup, I look in the mirror and I see that character. It's perfect for that. But to get glammed up to go to a show, it's just like a jazzier version of me, which is really fun. And so it's kind of fun to create looks based on what I'm feeling that day. So if I'm feeling like, "You know what I want to go with a fun rocker chick vibe today," then we can do that. Because that's how I'm feeling. And makeup is all about expressing yourself. So that's what's really fun about it.
When did your love for makeup really begin? I know you were on Broadway, so you were wearing stage makeup and everything when you were really young, but was there something else that inspired that love for you?
My mom. She had the most beautiful wooden makeup table. And it was just like this beautiful Kona wood table that opened up and had a mirror, and then just all of her makeup organized and beautiful. I was kind of a rebellious child, this is when I was like 5 or 6. She would always tell me, "Janel, don't touch my makeup table." Because I'd go in there and I'd mess everything up. But whenever she wasn't looking, I'd go in there and I used all her makeup and she would get so mad, but that's where my love began.
Growing up on set, Janel Parrish has learned many amazing tricks when it comes to makeup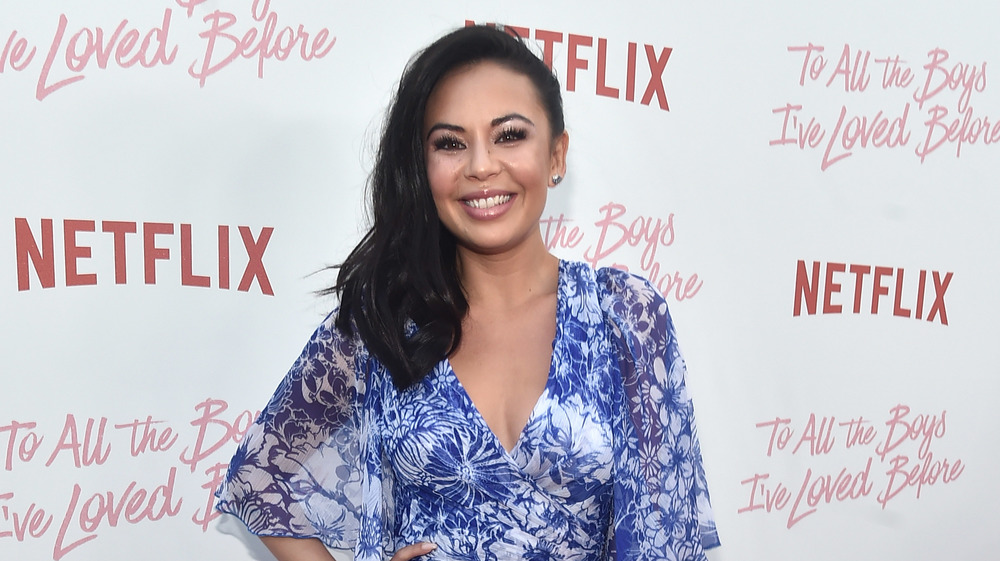 Alberto E. Rodriguez/Getty Images
Are there any makeup tricks that you've learned from working on set that you actually use in your day-to-day now?
Oh, yeah. So one thing I really love is contouring because I have a round face. So I'm like, "Tell me how to contour." Especially, you wake up, you've had a little bit too much salt the day before, you feel a bit bloated. So my favorite contouring technique is just to go like this, get underneath the cheekbone and just go, the stick, the contour stick up, up squiggle it up to your hairline to make it not so harsh and then right under the chin. Wet a beauty ball blender, oh sorry, and get the nose. Wet a beauty ball blender and to blend it upwards. Because I feel like a lot of us blend down, and that'll just make, like, everything go down. You want to create up, and it's just changed my life. I love that trick.
Yeah, I need to try this! I'm horrible at contour.
Yeah. You just blend everything up. Even into the hairline, you don't want to blend down, up. Just to give your face a nice little lift.
Janel Parrish's day-to-day look and her major makeup dislikes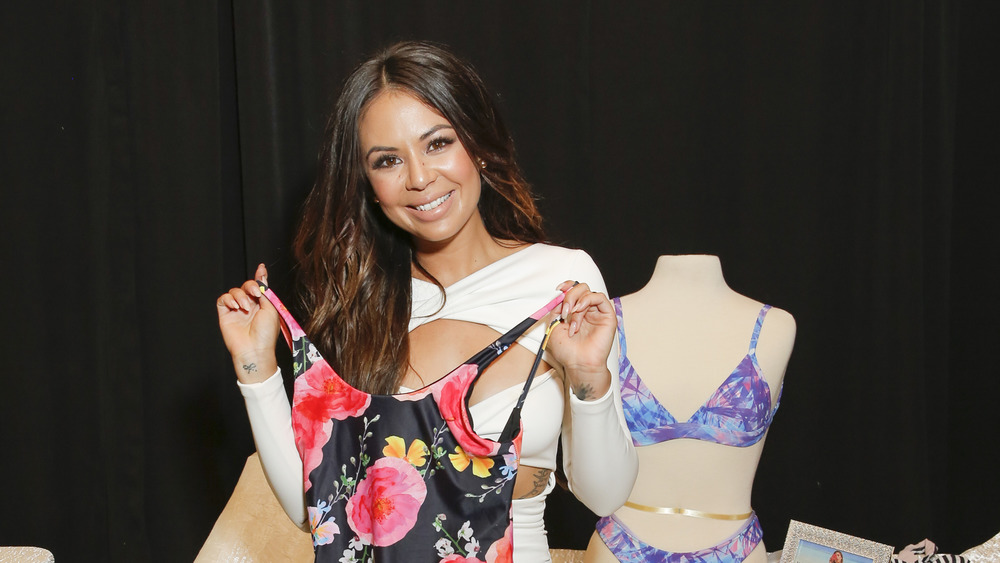 Alison Buck/Getty Images
What is your day-to-day normal makeup look like when you're not working?
It's pretty simple. It's kind of like this. I love a good brow. If I do anything, I'm going to do brows and lashes. So if I'm having a really good skin day and I don't want to put any foundation on, which is usually what I prefer just to get my skin to breathe. I'll do a tinted moisturizer, I'll color in my brows and mascara, if I'm feeling sassy like I did today, I'll do a little bit of a cat eye, a little bit of bronzer, a tinted lip moisturizer.
What is a major makeup don't for you? I know you said blending down. Anything else like that?
Blending down, for me, it's like too much blush. I love blush, but I just try to do it like a little bit on the apples and blend it up. But the two circles of blush.
Oh, yeah.
Not my fave.
What is the best beauty advice that you've received?
Oh, probably less is more. Because it's so much fun to play with makeup, and especially if I'm feeling sassy, I'll just look on Pinterest and be like, "I'm going to recreate that." But sometimes, the most natural, no-makeup makeup look is, it looks the most like you, and I get the most compliments when I look like me, and I don't overdo it.
Janel Parrish opens up about starring in To All the Boys
What are you most excited for fans to see in To All the Boys: Always and Forever?
It's just such a beautiful ending to Lara Jean's story. There's so many big life moments in this movie. You get prom, you get a wedding, you get her getting accepted, choosing a college, graduation, and you just really see how much Lara Jean has really blossomed and come into her own as a young, independent woman. I think it's also the most romantic of all the movies.
What's been your favorite part about playing Margot?
I've really loved being a big sister because in real life, I'm the baby sister and I have a Margot, which is basically where I drew all of my inspiration for playing Margot. But with Lana and Anna, they've made a big sister out of me and I've really loved it. I know how it feels now to feel so protective over your little sisters, and I really loved that.
What was it like working with the cast? Especially through three movies. I'm sure you guys have grown close over that.
Honestly, a dream. It doesn't get any better than that. The second the three of us sisters met, we immediately bonded and just loved each other. And when we're on set together, it's just like one giggle fit after another. We just have so much fun. And that's what I'm going to miss the most because I know that we'll still be best friends and we'll talk all the time, but there's nothing like the experience of being on set together on a night shoot where you can't stop giggling in the middle of a scene. It's just like, it's like summer camp and it's been so much fun.
Janel Parrish looks back at being on Pretty Little Liars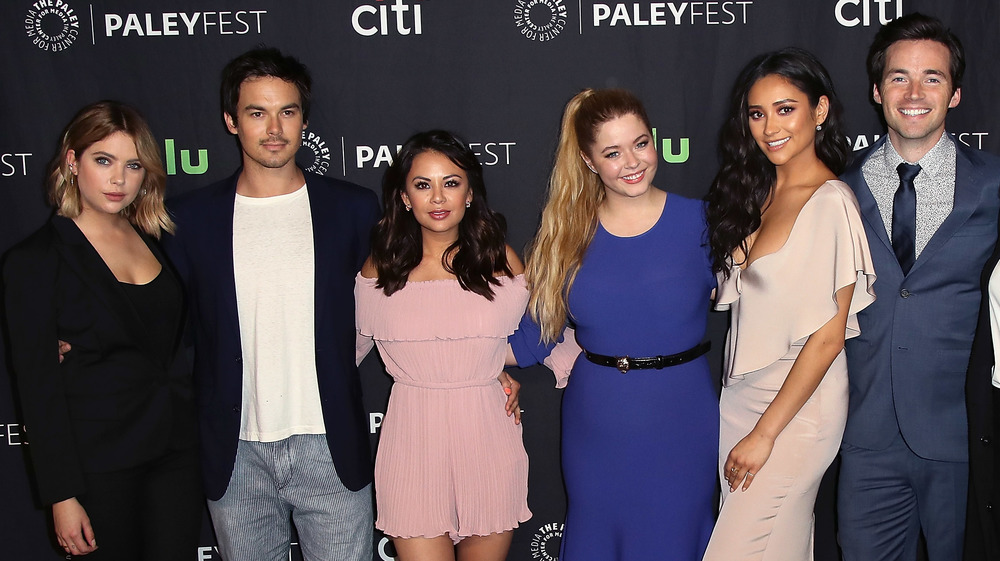 David Livingston/Getty Images
I can't talk to you and not talk about Pretty Little Liars as well. How did landing the role of Mona really affect your acting career?
I think it gave me one. I feel like that was the first big thing I'd ever done. I learned so much about acting and the business just by being on that show. I kind of grew up on that show, it was all of my 20s. And yeah, it gave me such an amazing fandom, I mean our PLL fans ... are still the most loyal fans in the world, they still follow all of our careers. But really just the learning experience and the exposure. I'm so grateful to that show.
What was your favorite part of playing Mona? I mean, over all the seasons on the show, I feel like she's one of the characters you see most evolve, I think, from watching it.
Yeah, I agree. I mean, the writers gave me so much to play with. I think my favorite thing about her was how unpredictable she is. You never can tell what she's thinking, only she knows what she's thinking, and there's such a power to that that I just loved playing. Yeah. She just, she was always five steps ahead of everybody else.
Is there any way that you kind of prepared for that role? I know it was a high school student, and I know you were homeschooled. Was there any way that you kind of like got into Mona's mind?
Just being there, walking around in her shoes and her wardrobe, especially when I was in the Radley Sanitarium, that spoke for itself. Just being there on that set and looking around, you're like, you feel nuts. Just kind of putting myself into her shoes and into her thought process and just playing. I love doing that.
Janel Parrish on life after Pretty Little Liars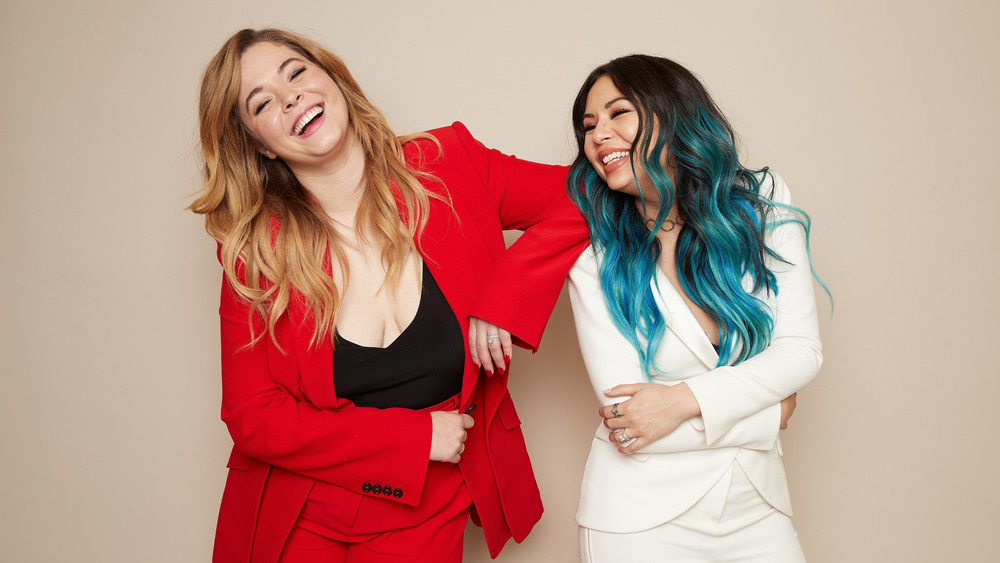 Rich Fury/Getty Images
Do you still keep in touch with a lot of the cast members from the show?
Oh yeah, we still have group chats. We have a PLL group chat and we have a PLL: The Perfectionists group chat. And we're all still so close.
How did you feel about getting a spin-off of the series once Pretty Little Liars ended?
I mean, you know what? We're all just so grateful that we're the O.G. PLLs and we're excited to see this new iteration of Liars and see what they do with it. Super cool.
I know you have a permanent reminder of playing Mona because you and other castmates got tattoos. Was there anything you took from Mona's wardrobe or a prop or anything that you still have?
I have my Camp Mona sweater from Season 2. And I love it so much. It's so much fun.
So you wear it, like, all the time? Still at home?
At home, yeah. I would be too embarrassed to wear it out, but I love wearing it at home.
Janel Parrish dishes about her time on Dancing with the Stars
What was your experience like doing Dancing with the Stars?
Craziest thing I've ever done, but it was so much fun. And every day, you were just on cloud nine, living in this extremely heightened... it felt like an alternate reality because my world, my days, everything was dance. And I loved it. I was like, "I am a dancer now? I'm an athlete now." Because you have to be those things.
Yeah!
Even if it's four months of your life, that's what you are. And I loved it. It was so much fun, I was challenged every day, I was terrified every day, but I overcame it and afterwards I was like, "You can do anything now. You did that? That was terrifying. And you did it. Live."
Absolutely! And I feel like you have to be kind of an athlete to do that because of training. I mean, you're going for hours a day, right?
Yeah. 14 hours a day, basically.
Wow! Oh, my goodness!
But you want to do it, that's the thing. You want to do the work. Yeah.
Did you feel like your experience — maybe like on Broadway — helped, sort of, prepare you for Dancing with the Stars and kind of having that stage presence?
Maybe, yeah. I mean, I'm lucky enough to have grown up on stage and I think that definitely helped. And just the fact that I just love performing, it feels like home, so.
How did you feel when you found out that you got third place at the whole show?
I mean, that's, three's my lucky number. So I wasn't surprised whatsoever.
Having tackled Broadway and TV, what's next for Janel Parrish?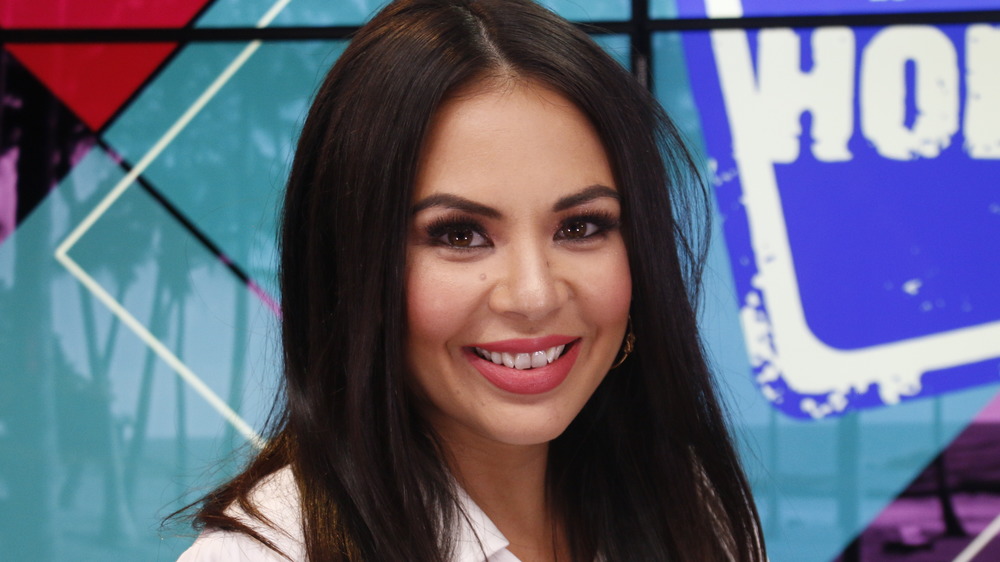 Young Hollywood/Getty Images
I know you're shooting in Vancouver right now. So what's coming up next for you? What projects do you have in the works?
I'm shooting a sweet romantic comedy. It's my first romantic comedy — I'm so excited — for Hallmark for their Spring Fling, so it's coming out in April. And then after that I have some other things, some other really fun things on the table I can't talk about just yet, but I'm excited to share it. I'm really excited about the Ziploc Hot makeup line, or Hot Mess makeup line. I think it's going to be really, really cool, and people are going to love it.