Inside Gary Oldman's Relationship With His Three Sons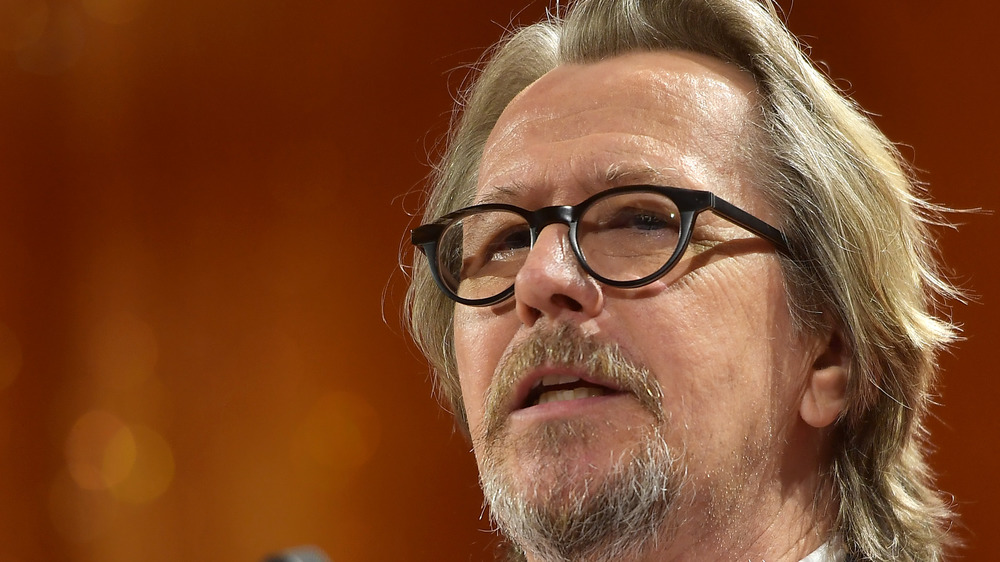 Matt Winkelmeyer/Getty Images
Gary Oldman has brought us some amazing characters. Oldman is our tinker, tailor, soldier and spy. He's the Sid to our Nancy, the historic prime minister of sarcasm, and the futuristic villain of our imagination (via IMDb). Perhaps Oldman's greatest legacy, however, is being dad to some amazing children. Gary Oldman is father to four children, sons Gulliver, Charlie, and Alfie and a step-daughter Phelix (via PopSugar). And while it is generally agreed upon that Oldman's children are both handsome and talented, it hasn't all been a fairytale. It's best to understand the story from the beginning.
Oldest of the siblings is Alfie Oldman, who comes from Gary's first marriage to actress Lesley Manville and was born in 1988 (via Amoma). The elder Oldman and Manville split while Alfie was still an infant with Manville remaining in the U.K. and Oldman returning to the U.S. While not publicly speaking against her son's father, Manville has been reported to reflect, "He plays a small part, with the accent on the small, however much you might have read in the Press about how wonderful a father he is," (via Mirror). And while things were once sour, Alfie, Manville, and Gary all seem to be quite cordial now as they appeared at the same Oscars in 2018 (via Evening Express). Adds Manville, "Everyone gets on," elaborating on the family dynamic, "His sons from his other partner and my son are all very close..."
The Oldman family is close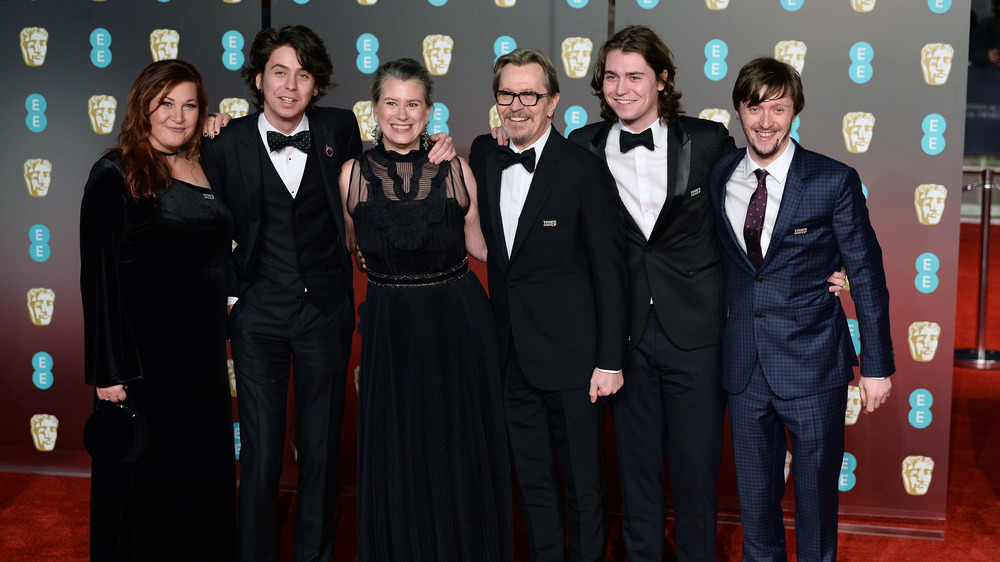 Jeff Spicer/Getty Images
Alfie has followed his famous parent's footsteps into acting and film (via IMDb) and he's not the only son to do so. Charlie Oldman, born in 1999 (via Healthy Celeb) and Gulliver Oldman, born in 1997 (via Celeb Pie) are both famous in their own right. The two younger sons are the children of Gary and ex-wife Donya Fiorentino. The relationship with Fiorentino is anything but cordial, dating back to old allegations of abuse which have long been dismissed (via Hollywood Reporter). Gary would go on to get full custody of his two sons, and clearly made an impression. Gulliver has issued adamant defenses of his father against any reemerging claims to the contrary stating in a letter reshared by Hollywood Reporter, "My Father is my one and true guiding light. My only hero. He is the man I aspire one day to become. If I could only become even half as great and half as pure."
As you can see, these boys are close. 
Gulliver Oldman is an aspiring photographer, specializing in black and whites (via Twitter). Charlie is an up and coming model, walking important shows like Dolce & Gabbana Fall/Winter 2108-2019 show (via PopSugar). Seeming to learn from his earlier missteps in parenthood, Gary Oldman dove fully into fatherhood with these younger siblings. Sharing in a 2014 interview, "Look, you are either going to be a dad who is there or you are going to be a dad who is away. So I sort of said I'm going to be a dad who is around," (via The Sun).
Clearly, it worked.