What We Know About Eric And Ivanka Trump's Trip Back To NYC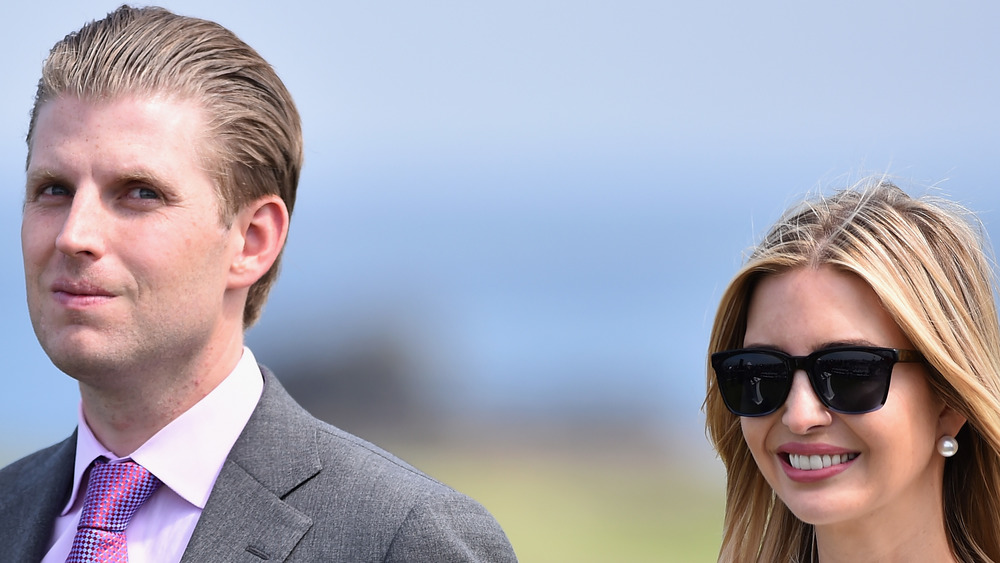 Jeff J Mitchell/Getty Images
You can take the Trumps out of New York, but you can't take New York out of the Trumps, which means that even though former President Donald Trump and his family have decided to make Florida their home (at least for the foreseeable future), a good chunk of the former president's wealth is still in New York real estate (via Forbes). So given that the Trump Organization is still headquartered in Manhattan's 725 Fifth Avenue, we can expect the Trumps to drop by and stay a while whenever the opportunities arise.
The family-run company executive vice president Eric Trump was seen out and about in the city, accompanied by his wife Lara and mother Ivana (via Daily Mail), several days after the New York City government decided it wouldn't rip up management contracts signed with the Trump Organization. City officials had contracted the family-run luxury lifestyle and branding company to run the city's Central Park Carousel, its Wollman and Lasker skating rinks, and the Ferry Point Golf Course several years back, and had threatened to void the agreements after the January 6 insurrection but changed their minds. Instead, city officials now say it will keep the rinks open "under current management" since there was only a short amount of time left in the season (via Newsweek). 
Eric and Ivanka have business reasons to return to New York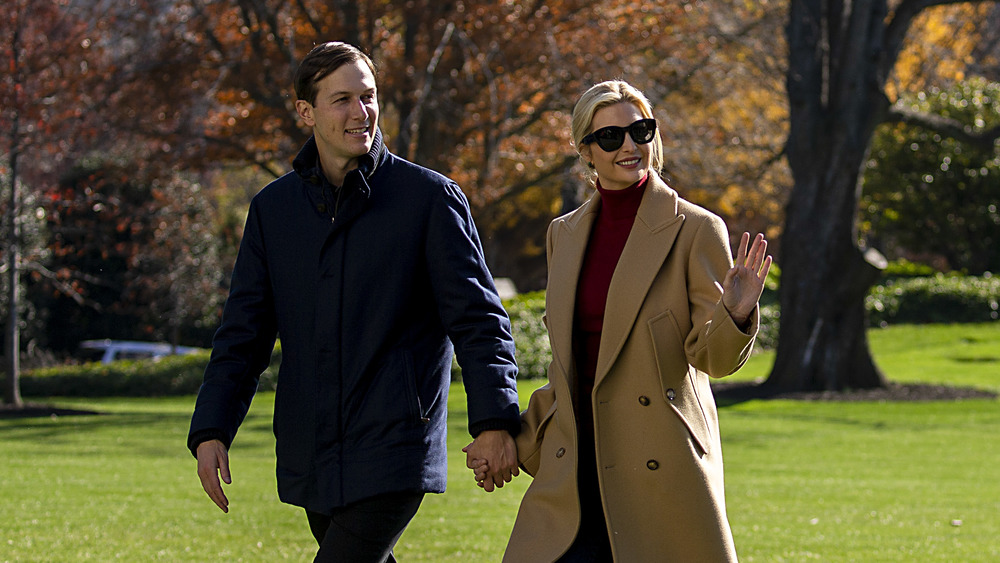 Tasos Katopodis/Getty Images
Because Ivana Trump shut down her business back in 2018, there isn't really a professional reason for her to be in New York City. However, because her husband Jared Kushner is listed on Linkedin as Chief Executive Officer of the New York-based Kushner Companies, his business trips could give her a reason to revisit The Big Apple from time to time. 
Ivanka's end-February visit to Manhattan is the first time she's returned to city she considers home (via Daily Mail), where she may have to brace herself for the reality that New York might not be as welcoming as it once was. As WNYC reporter and author Andrea Bernstein puts it, "I don't see any indication they are coming back or would be welcome back here. The [on-going] investigations are a symbol of the problems the family could face back in New York, while the article in Vanity Fair [by one of Ivanka's former friends] was interesting not for what it said, but that the author said it so publicly" (via The Guardian). 
The situation could change for Ivanka though, because as celeb hairdresser John Barrett puts it, "America is all about second acts, and there's always somebody trying to advance a position or cause. Obviously, some people have been burnt by the administration, but it'll take very little time for them to buy their way back pretty and rule a certain roost." Until that happens Ivanka's and Jared's trips home may have to be literally about business as usual.