Khloe Kardashian Defends Her Good American Ads After Backlash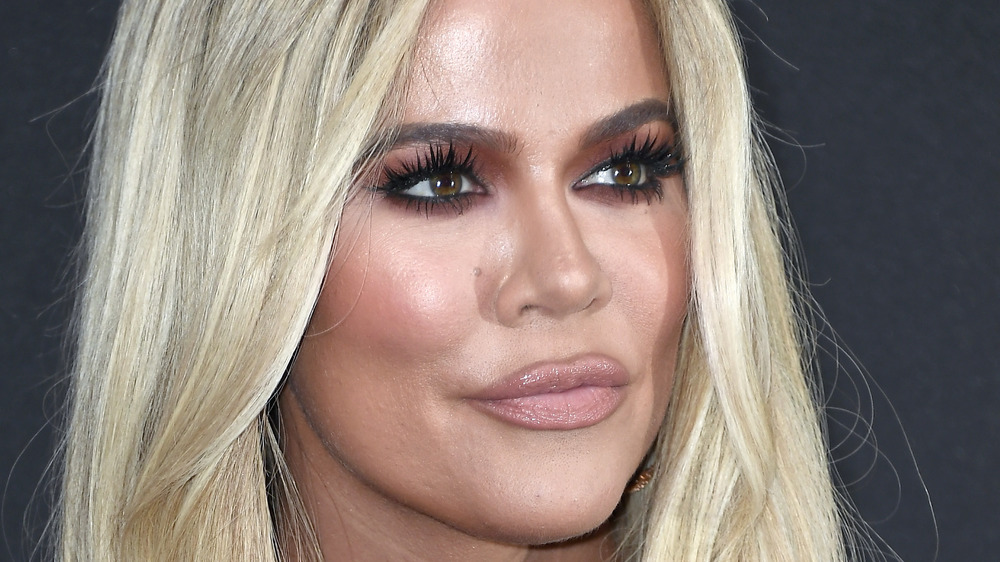 Frazer Harrison/Getty Images
The Kardashians have been accused of Photoshop fails in the past, with an entire article in Seventeen devoted to all the times they messed with their images in a way that caught the wrong kind of attention. But recently, Good American clothing brand founder Khloé Kardashian was accused of a Photoshop fail in her shoe line marketing and she is standing up for herself, telling her fans that she meant for her fingers and feet to look elongated (via People).
The mom of one took to Twitter to clarify why the shoot featured her unnaturally-extended digits. "HA I'm cracking up!" Kardashian tweeted. "4a few of those GA photos, we shot on a camera lens that creates a stretching effect. The closer the object is to camera they will get elongated. So in some of my photos my feet/fingers look incredibly long. Not to worry! I still have normal size hands/fingers."
The controversy started when the celebrity designer posted an image from the photo shoot on Instagram. The reaction was immediate, and, well, not so nice
Fans called out Khloé Kardashian's Good American ad
"Who approved this ad?" one commenter to the Instagram post quickly asked, while another shared a creepy observation: "Ummm slender man vibes?" Intimating a Photoshop fail was underfoot (see what we just did there?), another fan said, "THE FEEEET LMAOOOOOO."
More and more commenters piled on to call out Kardashian's seeming Photoshop fail. Clearly she felt the need to answer back, thus, the tweet. In response to her clarification that the look of the ad was intentional, one Twitter user said, "Thanks for confirming...got worried there for a hot sec." Another noted, "Oh good, we just thought it was really bad photoshop."
Still, commenters were divided about the ad in general, with some saying they loved it, and others shading Kardashian for promoting an unrealistic body image in general, as the effect used in the photo seemed to make the star's body longer and thinner in addition to contorting her hands and feet.