Fashion Disaster Hacks To Save Your Look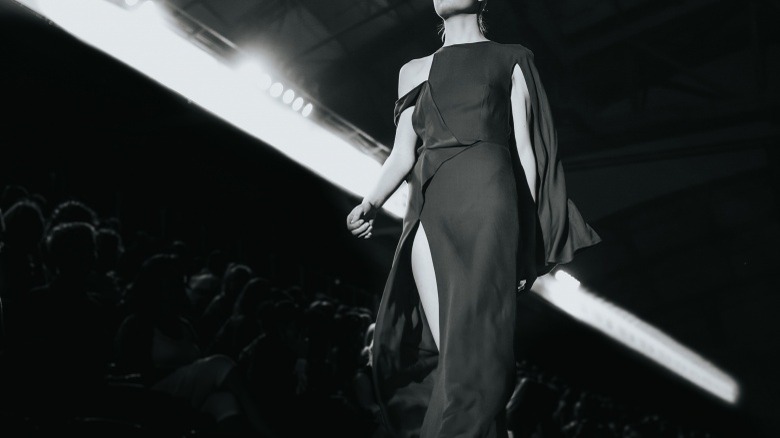 Shutterstock
Fashion, and just looking great in general, is tricky and time consuming. No matter how many time-saving tips we try to integrate into our routine, life seems to keep getting busier. We find ourselves running from school drop-off to the office, and then from the office to an evening function. It's a miracle we can get dressed each morning, much less find an outfit that carries us from dawn until dusk. Plus, somewhere during the day, there's a chance a fashion catastrophe will strike. A stuck zipper. A tomato stain on your sleeve. But don't worry — we talked to several fashion experts and asked for their genius fashion disaster hacks. Whatever the problem, we've got you covered.
Unstick the zipper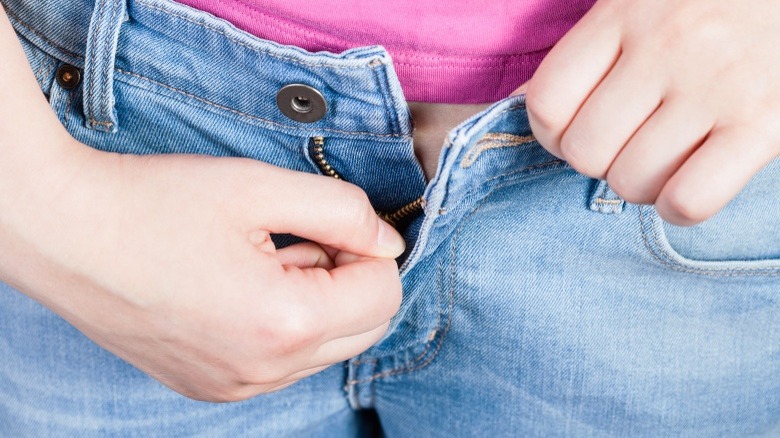 Shutterstock
Talk about a fashion disaster! A stuck zipper is no joke. Sometimes the teeth get twisted and can keep you trapped in a dress. Other times you step into a pair of skinny jeans, only to find the zipper won't budge. Instead of tossing them to the side and finding something else to wear, try grabbing your child's favorite art supply. Yes, you read that right! Fashion expert Katrina Szish shares this tip. "If your zipper is stuck, grab a crayon, rub it on the zipper—and voila!" Szish continues, "The wax on the crayon actually acts as a lubricant and helps unstick the zipper."
Another option is to grab your go-to lip moisturizer. Celebrity stylists Emily Current and Meritt Elliott shared this tip with Who What Wear: "Use chapstick to unstick a zipper. Apply a little to where it's sticking, and the zipper should slide right up!"
Fit into those heels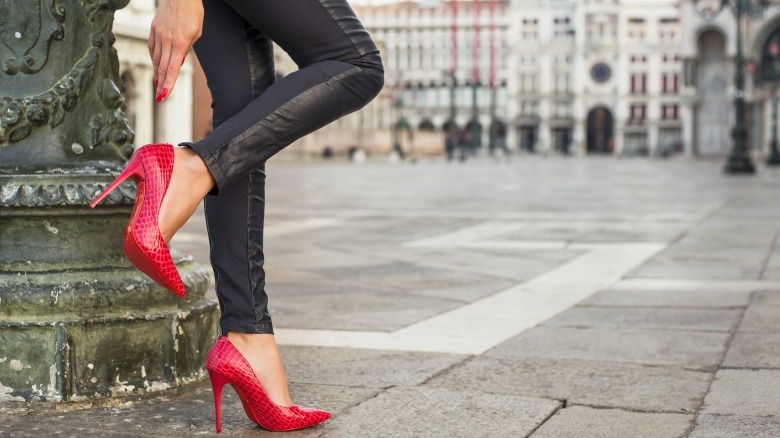 Shutterstock
High heels are perfect for creating an illusion of long legs. That said, they can be super painful to put on and wear for hours on end. I spoke with Adrienne Borgersen, Certified Image Consultant and Editor-in-Chief of La Fashionista Compassionista, and she offered advice for stretching those shoes for a better fit. One way is to "put a tightly closed plastic bag of water in the shoes and freeze them overnight. The water expands when it turns to ice and will stretch your shoes." If you need a fix for right now, she says, "put on a pair of thick socks and squeeze into the shoes. Then turn a hot blow dryer on the tight spots for a bit."
If your shoes are still painful when you put them on, Margaret Murray, editorial manager at Stitch Fix, suggests using BAND-AIDs to relieve pressure. "Wrap them around both your third & fourth toes when wearing heels — it takes pressure off the balls of your feet." You can also avoid blisters by using a stick deodorant. Celebrity wardrobe stylist Ali Levine, of Ali Levine Design, tells us, "My favorite hack is to use deodorant over your blisters from sandals and shoes to soothe quick on the spot." Rub it directly on the back of your foot, your poor pinky toe, and any bunions. Another option is to apply the deodorant to the interior of the shoes and then slip your foot in.
Shine those shoes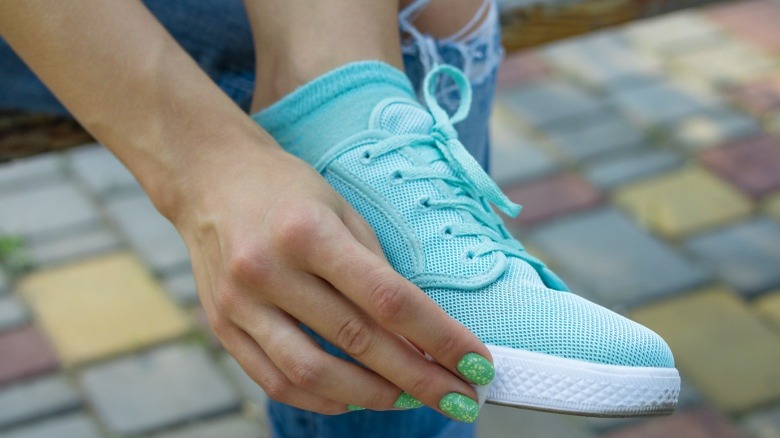 Shutterstock
Now that we've avoided blisters and pain for the sake of fashion, it's time to tackle any stains on your much-loved shoes. It can be a total setback to have your wardrobe put together, only to pull out your favorite shoes and find they are scuffed or dull. 
Borgersen suggests tips for a variety of textiles. "A stain remover pen is great for cotton/canvas. Use a stiff toothbrush for suede-like materials. For smooth surfaces, the only time it's acceptable to spit is to shine up shoes and buff with a soft cloth." 
When it comes to your white sneakers, Meghan Blalock with Who What Wear shared her tips for scrubbing scuffs and stains. "There are a ton of handy little cleaning tools out there to help with this. We prefer Mr. Clean wipes and magic erasers, but if you don't have anything like that on hand, take a washrag and dip it in vinegar from your pantry. Rub gently to remove small stains. Voilà!"
Deal with spills and stains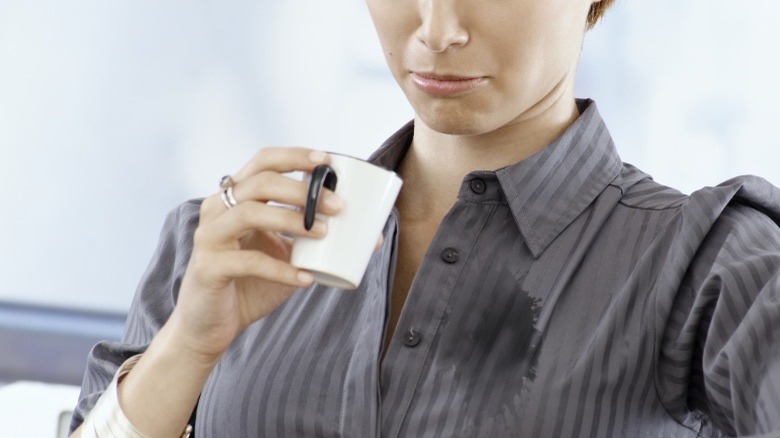 Shutterstock
You're at lunch with a colleague and suddenly coffee slops down your shirt or you drip salad dressing on the front of your pants. You don't have time to change, and certainly didn't bring a spare outfit to the office, so what do you do? 
Borgersen suggests, first off, that you wear prints or darker colors whenever possible as "stains won't show so obviously!" If you have your heart set on removing the stain right away, she urges you to remember, "stain removal greatly depends on the type of stain and the fabric. Generally, stain remover pens are brilliant. I don't like to use a lot of chemicals, so I use one with natural vegan enzymes." If you can't remove the stain quite yet, cover it up with a scarf or sweater until you can.
Another embarrassing fashion disaster is a stain from deodorant. I always tend to spot them on the edge of my shirt after I've left the house! Borgersen gives us three tips for getting rid of the white streaks: rub another clean part of the shirt on it and it will disappear, wipe the stain with a baby wipe, or find foam rubber to brush it off with firm, quick, deliberate strokes.
Tackle that hair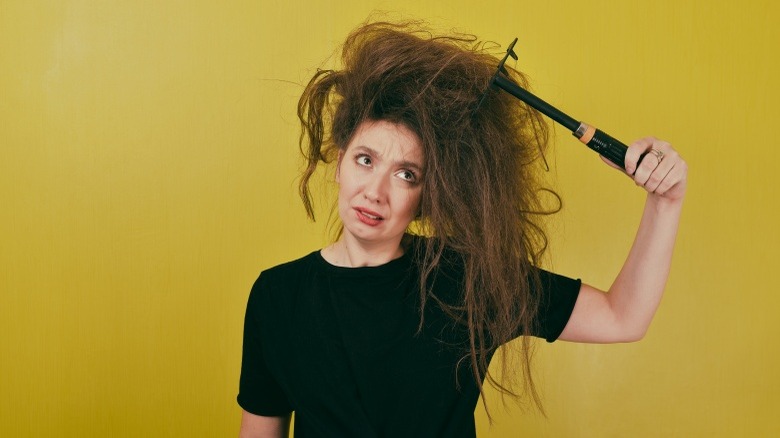 Shutterstock
The elements can wreak havoc on even great fashion, and that's especially true for your hair. Wind, rain, heat, and humidity can all tangle that perfectly coiffed look from the morning. Instead of moaning over the crazy frizz or limp strands, try one of these quick hacks and enjoy the rest of the day. 
A chic ponytail at the base of your neck is an easy way to tame hair and keep it out of your face. Pull out a couple of loose strands if desired to frame your face. The experts at Leonor Greyl say, "Dress up your ponytail with an accessory to really be on trend, such as a gold or silver hair cuff. From casual, everyday hair to performing your sports routine, going to work or attending a grand occasion, a dressed up ponytail lets you achieve beauty in a quick and easy way."
If you find your hair is greasy from a humid day, or you just finished a workout session and don't have time to shower, try this tip that Noa Ries, CEO of Vie Active, shared with me. "Any number of 'dos can disguise your greasy tresses. I like an ultra light, sleek high bun or a high pony tail, regular braids or the perennial favorite, messy bun." She continued, "My fine, straight-haired friends also swear by a spritz of some dry shampoo in their hair to absorb excess oils and moisture." If your hair is long enough, and has a bit of texture, try a top knot. Just gather your hair at the crown of your head in a loose bun and tie with an elastic. If some pieces fall out, that's perfectly fine too.
Make that bra work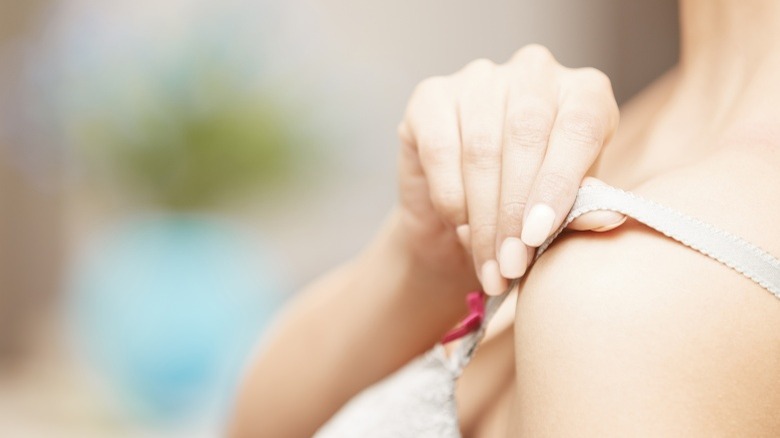 Shutterstock
Here's a fashion disaster we can all relate to. You bought the cutest new tank online, only to find that none of your Victoria's Secret best quite work with the neckline and back. Those pesky bra straps just keep peeking out. 
Borgensen tells us that being prepared is important. "Having the correct bra is an important tool in your wardrobe arsenal. Having a couple of three-way bras, creating halter, criss cross or strapless styles available, help keep you organized and stress free," she said. Sometimes, you might have to get creative: "On occasion, we might find ourselves in a pinch and need a hack. Invest in a bra clip to cinch your straps any which way you need. You can use a safety pin, but it's cold and sharp. Be careful! And long term, you'll just stretch out your straps and ruin your bra."
For a tank top that is too low, Sara Kirsner, owner/designer for Doie Lounge, shared this tip with me: "Twist the straps under your bra straps (at the shoulder) to adjust the length to where you want the tank top to lay, the only caveat is that you should then cover the straps with a cardigan or pashmina." If the back is too low and your bra is showing, you can quickly create an extender with some elastic, a needle and thread, and these directions from Extra Petite, a Boston-based style blog. If all else fails, consider replacing your bra altogether with adhesive pasties or wearing a cute bralette that is meant to be seen.
Fix broken accessories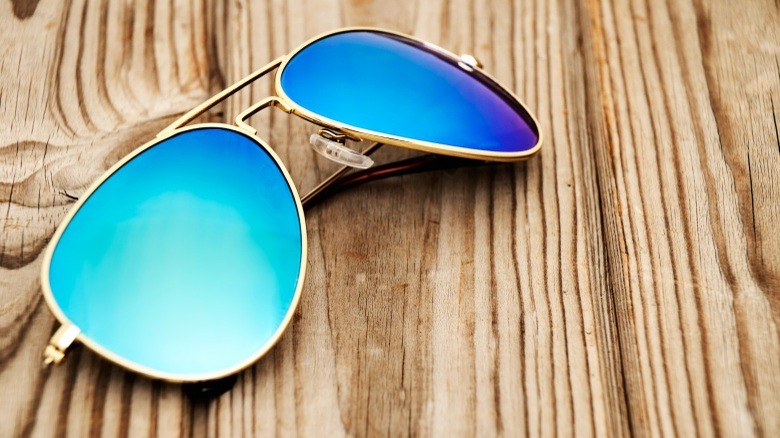 Shutterstock
It's not just clothing that gets a snag — your accessories can have their own mishaps too. If your sunglasses are loose and you don't have a mini screwdriver on hand, celebrity wardrobe stylist Ali Levine suggests, "Use a tiny drop of clear nail polish or top coat to secure and help tighten it." And what about if your cross body purse strap breaks? Merle O'Brien, founder of OlovesM Bags, told me, "Run the broken piece through the zipper pull hole at the top and make a knot. I've used this trick a few times when traveling. It works!"
Throw together an outfit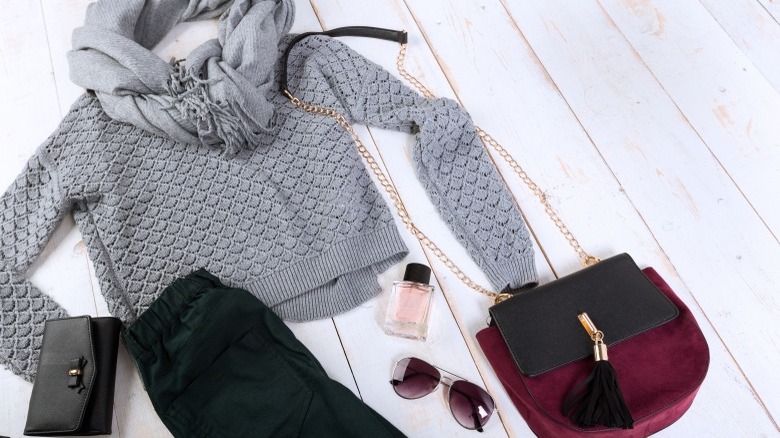 Shutterstock
Fashion disasters don't always stem from a stain or tear. Sometimes you literally can't find an outfit to wear! Don't panic. Take a deep breath and try one of these tips given to me by lifestyle and fashion blogger, Tonia Steck of FO40. Try something new/old! "Pull out some old blouses and find one that compliments your favorite black pants or skirt." If that doesn't work, try to mix and match. "I recently paired a blouse with a big bow at the neck with a forgotten, fur-collared cardigan. I put the cardigan over the blouse with the bow sticking out — it worked! I will be wearing this one again."
If the weather is chilly, you can always grab a jacket. "Wearing a blazer over even the simplest white t-shirt or plain sweater will always pull an outfit together," Steck suggested. When the clothing options are exhausted, try some flair. "Jewelry, scarves, and handbags can really make your look. If you are wearing a plain black top, add a few bracelets and an eye-catching clutch. For a plain black dress, try a long necklace or a pair of earrings. Adding a colored scarf over your shoulders with a monotone outfit adds contrast and will complete your outfit." And if all else fails, add a belt. "An older dress can take on a fresh new look with a waist-cinching belt. A belt can also add an elegant flair to an all-black top and pants ensemble, or paired with a long sweater and worn around the hips."
Make your outfit work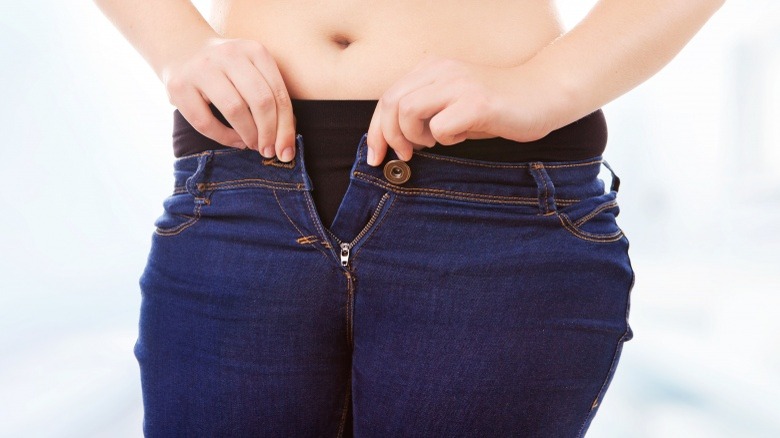 Shutterstock
Sometimes an outfit or piece of clothing looks great in the dressing room, but then something doesn't quite work when you put it on at home and you're getting ready to head out the door. Mariana Leung, publisher of Ms. FABulous and designer/consultant for many fashion labels, has these three tips for us. 
Too busty for a blazer? "Quickly remove the middle button and restitch it as close to the edge as possible. Really busty? Stitch a ribbon where the middle button was so the wearer can tie it as needed." Strapless dress refusing to stay up? "Ribbon to the rescue again. Tack or pin it to the front chest and convert it into a halter in an instant." Jeans suddenly too tight? "Bloated suddenly in your new skinny jeans and can't breathe? Loop a hair elastic through the waistband buttonhole and loop it around the button." 
Carry these with you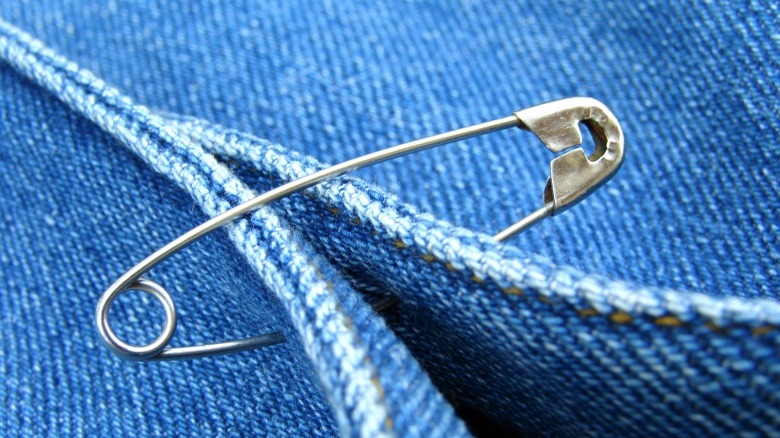 Shutterstock
Fashion disasters happen. They just do! But, like any natural disaster, you can prepare for them in advance. Put together a small bag with fashion necessities and keep it in your car or at your desk. You're bound to use it at least once, and your friends will love that you're available to help them with their issues, too. 
Borgersen says she always keeps the following items in her handbag: "Double sided tape: keeps the fabric down in between buttons on a button down shirt and keeps a bra strap in place. Clear nail polish to keep more difficult things in place like a hole in your stocking or a loose shirt button. Mini silicone lint roller to remove pet hair or dust or lint. Easy to rinse and reuse. Mini emery boards for a chipped nail, quick de-pill or to quickly sharpen eye/lip liner. Baby wipes to remove deodorant stains, refresh makeup and important when there's no toilet paper! That stain remover pen! Snacks and a water bottle. Nothing makes you feel (or look) worse than being hungry and dehydrated."
Steck also suggest carrying a few key items. "Safety pins are the workhorse of emergency fixes. Also take along a needle and thread — you DO know how to sew, right?" She also recommends throwing a few travel packets of salt in your purse. "Small stains from any oily or greasy food can be fixed by applying salt which lifts the stain."
Own that major faux pas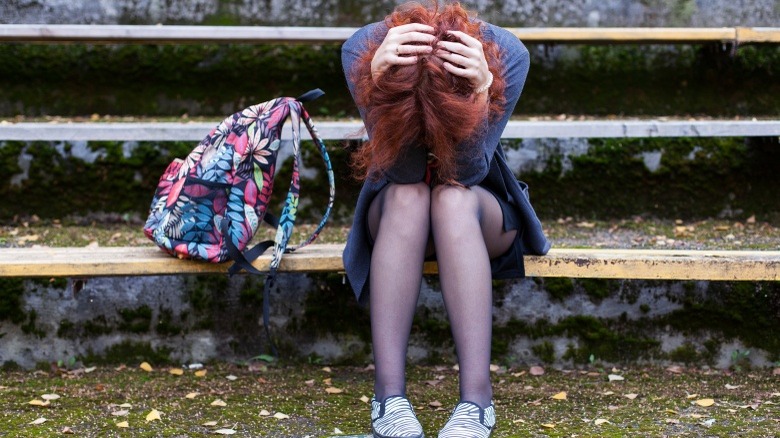 Shutterstock
If you can't find a hack that works for your fashion disaster, Steck suggests you own it. "When all else fails, just own the fashion emergency. With confidence, you can pull off any rip, tear or spill!"
But what if it's a mortifying one? A nip slip at the holiday party, or your period stains your white jeans? Refrain from making a big deal out of it. Your true friends will be there to help you laugh it off, and come to the rescue in helping you save face. Offer a quick apology if needed, and move on as quickly as possible. Cover up that boob, borrow a change of clothes, or head home if absolutely necessary. Most people have a short-term memory and are self-absorbed. While the fashion disaster may be on your mind for days to come, everyone else will have quickly forgotten.