The Untold Truth Of Bridezillas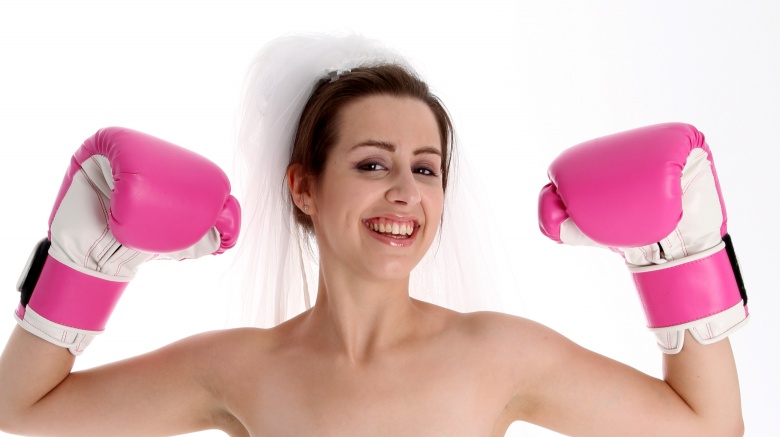 Shutterstock
The traditional June wedding stems back to the days of Roman mythology, where it was common to marry during the month dedicated to the goddess Juno. Juno was the protector of women in marriage and childbearing, however, this regal goddess was also often portrayed as a savage and warlike goddess who eventually gave birth to Mars, the god of war. Her Greek equivalent, Hera, was also known to unleash her deadly wrath on those who displeased her, and both goddesses were known for bending the wills of men to their advantage.
Perhaps these goddesses were the inspiration for the June 2004 debut of WE tv's Bridezillas. The show's title is fairly telling of the temperament of its stars, but here are a few things you might not have known about the show and its cast, right out of the mouths of previous cast-members themselves. I spoke to Porsha from season eight and Melissa from season seven, and both had some interesting dirt to share.
Ratings street cred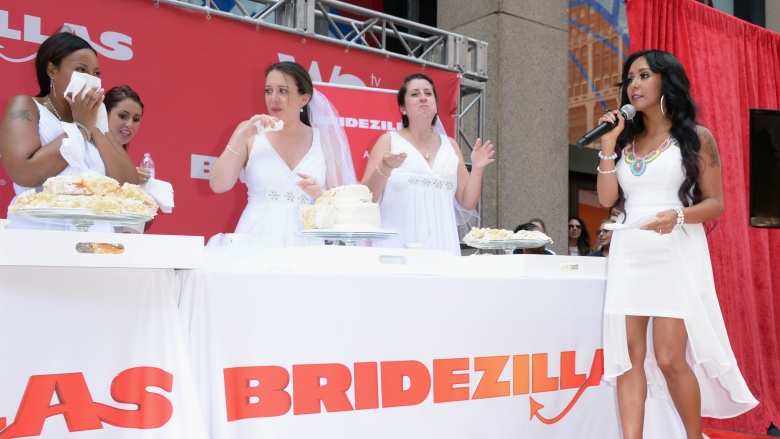 Getty Images
The show was designed to follow a bride through the final days of her wedding preparations, highlighting the stressed-out bride's outlandish and sometimes violent behavior. One woman's hissy fit turned out to be another woman's guilty pleasure, and the premiere episode of the fourth season was ranked as the highest original WE tv series season premiere of all time.
The screening process: just add crazy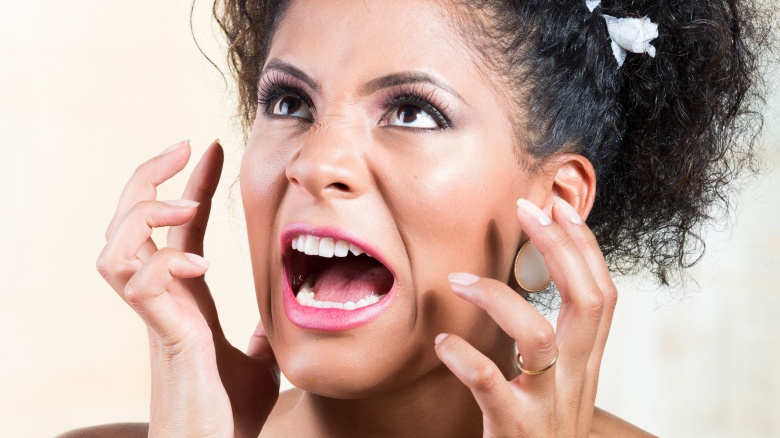 Shutterstock
Some Bridezillas sent in their own applications to be on the show. But Porsha, from season eight, told me her mom and sisters signed her up. And Melissa from season seven said her very own groom sent in her application "as a joke." The show called them for a follow-up interview and chose the most entertaining candidates. Melissa, Porsha and their respective hubbies appeared in the series spinoff, Marriage Boot Camp, which apparently had an even more in-depth review process. Both women said they had to undergo psychological testing to be on the show. But it wasn't just to make sure they were mentally stable. Porsha said they wanted to see if you were at least a little bit crazy to provide the viewers with entertainment. They also had a full medical review complete with blood work.
Blind-sided brides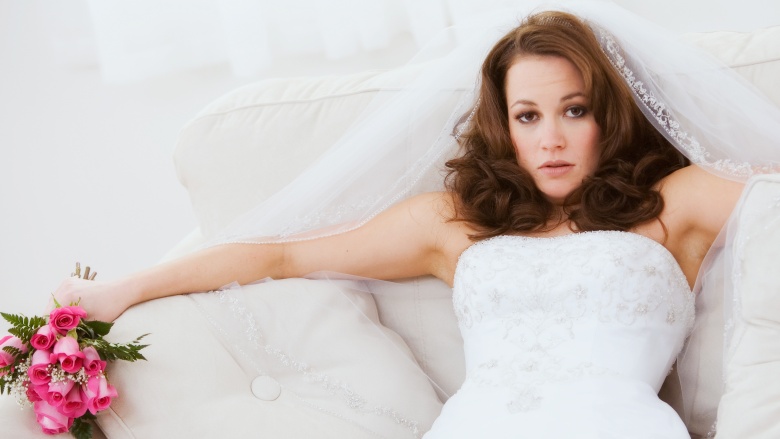 Shutterstock
With a name like Bridezillas, the show's directive should have been clear. But not all brides saw it that way. Season two bride Julia Swinton-Williamson sued the producers for misleading her about the nature of the show. The lawsuit was thrown out in 2009, but she wasn't the only bride who felt duped. Porsha from season one has befriended many of the former Zillas who are furious about their portrayal on the show. Porsha said she knew the show was going to make her look crazy — as part of her contract, she was required to watch all previous episodes of the show. But she said she didn't care, because Bridezillas are meant to be controlling and demanding. She claims she was pretty happy about her episode, and said she was the highest rated Zilla.
Melissa's point of view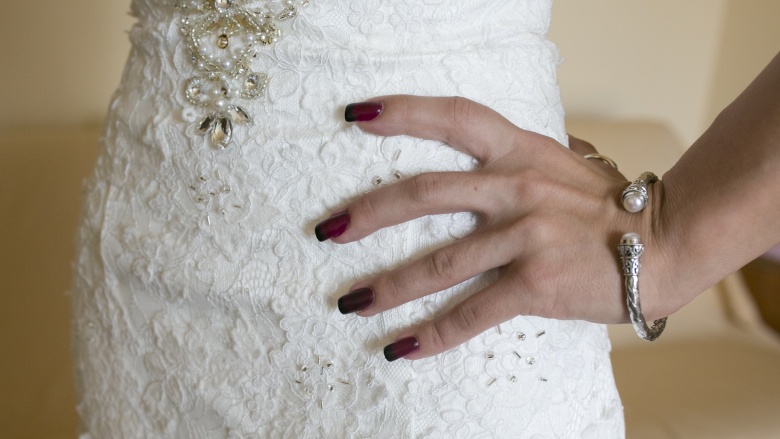 Shutterstock
Melissa from season seven was also happy with her episode stating "I liked mine as well. It was funny!" She said she didn't see the show as a way to portray women as crazy selfish wedding monsters, but instead a way to show other brides to be how hectic the week before their weddings could be.
Cashing in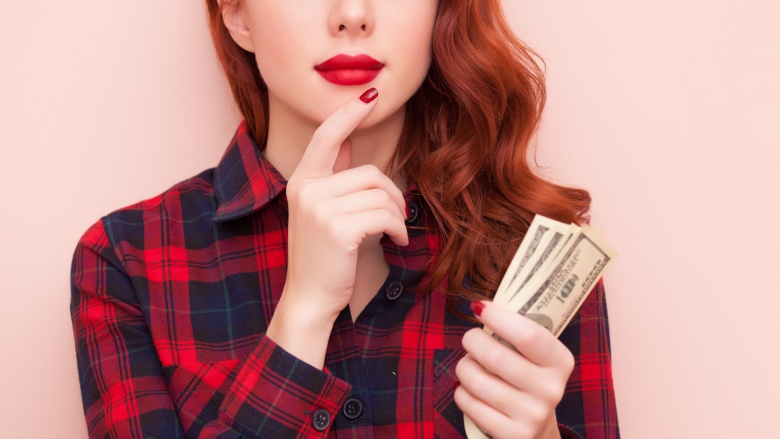 Shutterstock
Many viewers wondered why a woman would sign up for a show that was aimed at portraying her as a psychotic wedding beast. For some, it was the 15 minutes of fame and the connections they'd make in show biz, but for others it was the compensation. Brides had to already have their weddings paid for, but they were reimbursed for food, clothes and were given compensation for their time during filming. Porsha said they were paid for Boot Camp as well, getting paid the first day they arrived in the house and the last day of filming. She also cashed in on the reunion show and the Where Are They Now segments.
More than 15 minutes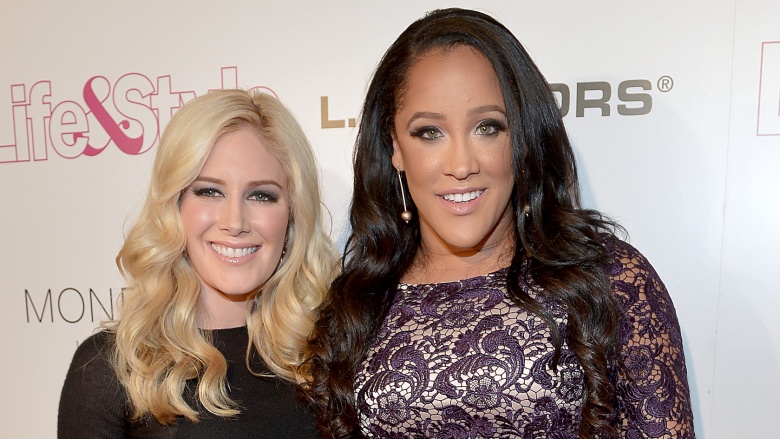 Getty Images
For some Bridezillas, the 15 minutes of fame was fleeting. But for others, the viewers needed more. Natalie Nunn was picked up by Oxygen for the Bad Girls Club. Melissa from season seven said she was contacted to be on The Bachelor, but she had to tell them no because she was, in fact, still married to her husband Chris. Porsha did her video blog, Porsha's Recap, for WE tv, and she was contacted by The Biggest Loser, but couldn't join the show because she was pregnant with her daughter at the time. She also filmed for her own show, but stopped because she was so sick during her pregnancy. Porsha told me she wouldn't want her daughter to follow in her reality television footsteps because she should follow her own dreams.
Virtual reality TV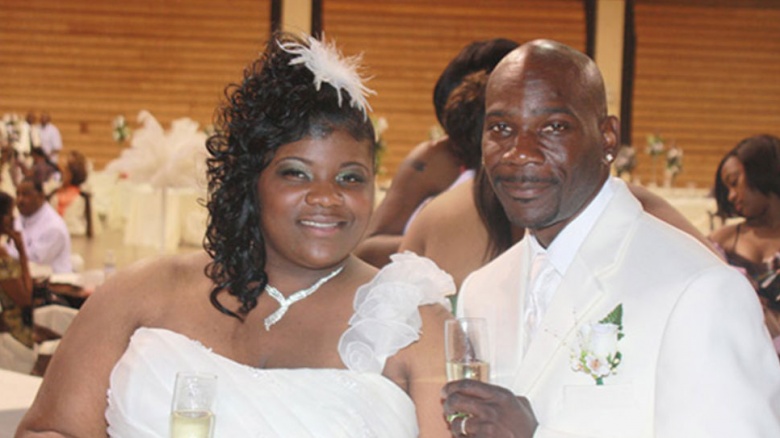 Porsha Holt
Bridezillas might be classified as reality television, but the brides from the show say it wasn't completely real. Brides were routinely asked to do things over again "with more drama," said Melissa from season seven. "They need to entertain viewers," she told me. "True reality isn't entertaining."
Porsha said filming for Bridezillas was exhausting. Brides are already stressed because of preparations for their big day, but the camera crews following her around for 12 hours a day with people telling her "go back, say this over, do this over," just amplified her exhaustion. She said one of the requests she got from the directors was for her to curse more. And although she was pretty happy with her episode, she said it was severely edited to include a lot more footage of her cursing people out. Her biggest complaint was that they showed her feet on camera. "I hate my feet," she laughed.
Bridezilla BFFs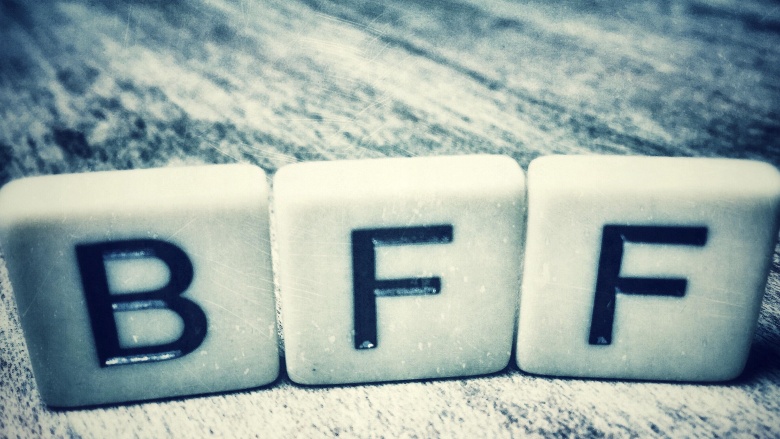 Shutterstock
The show might have been about women berating and attacking their closest friends and family members, but it wasn't all hair pulling and teeth gnashing. Friendships were formed between former Zillas. Porsha said she's befriended several former brides, but her best friend from the show is Minyon, the bride from season nine who fought her sister and angrily cut up her mother's dress for the wedding.
Spinoff success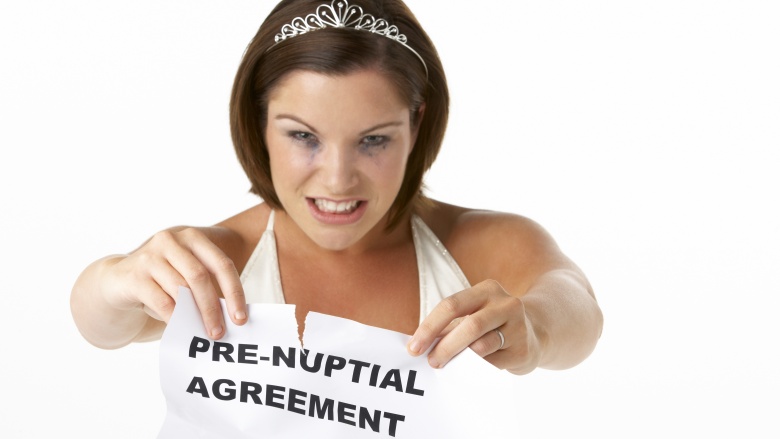 Shutterstock
Nine years after the first bridal freakout, WE tv renewed Bridezillas for its 10th and final season. In the works was a spin-off series called Marriage Boot Camp, a show aimed at saving the marriages of former Bridezillas couples. Boot Camp was designed to bring the seemingly doomed marriages of the Bridezillas back together. Melissa from season seven said she agreed to be on the show, but was sadly disappointed in their motives. "I think we truly believed it was a program to help us rebuild our marriage," she said. "And it was a drama-filled cluster f***."
Boot camp blues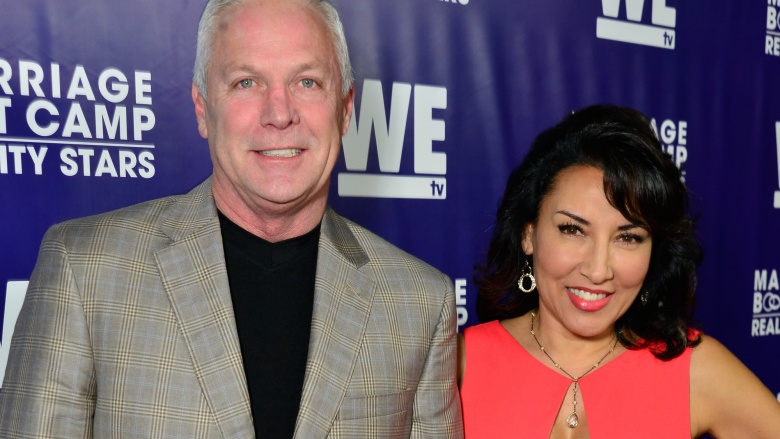 Getty Images
Jim and Elizabeth Carroll were hired on as the hosts of Marriage Boot Camp, the Bridezillas spin-off designed at healing the marriages of the broken Bridezillas. The couple was beloved by the cast, and Porsha said her biggest complaint was not being able to speak with them off camera. The couple weren't just show ponies, either. The program they used on the show is based on a real-life intense marriage-building seminar program called Marriage Boot Camp run by the Carrolls. But Melissa from season seven said what people saw on the show wasn't an accurate representation of the program Jim and Elizabeth run. "They will tell you themselves that was TV, not how the real program is," Melissa said. She felt like the producers wanted to put the couples in crazy situations, like the episode where they tried, unsuccessfully, to coax Melissa into a casket, just to amp up the drama. "If I had it to do over again, I still wouldn't have gotten in," Melissa said.
Jailzilla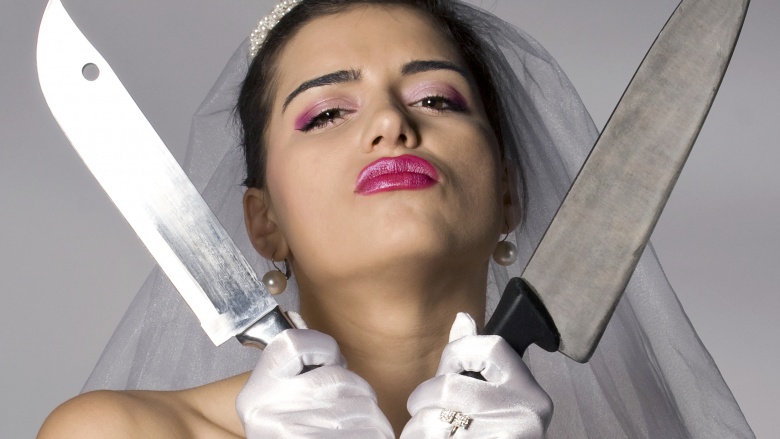 Shutterstock
Not all Zilla's bad behavior went unpunished. Bride Karee Gibson Hart was jailed for two days for violating her probation when she violently threatened her mother-in-law and set her bridesmaid's shoes on fire. Viewers took to the internet to voice their opinions on the bride's bad behavior. Porsha told me she ignored the majority of her hate mail, but some of the attacks really got to her. She said one night she and a group of Zillas got on the phone and were talking about how they felt about the show, and they were all in tears.
Still, not all the publicity was bad. Porsha told me she had celebrities like Coco tweeting her to say she should have her own show. Although she's currently working as a training coordinator, Porsha says she would still love to work in the entertainment industry. When she was younger, her dream was to be the female Kevin Hart. And her top choice right now would be to work with Tyler Perry.
But what about the grooms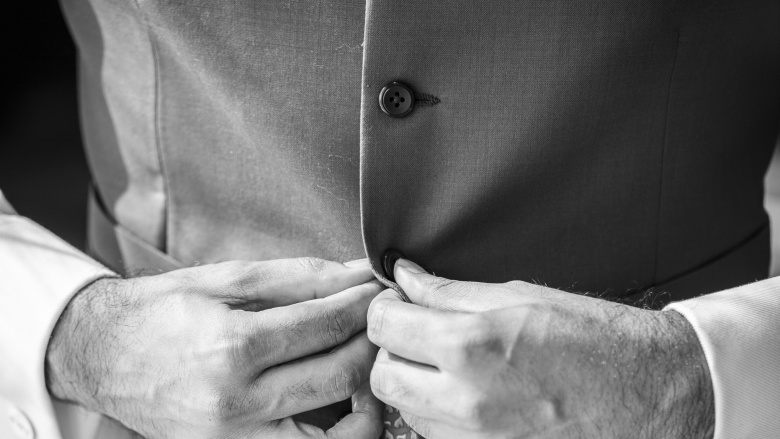 Shutterstock
Viewers constantly ask how these men could possibly walk down the aisle with these wedding monsters. Former groom Steven from season 10 told me he married his bride in the hopes that it would be the solution to a toxic relationship. "I was with Amanda for five years. I loved her. I honestly did," Steven said. "We had issues. I knew it wasn't going to work out. I thought by marrying her it would fix things." But it only made things worse. A year and one day after they said "I do," Steven said "I can't" and moved to Orlando while Amanda stayed behind in Ocala. According to Steven, she'd been having an affair with a guy named Andy she met through her sister. According to Steven, Andy and Amanda are still together, but when he last saw them in public Amanda grabbed her new beau and ran off.
Steven said it was Amanda's idea to join the show, and he was just along for the ride. And for the most part the crew was just there to film for five days before the wedding. He said the show was pretty much an open book into their lives, but the crew would try and find people they didn't like to show up and create drama for ratings.
Gun-toting groom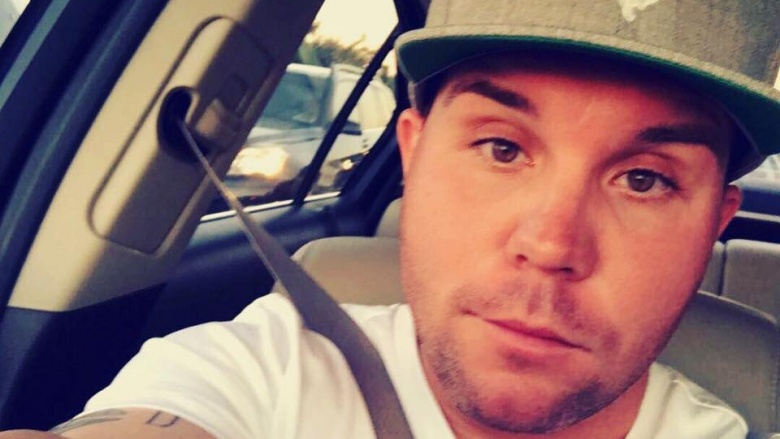 Steven Nazaruk
Speaking of drama, Steven brought his own drama to the table, but it was the kind the directors weren't comfortable with. "They did tell me they would stop filming if I didn't leave my .45 at home," Steven said. Steven didn't understand their apprehension, and claims he had it on him because the father of Amanda's child always made threats toward him. He carried the gun to call his bluff if the need ever arose. It made the crew nervous, and they claimed they needed special permits. "They didn't find that as funny as I thought it was."
Post-wedded bliss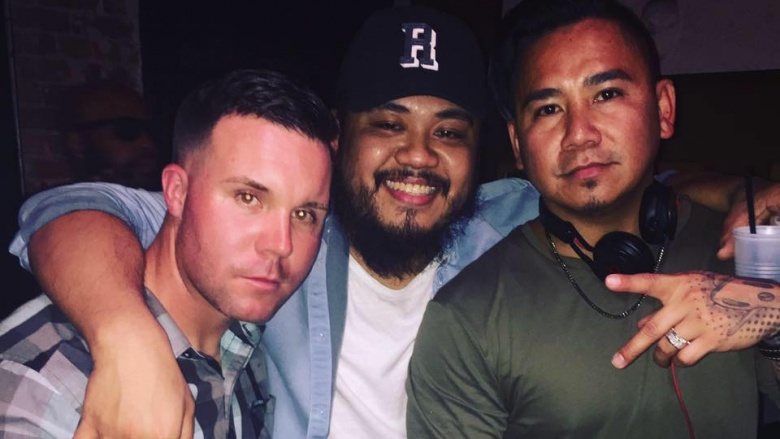 Steven Nazaruk
Steven told me he was in a dark place when he moved to Orlando, but his friends stayed by his side and pulled him out. Since he and Amanda split, Steven has finished college and is planning to move back to New Jersey. But he hasn't dated anyone seriously since the split. "I get asked all the time why I'm still single," Steven said. "Just fate I guess." He said his relationship with Amanda made it hard for him to trust, and with a bride who faked a pregnancy to try and get jewelry, who can blame him? But for the most part he said he just hasn't found anyone compatible. "Don't get me wrong, when we were on good terms she has a good heart and cares. But things and time change people," Steven said. "I'm not perfect but I didn't deserve what she did."
Zillas ever after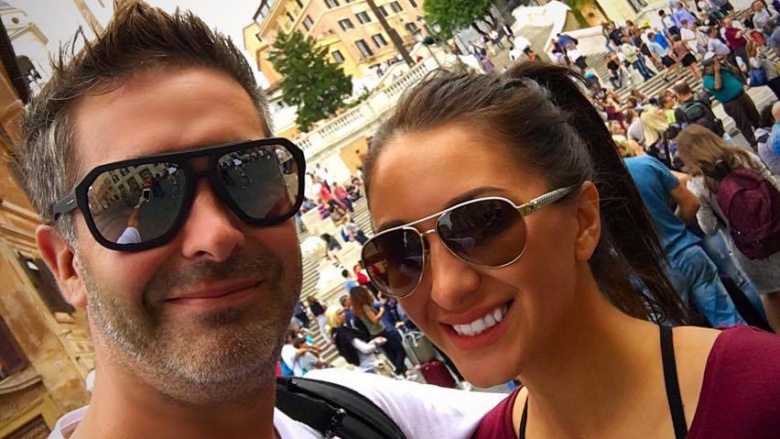 Melissa Adams Moore
Despite their diva dispositions, not all the Zillas were doomed for divorce. In our interview, Porsha told me all but one of the couples on her season of Boot Camp are still together, including Melissa and Chris who just celebrated Melissa's 30th birthday with a trip to Europe. Porsha is also still with her husband, Byron, although she said marriage is extremely hard work. She said she's not looking to do another wedding reality series anytime soon, but she'd be happy to talk to WE tv producers about an idea she had for a show about divorce called Free At Last.