The Surprising Way January Jones Celebrated The Golden Globes
Jerod Harris/Getty Images
Mad Men fans will remember January Jones' performance as the complicated Betty Draper in the hit AMC series. During that time, the actress scored two Golden Globe nominations, People reports. Ten years later, for the virtual award ceremony, Jones took her custom "dream" Versace dress out for a spin.
A red design with daring cutouts and a deep v-neck, Jones' gown turned heads during the 2011 award show and again on Instagram this year. In a side-by-side image, the actress posed in her home and on the red carpet a decade ago. "10yrs later and it still, (sorta), fits," she captioned the snap. In her stories, the 43-year-old also dubbed the crimson gown as her "dream dress." When she first wore the outfit, she complemented the look with an Old Hollywood-style waved bob and matching red lipstick, TODAY notes. 
Tagging Versace in her stories, January Jones explained that the donut she held up could be "part of the problem [for the (sorta) fit]. Also I had a child," she wrote. The starlet gave birth to her son, Xander, nine years ago.
Following Jones' foray down memory lane, her on-screen daughter, Kiernan Shipka, dusted off her own Golden Globes dress. At 11 years old, Shipka wore an adorable cap-sleeved dress for the eremony. Shipka slipped the dress on again for a picture of herself wearing the now-tiny gown in her backyard. "hey @januaryjones I heard we're putting on our Golden Globes looks from 10 years ago," she captioned her Instagram share.
January Jones has stayed close to Kiernan Shipka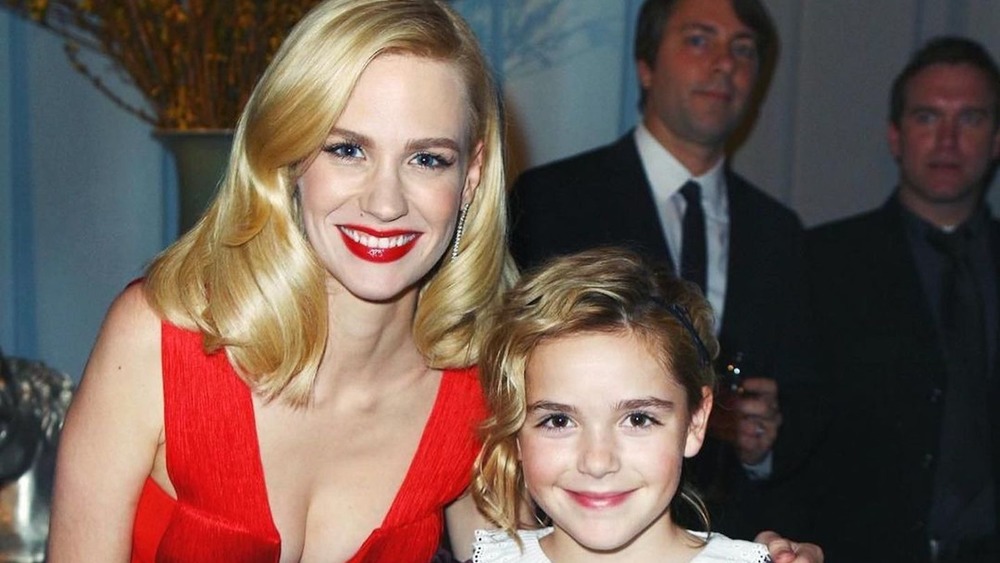 The hit TV series concluded in 2015, and the stars' careers went in different directions. Digital Spy notes that Jon Hamm, who played the show's main character, Don Draper, will work alongside his Mad Men costar John Slattery in his new feature film. Kiernan Shipka went on to star in the Chilling Adventures of Sabrina, Byrdie reports. Since her role on Mad Men started when she was just 8 years old, she explained that she took a step back from the spotlight after the series ended. "Right when Mad Men wrapped, I was sort of figuring out my life and I got a lot of time — from 15 to 18, when I started working on Sabrina — just to sort myself out, learn to practice self-love and self-compassion, and make a lot of mistakes."
Since the end of the series, Shipka has stayed close to January Jones, TODAY reports, with the on-screen mother penning a birthday tribute to the 21-year-old. "Happy 21st Birthday Keeks!! Can't wait to see you and finally share a sip with you! So bizarre that I met you when you were 7, you were then and are still such a kind and wise soul with a huge heart."
Giving fans all over the world a stark sense of nostalgia, the Shipka-Jones social media reunion proved just how much audiences miss them.