The Sneaky Message You Missed In Tina Fey And Amy Poehler's 2021 Golden Globes Looks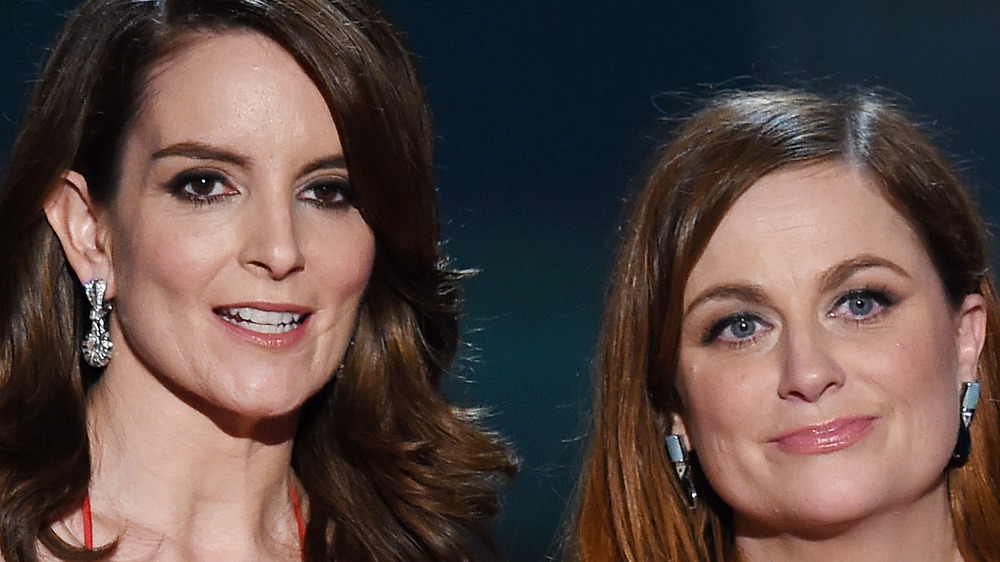 Kevin Winter/Getty Images
If you caught the Golden Globes last night, you might have missed hosts Tina Fey and Amy Poehler's secret message to the audience. In a move that has fans absolutely shook, the SNL icons made their political stance clear, especially in light of controversy surrounding the fact that the Hollywood Foreign Press Association has no Black members (via Variety). Making sure eagle-eyed viewers knew exactly where they stood, Fey and Poehler chose a super-sneaky way of letting their views be known (via Page Six).
Ever since nominations first came out this year, the Golden Globes have faced intense backlash on Twitter for its lack of diversity, both in the nominations and on the HFPA. Although the HFPA addressed the controversy during the show, stating that, "We must ensure everyone from all underrepresented communities get a seat at our table — and we are going to make that happen," users on Twitter still expressed their disappointment (via Newsweek). 
One Twitter user quipped, "I think it's hilarious that The#HFPA are acting like they just discovered there were no black [people] in their organization," making it clear that many were still not satisfied with the organization's promises.
This is exactly what Fey and Poehler did to make their views known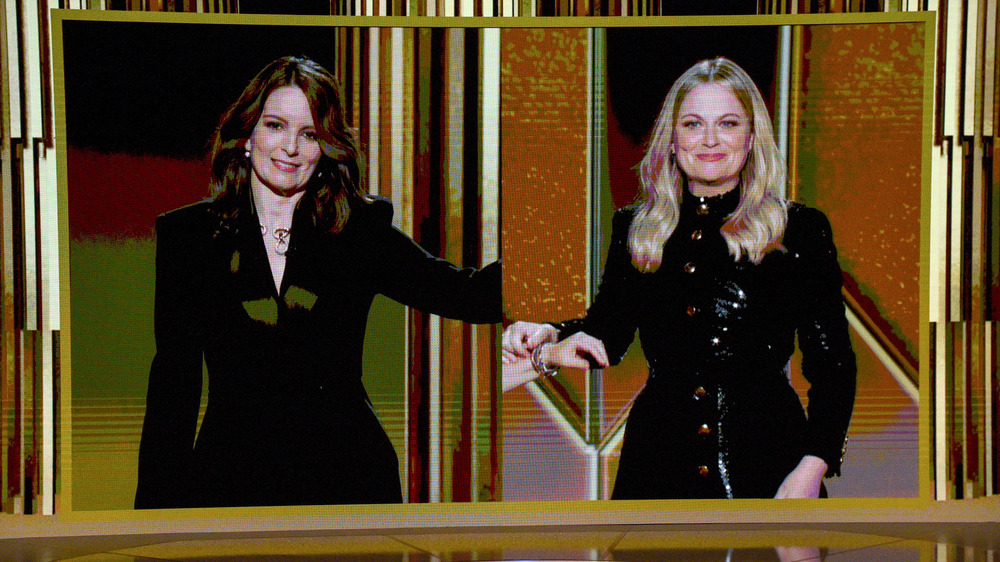 Kevin Mazur/Getty Images
In response to the overarching disappointment, Golden Globe hosts Fey and Poehler chose to do something that would show their allyship to viewers around the world. The two comedians drew hearts and stars on their hands and wrists for the event, a move that comes straight from Poehler's upcoming Netflix movie Moxie (via Page Six). But it wasn't just a great promo opportunity, as Netflix made clear on Twitter last night.
The content platform tweeted, "For anyone wondering why Amy Poehler & Tina Fey had hearts & stars drawn on their hands tonight, the answer is: Moxie," confirming the connection. They continued, "the design is a battle cry — worn by anyone who is sick of the status quo and willing to stand up and fight for what they believe in." We are blown away by the hosts' willingness to confront the crucial issue head on, reinforced by many remarks they said throughout the show.
During the broadcast, Fey said, "The HFPA is made up of about 90 international no Black journalists" while Poehler expressed her dismay with, "a lot of flashy garbage got nominated. But that happens, that's like their thing. A number of Black actors and Black-led projects were overlooked," referring to projects like Michaela Coel's acclaimed I May Destroy You. As Fey stated, "Inclusivity is important, and there are no black members of the Hollywood Foreign Press ... you've gotta change that. So here's to changing it" (via The Hollywood Reporter).