The Truth Behind John Legend's Stage Name
John Shearer/Getty Images
John Legend has become such a household name that it's easy to forget it's not his real name. Per Biography, the singer's real name is John Roger Stephens. Legend is a stage name, and one that he has not legally adopted. Legend's children also carry the surname of Stephens, noted E! News, although his wife, Chrissy Teigen, does not. When asked why she didn't take her husband's name on Twitter, the model hilariously responded, "my husband didn't even take his last name?"
So how did Legend get his legendary stage name, anyway? The singer discussed the name's history in a recent episode of The Tonight Show, explaining to host Jimmy Fallon that his stage name first started off as a nickname given to him by some "guys that I was collaborating with." 
Legend continued, "The first guy to call me that was J. Ivy. He's a spoken-word artist from Chicago."
Kanye West put John Legend on the map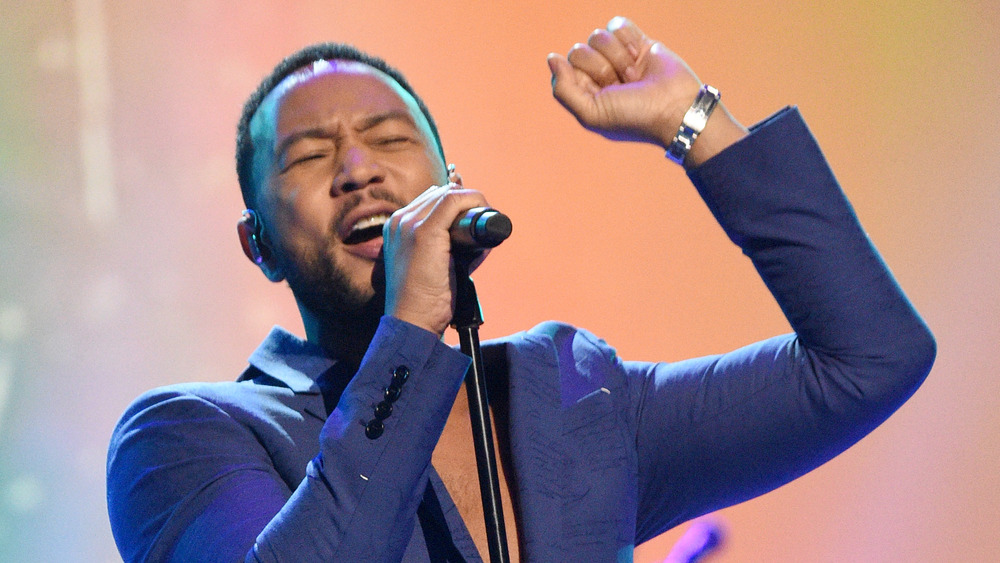 Kevin Mazur/Getty Images
According to the singer, "We were all in the studio together. He just started calling me 'The Legend' because he thought I sounded like one of our old-school soul legends. And it just caught on with our little group of friends and then they were like, 'We should call you John Legend.' And it just really was in our little circle."
It was Kanye West who made the name stick, though. "Kanye put a mixtape out, and he called me John Legend on the mixtape, and it just started to spread among more of the people that were listening to our music," Legend revealed. Legend was uncertain if he should stick with the stage name, though. While he was gaining a reputation as John Legend, he also didn't have a problem with his real name. "At some point, I had to decide, 'Am I going to stick with John Stephens—which I was perfectly fine with, I wasn't looking for a stage name—or am I going to go with this more audacious name and call myself a legend before I even have a record deal?'" he said.
The singer eventually decided to stick with the stage name, and the rest is history.