What Happened To Penny Saeger From My 600-Lb Life?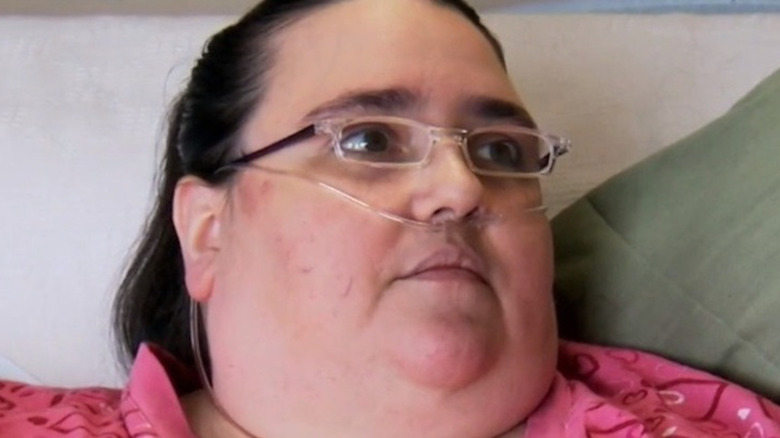 TLC
TLC's "My 600-Lb Life" follows the amazing weight loss journeys of obese people who are looking to turn their lives around by dropping the pounds. Throughout their time on the hit reality show, contestants must grapple with an entirely new lifestyle and diet plan curated by the show's resident surgeon, Dr. Younan Nowzaradan, aka Dr. Now, who will ultimately decide whether or not the show's participants will be permitted to go ahead with some potentially life-changing surgery.
One memorable story to be featured in the hit reality series is that of Penny Saeger, who notoriously refused to embrace the process of the show. But whatever happened to the "My 600-Lb Life" star?
According to The Cinemaholic, Saeger's weight issues began at a very early, and she turned to food for comfort as a child when dealing with her alcoholic and abusive father. By the time she was 22 years old, her food addiction had spiraled out of control and she weighed a staggering 300 pounds. After she began dating her husband, Saeger gained even more weight and put on a further 150 pounds.
At the start of her "My 600-Lb Life," Saeger weighed a total of 530 pounds. After arriving in Houston to visit Dr. Now, he informed her that she had a BMI of 87 and she was subsequently put on a strict 1200 calorie per day diet. However, as her weight loss journey progressed on the show, things became more and more complicated.
Penny Saeger refused to comply with Dr. Now's requests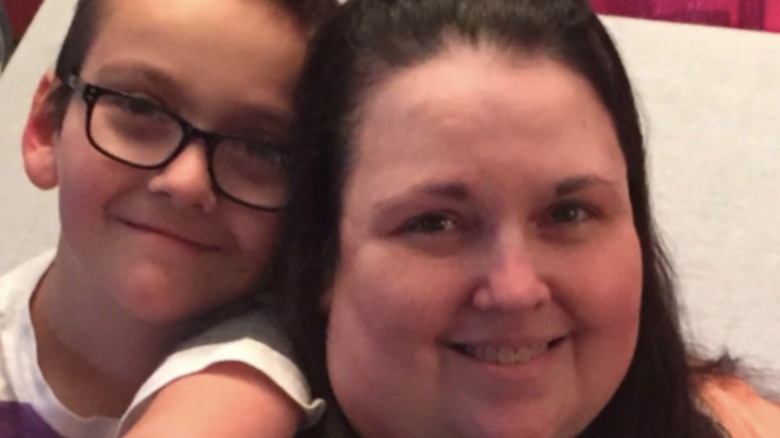 Facebook
During her stint on the hit TLC reality series, Saeger was only able to drop to 495 pounds over the course of a year despite severe warnings from Dr. Younan Nowzaradan (via The Cinemaholic). 
Per Life & Style, Saeger found it hard to drop the pounds because of her refusal to monitor her food portions as part of her strict new diet plan, and this lack of willingness to alter her lifestyle prompted Dr. Now to accuse Saeger of being "delusional" about her situation. However, despite her initial reluctancy, she did manage to lose the required 40 pounds in order to proceed with gastric bypass surgery. 
Unfortunately, following the potentially life-changing surgery, Saeger reportedly disregarded the new diet that was specially curated for her by Dr. Now, refused to exercise, and asked her recovery nurses to sneak her additional food. This behavior resulted in her gaining five pounds, erasing some of the progress made prior to surgery. 
Following her lack of compliancy throughout the entire process, Dr. Now once attempted to convey just how serious her food addiction was, informing her that if she continued it would be the death of her. However, Saeger walked away from the series shortly after. In the year following her surgery, it was revealed that Saeger hadn't lost any weight (via Starcasm).
Following Saeger's initial appearance on the reality show, Dr. Now described her situation as "unfortunate." He added that Saeger didn't seem "to want to change" after going back home to Maryland "where she can be in control of her food."
Penny Saeger has turned away from the spotlight
With the 2015 launch of the companion show, "My 600-Lb Life: Where Are They Now?," speculation resurfaced over the health and well-being of Saeger. Although her progress had stalled at 494 pounds, she remained upbeat: "It's been a much more positive experience here without someone telling me I'm not doing a good job. I don't feel the need to be on a scale because it doesn't matter," she told TLC (via In Touch Weekly). "I'm better off now than how I was before because I can feel it."
However, doctors disagreed with Saeger's comments, accusing her of creating an "illusion" that she was making progress with her weight loss after quitting the show in an attempt to "convince others that she was getting healthier." One doctor added, "It's not progress if you go back and do the work you were doing before."
On the show, Saeger declared that the person whose judgment mattered the most was herself. "I'm going to keep doing it like I want, at my own pace. Nothing's going to change that. I feel like I'm doing well, and that makes me happy," she said.
In the subsequent years, Saeger hasn't provided any insight into her weight loss or mindset. As of December 2020, Life & Style confirms that Seager is still living in Maryland. However, nothing on Twitter or Instagram indicate she has continued to diet or exercise. Her last informative Twitter post was in 2015 and highlighted her 16th wedding anniversary. Instagram shows an equally reticent display, with only a couple of pictures of her son Liam playing.