Dutch Oven Mistakes You Didn't Know You Were Making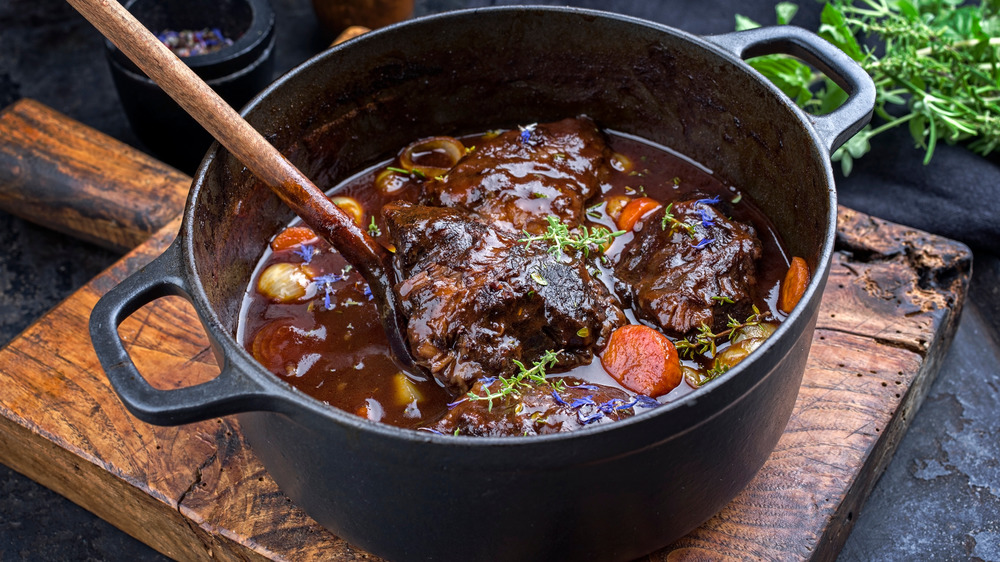 Shutterstock
While letting a slow cooker do all the work is a quick and easy way to meal prep, a Dutch oven should not be ignored, as it is so much more than it appears. Seamlessly going from stovetop to oven, they are ideal for so many different dishes. And while cooking low and slow may not be as popular as 30-minute meal prepping, Wine Enthusiast recommends cooking at a lower temperature over a longer period of time to get a tender, delicious mouthful in every bite.
And while you may be itching to throw everything into your pot all at once, don't make that mistake! Cooking in layers with a Dutch oven is how to add depth and complexity to your flavors. Brown your proteins first to build your starting layer. The next step is to sauté your diced vegetables like onions, carrots, and celery before adding the rest of your ingredients. This method helps enhance your dish, giving it that proper umami taste.
Plus, if you're looking to save some time without sacrificing taste, you can cook two things at once by using your lid as a steam trap. Taste of Home proposes simply setting up a steamer basket inside your Dutch oven and tossing your veggies on top. The steam from your braising meat or bubbling broth will cook the vegetables resting above while passing those flavors along.
Give your Dutch oven the proper care it deserves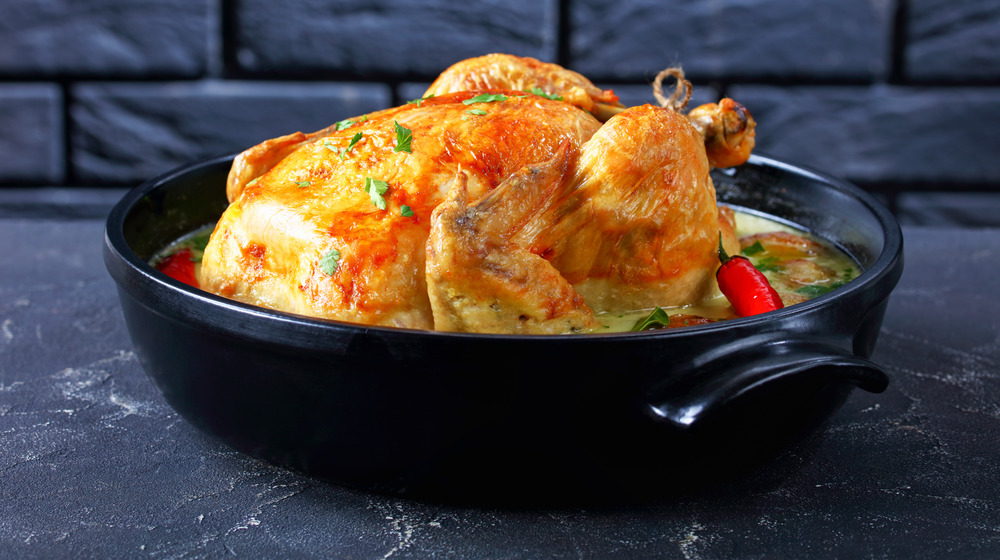 Shutterstock
Proper Dutch oven care is essential to help extend its life for years to come. According to Real Simple, you should avoid any dings or scratches on enamel-coated pots since exposure to moisture can lead to rust. Always wash your Dutch oven by hand to avoid any damage in the dishwasher.
Pouring cold water on a hot frying pan has always been a faux pas, but the same can be said for your Dutch oven. Taste of Home suggests you always let it cool before attempting to clean it. While a frying pan can warp, your Dutch oven could actually crack.
Another mistake to look out for is to make sure the knob to your lid is oven-safe, per Real Simple. While typically, the standard plastic knobs are built to withstand oven temperature, it's always a good idea to double check before placing anything plastic into an oven. High temperatures and plastic don't always go hand-in-hand and the last thing you want to do is spend more money on a replacement.