Jada Pinkett Smith's Red Table Talk With The Queen Post Has Instagram In A Tizzy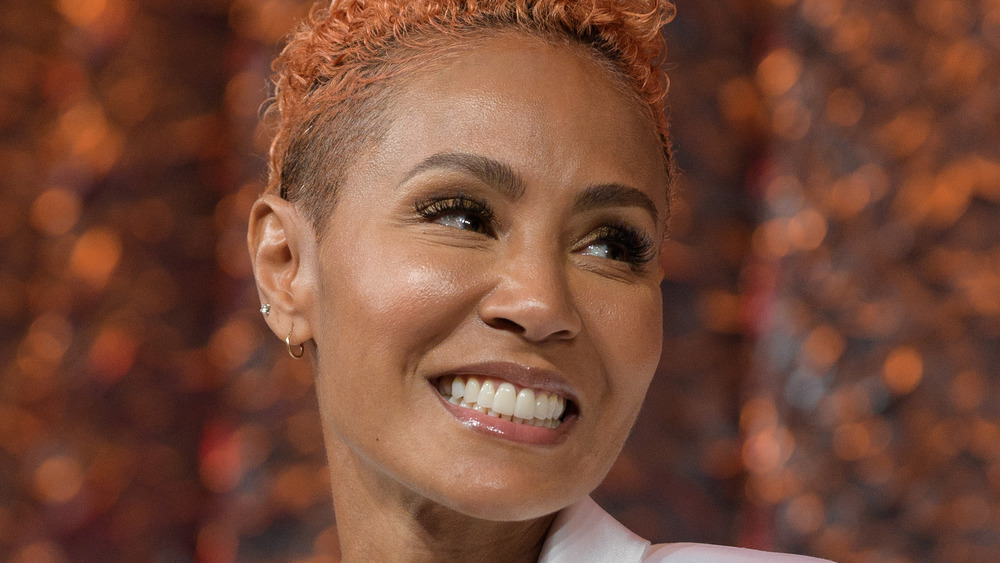 Jason Koerner/Getty Images
After Prince Harry and Meghan Markle's Oprah interview on Sunday, it doesn't seem like anyone can get over the jaw-dropping secrets that were revealed. Ranging from the monarchy's racist attitude towards Meghan and baby Archie, including speculating on how "dark" his skin would be, all the way to Meghan's battle with suicidal thoughts, the bombshell interview left no stones unturned (via The New York Times). Fans everywhere have been left reeling at the new information, and yes, that includes Jada Pinkett Smith.
Pinkett Smith is known for her talk show Red Table Talk, featured on Facebook Watch and delving into the nitty gritty in each of its interviews. Bringing to light deep-rooted family dynamics, the show has even been known to dive into Pinkett Smith's own personal life with husband Will Smith, their children, and her mother Adrienne. Although Meghan and Harry made a case for the monarchy being much more of a deeply complicated and traumatizing place than anyone thought, Pinkett Smith has been known to air her own troubles on her show, too.
Jada and Will had a notorious one-on-one episode dedicated to discussing how Jada cheated on him with another man (via NBC News), and another episode featured talks about Jada's mother Adrienne having non-consensual sex with her husband at the time (via People) — in short, the show is all about getting down to the raw, ugly truth within families. So why not confront the royals next?
Jada Pinkett Smith's royal meme has the internet reeling
On Sunday night, Pinkett Smith posted a meme on her Instagram in response to Meghan and Harry's Oprah interview, and to be honest it's kind of genius. The photo shows Jada and daughter Willow leaning on the famous red table, with a very special guest in between them. Edited in by a fan, the photo features none other than Queen Elizabeth herself ready to dish her side of the story to the pair. Pinkett Smith captioned the photo, "I can't wit ya'll!!!! @redtabletalk," and we never knew we needed that interview so much until now!
Fans couldn't stop laughing at the post, with one user commenting, "Why is this so funny! The internet is undefeated!" Another chimed in, "BRING HER TO THE DAMN TABLE!!!!" That being said, other fans took a more serious note, referring to the concerning racist undertones Meghan mentioned in the interview (via Time). One wrote, "That table needs to be BIGGER," referring to the other royals, while another agreed: "Yes...William, Kate the Queen and Harry and Megan next table talk we gotta get to the bottom of all this crazy."
All in all, even though the queen probably isn't making her way to the red table any time soon, the world is still awaiting a response to one of the most explosive royal interviews since Diana's infamous 1995 appearance — maybe even bigger (via CNN).
If you or anyone you know is having suicidal thoughts, please call the National Suicide Prevention Lifeline​ at​ 1-800-273-TALK (8255)​.
If you, or anyone you know, have been a victim of sexual assault, help is available. Visit the Rape, Abuse & Incest National Network (RAINN) website or contact RAINN's National Helpline at 1-800-656-HOPE (4673).