What Prince Harry And Meghan Markle Might Lose After Their Oprah Interview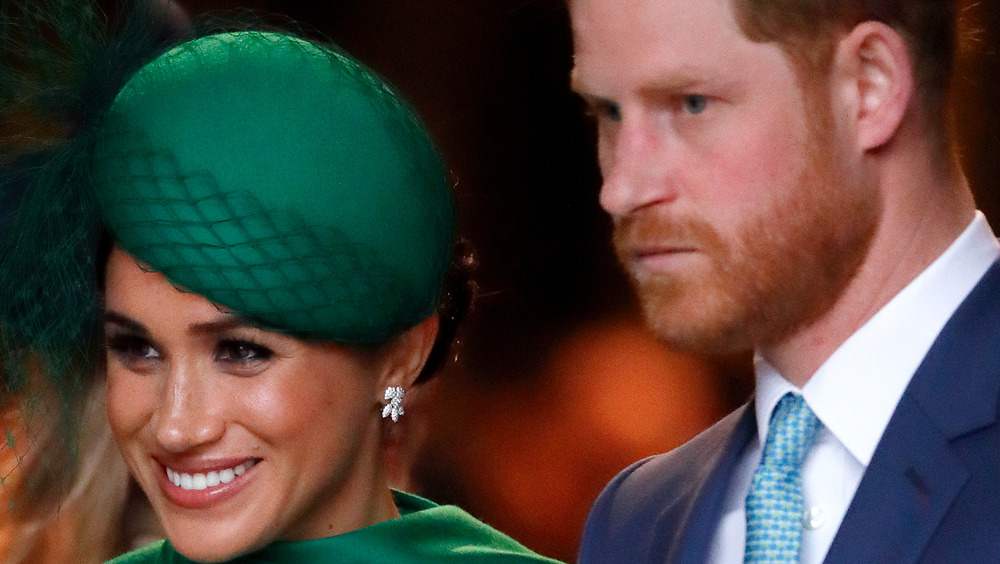 Max Mumby/indigo/Getty Images
March 7, 2021 is a day that will go down in television — and royal family — history, as Oprah Winfrey's bombshell interview with Prince Harry and Meghan Markle finally aired. The legendary talk show host and members of the royal family covered everything from Markle's blatantly unfair treatment by the UK media to the jaw-dropping speculation about baby Archie's skin color before he was even born (via CBS).
Ahead of the interview, sources close to the royal family said that Queen Elizabeth wasn't going to watch the "circus" that millions of people around the globe tuned into (via The Times of London). And although the Palace has yet to issue a formal response to the tell-all, inside sources are dishing on the possible repercussions Harry and Meghan may face in response to the interview, and it all depends on what was said by Harry and Meghan — and how the royal family interpreted it. 
Meghan Markle and Harry may lose their royal titles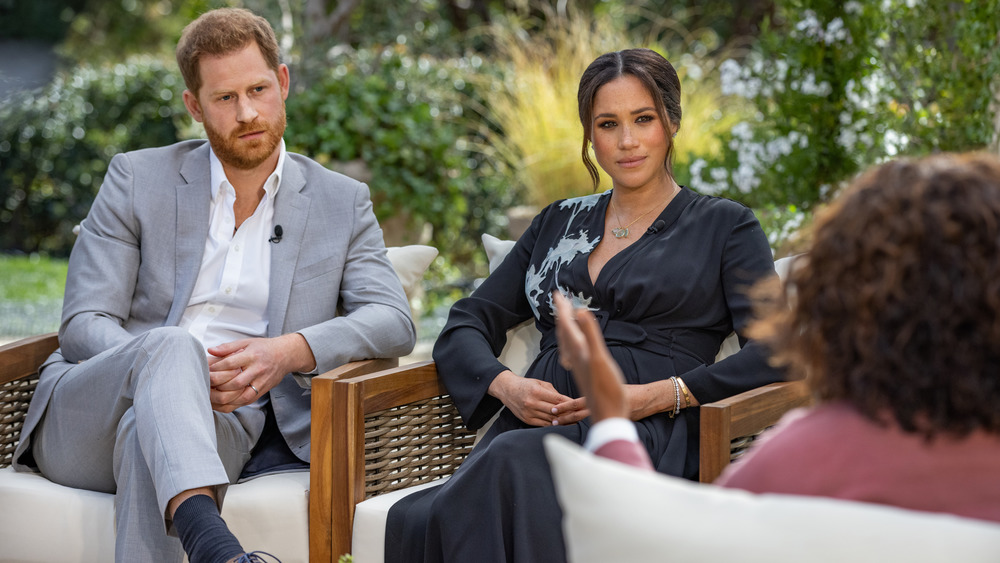 Handout/Getty Images
After stepping back from royal duties and being officially dubbed "non-working members" of the crown," Harry and Meghan Markle were still members of the royal family, which affords them the benefit of their titles (via ABC). But that may not be the case after their bombshell interview. An anonymous source revealed to The Times of London via Page Six, "I don't think that after this interview, anything is off the table, to be honest." Adding that while it would be a "big step" to revoke Meghan and Harry's titles, "The response will depend very much on if they go after the institution or the people. If they go after the people, the people will come out swinging. The institution can take the blows, the people cannot. The institution is not at war, the Sussexes are at war."
However, a separate source who is reportedly familiar with the situation said quite the opposite, alleging that a title change for Meghan and Harry "isn't up for debate," even though Prince Harry and Meghan Markle mentioned certain members of the royal family by name — like Prince William, Kate Middleton, and Prince Charles, who "stopped taking Harry's calls."
Given the bombshell tell-all and all of the shocking revelations about the royal family that came from Oprah's interview, it's plain to see that Harry and Meghan's life as part of the royal family was far from a fairy tale.