The Truth About Katie Couric's Marriage To Jay Monahan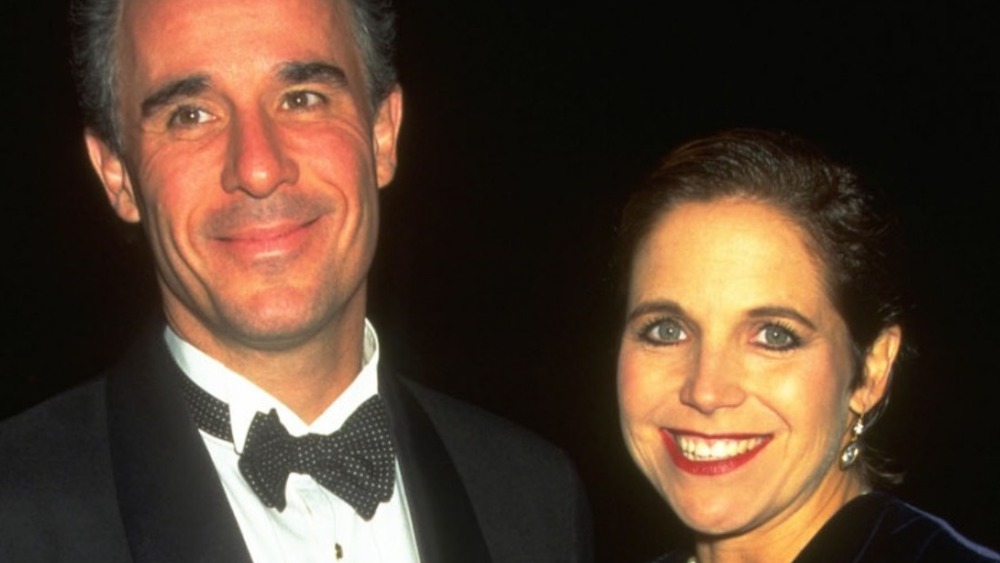 Diane Freed/Getty Images
Katie Couric is currently married to financier John Molner, with the two tying the knot in 2014, in the backyard of her Hamptons home, as ET reported at the time. Although the Today host is incredibly happy with her man, it's worth noting Molner is actually Couric's second husband. The father of her two adult daughters, Elinor and Caroline, is Jay Monahan, who sadly died from colon cancer in 1998 (via ET). 
On Jan. 24, 2018, the news anchor posted a tribute to her late husband, honoring his memory on the 20th anniversary of his death. "Twenty years ago today. We miss you," she wrote simply (via Instagram), alongside several shots of him with their kids. As ET notes, the devastating loss spurred Couric to become a vocal cancer activist. She famously underwent a colonoscopy live on air to spread awareness. Evidently, Monahan made a lasting impact on her life. 
Katie Couric and Jay Monahan were married for nine years
According to Good Housekeeping, Katie Couric and Jay Monahan met while she was working as a Today correspondent in Washington D.C. Monahan was a lawyer based there at the time, and they subsequently got hitched in an intimate ceremony, weirdly enough also on Jan. 24, 1989. Couric was on the cusp of becoming an in-demand reporter, so they soon moved to NYC, where she became a permanent part of the Today team in 1991. Within a couple of years, Couric was co-hosting Now, with Tom Brokaw and Katie Couric, while Monahan was making strides as a legal analyst for NBC News.  
The happy couple welcomed Elinor in 1991, followed by Caroline in 1996. In spite of her celebrated career, Katie Couric considers her children her greatest achievement, telling Newsday, "I did a pretty good job of raising my kids." She added, "My daughters are, first and foremost, incredibly nice girls with good values." Sadly, in 1998, Monahan died after a nine-month battle with colon cancer. 
Jay Monahan's influence is still keenly felt
Katie Couric had to reconfigure her life as a single mom, admitting to Working Mother in 2012, "it's definitely challenging." However, Jay Monahan remains a key part of their family. In 2019, Couric shared some throwback pics from the couple's wedding (via Instagram), in celebration of what would have been their anniversary. "I hope you would be proud of the way I've lived my life and know you'd be proud of your girls who have grown into incredible young women," she wrote. The news anchor added, "I think you would like @johnmolner who honors your memory and knows there is room in my heart for you both." 
In fact, when daughter Elinor got engaged in February 2019, her fiancé Mark utilized Couric's original engagement ring from Monahan (via Instagram). Evidently, Monahan's influence is still keenly felt, with the Today host telling People that losing him has given her a "higher sense of purpose that I'm in a position to take this unimaginable pain and loss and try to do something positive with it."